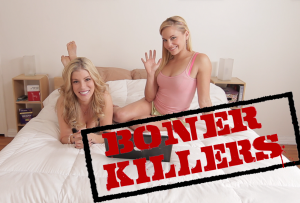 There are a lot of things that turn men on, but then, what turns them off is just as embarrassing – and hilarious. Nowhere is that more evident than in the new comedy web series BONER KILLERS, which began on February 1st, with new episodes airing each Friday. The series was created and written by Rebecca Zamolo (co-star of the comedy web series THE MUMBLESTEENS) and actress/TV host Amy Paffrath (from MTV's JERSEY SHORE: AFTER HOURS and the Internet entertainment news program HOLLYWOOD MINUTE).
Fifteen episodes have aired so far on the show's Youtube page, with another fifteen set to be produced. Each episode, roughly over 30 seconds, brings viewers a quick, unexpected – and funny – surprise (though not as humorous for the on-camera participants), as that special, intimate moment is instantly ruined, in one way or another. The show features a revolving cast of actors, many with large followings on social media, including Drew Seeley (ANOTHER CINDERELLA STORY, LOVESTRUCK – THE MUSICAL), Randy Wayne (TO SAVE A LIFE, TRUE BLOOD, THE LYING GAME) and Emrhys Cooper (star of the Broadway hit MAMMA MIA!), among others.
Zamolo and Paffrath were inspired to create BONER KILLERS after hearing their male friends' hilarious stories of their own sexual misadventures, not to mention having experienced their own moments of awkwardness. "I carry around a Hello Kitty water bottle at the gym, (and) guys are always checking me out at the gym, and I'm wearing my spandex, and I pull out this water bottle that's like (something) a five year old should be carrying. I just laughed at myself when I saw it, and I said, 'that's kind of funny'," says Paffrath. "We've been looking for something to do together, and we just latched onto it, and it spiraled out of control, and we just did it," she recalls. "Then all the guys started talking about things (girls) have done," Zamolo says.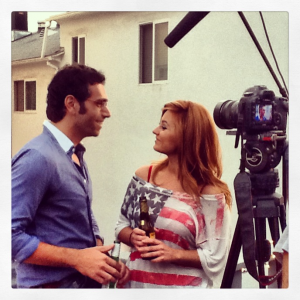 With each episode running less than thirty seconds, not only does the joke come quickly, but it also made for an efficient production process, with as many as nine episodes being shot in one day, according to the creators. "We are pretty clear on our vision on what we want, so it's easy to go in and edit, and once that gets approved, we basically just finish the episode. We come up with a funny name like 'Bigfoot Feet' (to describe each episode)," Zamolo says. "Before that, we just (wrote) every idea we could think of, and we picked the fifteen that were the strongest and easiest to film. We started assigning them to actors who were game. There's a couple of episodes that are more edgy and have gross-out humor. We shoot in a day, we sit in the edit, we watch, we give notes, and they're complete, so we've had all fifteen ready since January," Paffrath says, and both women set out to create a show that will appeal to both young male and female audiences alike, with realistic – and raunchy – humor, taken straight from real life.
In addition, BONER KILLERS is also an interactive series, where viewers can contribute ideas for future shows, allowing Zamolo and Paffrath to maintain a steady flow of possibilities for each episode. "It sets itself up to keep going. It's like an endless supply of material. We do get responses from people. It always starts with a couple, it's always going good, and then you get that twist. You never know what's going to come, if it's going to be disgusting, or it's going to be subtle," Paffrath says. "You never see the girl react embarrassed, ever. She's not mortified, or embarrassed at all. Of course, the guy notices, and maybe he's freaking out, but you never see the aftermath." Both creators say that BONER KILLERS provides viewers with a chance to laugh at not only the most awkward moments of sex, but to laugh at themselves as well. "It's about being able to laugh at yourself, laugh at your mistakes, and not take anything too seriously."
FACEBOOK: https://www.facebook.com/BonerKillers
TWITTER: www.twitter.com/BottleBlonds
YOUTUBE: www.youtube.com/BottleBlonds