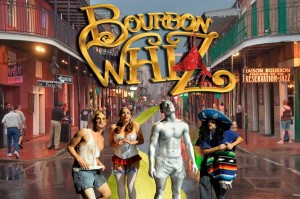 Millions have experienced the timeless tale of THE WIZARD OF OZ, either through the original book by L. Frank Baum, or the classic 1939 film starring Judy Garland. Yet, the new web series BOURBON WHIZ offers a modern, more adult take on the childhood favorite. Produced by Armando Leduc, Margaret Hebert and Blake Palmintier of Sketchy Characters Productions, the show stars Marisa Welles as Dotty, a young girl who lives in Prudence, Kansas, a small town where alcohol is sold every day – except Sundays, due to dry county laws. Longing for a stiff drink, not to mention excitement, she and her friends wind up on a wild journey to New Orleans. The series premiered on May 31st on Youtube, and recently completed a successful Kickstarter campaign to complete editing of the show's nine episodes.
There, she meets some twisted variations on The Cowardly Lion, The Tin Man, and The Scarecrow. Together, they team up to battle the Wicked Stripper Of The West Bank (played by Jacqueline Fleming, who also appeared as Harriet Tubman in ABRAHAM LINCOLN: VAMPIRE HUNTER, along with a role in the HBO series TREME), and to seek the mysterious and magical Bourbon Whiz (played by Matt Standley of THE ADVENTURES OF KEITH FLIPPEN, previously covered here).  Leduc describes BOURBON WHIZ as a collision of musical theatre and Bourbon Street. "Probably how this project really came about is the meshing of my musical theatre world, with my Bourbon Street world. It's like raw, musical theatre type comedy."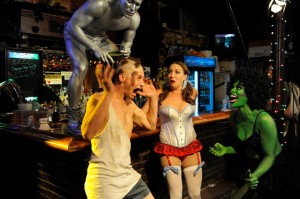 Leduc developed the series over four years ago, while watching, of all things, a dancer performing a 'booty clap' at a strip club! "I just thought, 'there's no place like home', and I was like, wouldn't it be funny if Dorothy, instead of clicking her heels together, had to clinch her butt cheeks together to get home?" There are both many similarities between BOURBON WHIZ and the original WIZARD OF OZ, but the differences are evident. "There's a ruby red G-string that she ends up with, instead of ruby slippers, and she meets a crackhead who's looking for crack (Palmintier), she meets a living statue who's looking for motivation (played by Deejay Buras), and she finds a barker who's looking for a three-for-one sign (also played by Leduc), so they end up going to see Bourbon Whiz," says Leduc. "The two different characters are very dissimilar. They don't look anything alike. It's a lot of fun to play two different parts," Palmintier says, referring to his dual roles, another similarity to THE WIZARD OF OZ. "It's much like the original, when they're in Kansas, you don't necessarily realize that all of the actors are re-introduced as part of the cast in Oz," says Hebert.
BOURBON WHIZ not only features dazzling special effects, including a green screen shot of Dotty hanging onto a stripper pole in the midst of a tornado, but is also a musical. Along with original songs, the show also has parodies of the classic songs from the original WIZARD OF OZ. Each song was performed in many different styles, from rock, to country, and even techno.
"We produced all of the music, but in different styles, with all local musicians, so there's a swing number, a salsa number, there's a second line version of 'Follow The Yellow Brick Road' (or, in the series, 'Follow The Yellow P*ss Path'). We'll have a soundtrack available as well, which is kind of exciting, because the music has far exceeded my expectations. It's really come together. Armando is a musician on Bourbon Street, and has been able to collaborate with a lot of talented people," says Hebert. BOURBON WHIZ is a show with a lot of 'in your face' sexual humor, one that provides viewers with a uniquely adult twist on a story we've all grown up with. While Leduc, Hebert and Palmintier hope that BOURBON WHIZ will give them greater exposure for their careers,  Leduc's biggest goal is simple: "I just want to make people happy. If I can make somebody laugh, just a 'laugh out loud' laugh so that they forget about whatever they're thinking about at that time, then that's where it's at for me."
ON THE WEB: http://sketchycharacters.net
FACEBOOK: https://www.facebook.com/BourbonWhiz/