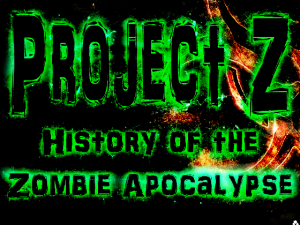 The zombie sub-genre of horror films and TV shows has long been popular among TV viewers and moviegoers. From movies like DAWN OF THE DEAD, NIGHT OF THE LIVING DEAD, and 28 DAYS LATER to the hit AMC TV series THE WALKING DEAD, viewers have been terrified and enthralled by tales of the undead. Zombies have also been a popular part of web series, and the new anthology web series PROJECT Z is no exception.
Produced and directed by Kristopher Hoffman and Jearl Vinot, PROJECT Z takes place in a post-apocalyptic Southern United States where zombies have invaded the region and terrorized its people. Ten episodes have already aired on Blip.tv, along with Friday night airings on the horror film site The Vortexx. Seven more episodes are currently in pre-production, though Hoffman has bigger hopes for the series. "Ideally, I have a vision of 100 episodes. It is unlikely we will be able to do that, however. So, we have an over-riding story arc that fits into about 15 episodes. So, couple that with the 10 we have out, the 7 more that are already in preproduction, we're looking at 32 episodes minimum. The project is set to culminate in a feature film (also written by Hoffman). Currently, we are also shopping a reality show concept based on the series to several networks," he says.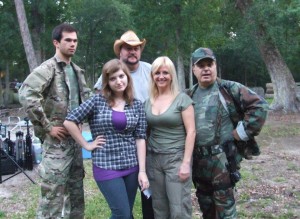 PROJECT Z is a unique blend of several genres, combining horror with both light and dark comedy, plus drama, and in the next few episodes, action. Though the world of zombies has been covered by shows like the comedy web series LIFE, WITH ZOMBIES, to thrillers like GABRIEL CUSHING VERSUS THE ZOMBIE VAMPIRES and VITAMIN Z, Hoffman decided to put his own unique spin on the sub-genre. "To be honest, it is rooted in my style of writing. I tend to cover topics that have been covered, but I do it from a unique perspective. I try to bring something that no one has ever seen before. So, when I decided I wanted to zombies, I did what I always do. (I) wrote something new," he says.
Filmed in New Orleans, a place where the heat is often as extreme as the cold, the production of PROJECT Z was a labor of love for Hoffman, his business partner Jearl Vinot (who also conceptualized many of the show's episodes with Hoffman), and for many people who volunteered their time to make the show possible, including executive producer Gene Franques, producer Kerri Lulu, and the show's extraordinary cast and crew. "Our style of production is very collaborative, so I can't forget to mention all the actors, production assistants and various people who have made this a reality," says Hoffman, who cites his love of storytelling as the main reason he and Vinot produced the show. "We got behind the cameras because being in front of it only lets you do a tiny portion of that," he says.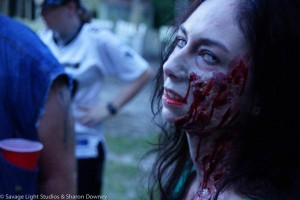 The production quality of PROJECT Z is impressive when one considers that the entire series was made on virtually no budget, and the end result of the hard work of its talented cast and crew is a series that is unlike many on the web in so many ways, one that provides viewers with something different and entertaining every time. "(T)he three main things that set it aside are, one, that it is an anthology series. We took the chance to tell many stories, slices of life after Z-day instead of following one or a group of characters. Two: The fact that it, in spite of being set after the Zombie Apocalypse is about the people, (and) three: In spite of the setting, Project Z transcends genre. Each episode is its own short film, which has given us the freedom to explore with found footage, drama, comedy and physical comedy. One episode is even shot in the style of a '50s monster movie," Hoffman says. Yet, according to Hoffman, one thing sets PROJECT Z apart from all the other web series, TV shows and movies about zombies: its message of hope. "PROJECT Z is about the fact that, in spite of everything, humanity will survive, (and) it will continue to thrive."
ON THE WEB: www.savagelightstudios.com/projectz
Blip.TV: http://blip.tv/projectz
THE VORTEXX: www.horrorhost.net
FACEBOOK: https://www.facebook.com/pages/Project-Z-History-of-the-Zombie-Apocalypse/272731536159834