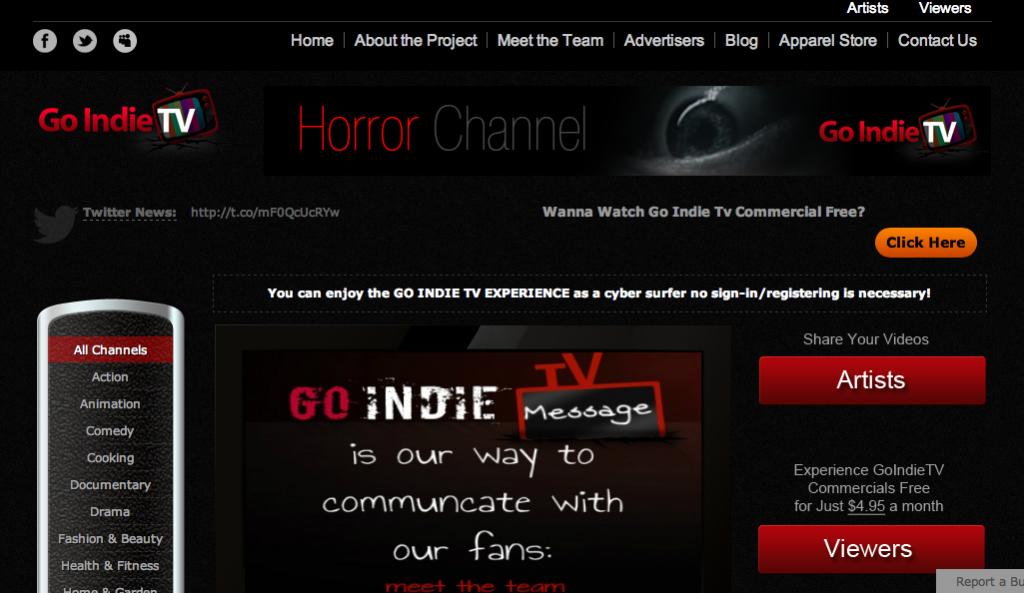 For web series creators, producing a show can be a struggle. Getting a show out there for viewers to enjoy is an even bigger challenge, especially given not only the variety of options for viewers to sample, but also the multiple platforms (Youtube, Blip.TV, Koldcast.TV, etc.) that feature episodic and non-fiction content for the web. One new site devoted to web based content is out to not only provide content creators with increased opportunities for their shows to stand out amidst the crowded landscape of the Internet, but also for them to earn more money through their content, and especially, to gain more viewers.
With its official web site having launched four months ago, GO INDIE TV is scheduled to launch in September of 2013 on both Roku and Google TV, and is unlike any other hub devoted to original web content. In addition to those platforms, GO INDIE TV will also be available for streaming through the Verizon Red Box, LG Smart TV, various Android devices, and on the XBOX 360.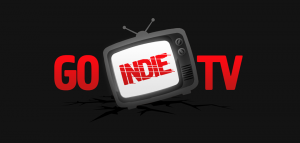 With an emphasis on quality programming that will appeal to many different audiences, GO INDIE TV, and its companion site GO INDIE TV Latino, promises to benefit web series creators through a unique system of revenue sharing that will also provide them with a chance to cross-promote their content through various platforms, encouraging non-exclusivity while giving them a chance to have their content discovered by major distributors, investors, producers and other industry personnel.
GO INDIE TV is led by its CEO Gregg Cannizzaro, an award-winning producer whose credits include producing and directing the long-running E! Entertainment Television show TALK SOUP, along with the site's Chief Operating Officer and co-founder Cami Ciotta, plus co-founders Paula Schwartz and Erika Santos (host of one of the new offerings on the site, BEAUTY ON A BUDGET, more on that later). The site is currently accepting submissions of content spanning all genres, and it's a process where quality and creativity play the biggest role in each selection. Beginning August 1st, new submissions will be accepted every 3 months, with the selections comprising the first batch of content that will also rotate with new material in the same time frame (May-July, August-October, November-January, etc.). Artists can submit their video content (in MP4 format) through the official web site by registering for a new account under the 'artists' tab on the upper right hand corner of the page. Vimeo submissions are also accepted.
Soon to be a subscription-based service a la HBO (a model for the site itself, along with the major broadcast and cable networks), GO INDIE TV provides viewers with a world of programming options, with short form web content on its official site, along with longer-form content on Roku and Google TV, including movies and live pay-per-view boxing on those platforms (more on that later). All of the content featured on the site is available in 1080p HD, and will soon be available on the Windows and Mac operating systems, along with the IPad, Smart TV's and mobile devices such as Smart Phones through its "Quick Fix" mobile app (patent pending). Each show will also be closed captioned and subtitled, making the site's content accessible to both deaf and non-English speaking viewers.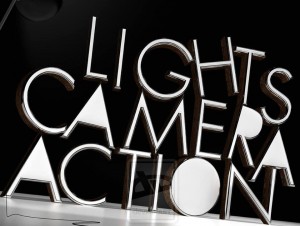 The mission of GO INDIE TV, says Ciotta, is to provide artists with more exposure for their original content, while providing them with a steady stream of income, which will help keep them – and their shows – in business. "Gregg Cannizzaro developed Go Indie TV in mind mainly to support the independent artist, but (he) also wanted a place to premiere his own original programming. The co-founders came on board for their love of the entertainment business and instead of complaining on how we hate to see talented artists struggle to get discovered, we felt we should try to make a difference. Time does fly by and I believe we have only been working on this less than two years. We work long hours on this and Gregg does not know the meaning of sleep! Go Indie TV is currently self-financed and we are growing this company one step at a time," says Ciotta.
Inspired by the success of HBO, Cannizzaro also hopes to achieve the same success with GO INDIE TV as a subscription site. "We started with our basic networks such as CBS, NBC, ABC, etc., but then came along cable TV where people paid a fee for commercial free programming and original programming. Gregg wants to have this same concept for indie programming," Ciotta says. To that end, GO INDIE TV will be available for $4.99 a month ad-free, though it will be free (with ads) to those who are non-subscribers. Artists will be able to use the site with no paid subscription required.
Monetization also plays a huge role in the success of a web series, and through GO INDIE TV, artists can reap the rewards of the site's profit sharing system, currently in development, with the goal being to have it established within a year of the site's launch. In addition, Ciotta explains, viewers can also participate in the financial success of each show featured. "If you recall Youtube did not profit share when they first launched, but as they grew as a business, they then began profit sharing with the artist, and it is our goal to do the same thing. We are also planning a feature where the viewers can financially contribute to their favorite artist. Vimeo beat us to the "tip jar" so we have to think of another creative way! Maybe like a "high five" tip. Any ideas?"
GO INDIE TV features both pre-existing and original content from a variety of genres (both fiction and non-fiction), with quality programs, specially selected and approved by the site's management, that will appeal to both kids and adults. "You will find on our website that we offer all forms of entertainment from really talented independent artists. All (of) our programming has a G, PG, PG-13, or R rating and is clearly stated before the video begins. We mainly show trailers, shorts and web series but we also air sizzlers, music videos, documentaries and artist reels. We also have an apparel store and you can find our Go Indie TV blog section on our website," Ciotta says.
In addition to pre-existing content that's already streaming on other platforms, GO INDIE TV also offers new, original content spanning all genres, beginning with the fashion series BEAUTY ON A BUDGET, hosted by Santos. The series is targeted towards men and women who hope to live a "champagne lifestyle on a beer budget" according to Ciotta, by providing viewers with the best, most affordable options for clothing and beauty products. The series debuted in 2010 and was picked up last year by GO INDIE TV, with three episodes having aired to date and more on the way. Yet, that show is only the beginning of a bevy of original programming that will soon air on the site.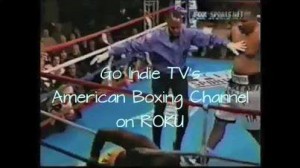 Sports will also be a huge part of GO INDIE TV, and the site will offer live championship boxing through its American Boxing Channel exclusively on Roku, with the option for availability through Google TV, also affiliated with Roku. The channel launches this September with live coverage of a bout featuring 1988 Olympic medalist and former heavyweight champion Roy Jones, Jr. at the Hard Rock Hotel and Casino in Panama. The Roku portion of GO INDIE TV will also host classic movies and TV shows, from some of Alfred Hitchcock's earliest works, to classic westerns, all of which are public domain.
Viewers can also participate in the success of new programming on GO INDIE TV, another key factor that sets the site apart from all the others. "Fans need to be vocal about who they like and believe in. They need to post a comment saying what they like about the video and if they really like then they need to share with their friends and family. They need to help spread the word. I do not believe the viewers realize how much the artist depends on them for their success. It is all about the fans voicing their opinion! I also do not believe the artist expresses enough to their fans the importance of their support and how a simple positive comment can make a huge difference," Ciotta says. While programming that hasn't gained viewers or feedback will end up being replaced in the rotation, the creators of those shows can apply to resubmit them for a later period.
Unlike Youtube, where original content for the web has struggled to stand out amidst viral videos and other amateur content, GO INDIE TV is tailored with the web series creator in mind. "The number one thing that will set us apart is the fact (that) the artist will NOT get lost in the shuffle. Go Indie TV is not going to air thousands of videos. First, I will have under 500 videos up at one time and I will rotate the programming/videos every three months. If an artist is doing very well, meaning they have a following and their fans are commenting and creating a buzz, then that video will not be taken down and will remain for the next rotation. Second, we are different because Go Indie TV does not let anyone and everyone upload videos. We must approve what is placed on our site and I mostly "invite" the artist(s) to present their work on our site."

Aside from the long-form streaming content offered by GO INDIE TV offered through Roku, Google TV and other devices, the platform's web-based content runs 20 minutes, and the site itself provides viewers with a convenient layout that makes finding quality content easier, unlike Youtube and other video hubs. It's a design that especially benefits viewers who love TV, but don't have a lot of time to watch – or find – their favorite shows.
Says Ciotta: "The viewer most likely will come to our website to be entertained by filmmakers, and a lot of other sites features a lot of nonsense videos, and the viewer has to sort through a lot to find what they really want to see. Our site is easy to navigate through and since we own our own server, the viewer should not experience lag time. You will not find pop-up advertisements on our site! I would also say people are in a hurry and they do not have a lot of time to spend watching videos but enjoy some quick entertainment and here at Go Indie TV we are able to provide entertainment for people on the go and in a hurry!"
GO INDIE TV also benefits web series creators through its emphasis on non-exclusivity, giving them a chance to promote their programs on various video sites."We at GO INDIE TV are all about the artist showcasing their work on multiple platforms. Go Indie TV is non-exclusive and we encourage the artist to have their work promoted on as many video streaming websites (yes, even on our competitors' websites!) It is not about us, it is about the artist," Ciotta says.
GO INDIE TV promises to be unlike any other video platform out there, one that has significant advantages for both viewers and content creators. It presents artists with more opportunities to have their work presented to both important industry figures and viewers, and it gives viewers a chance to find quality, well-produced content on an easy to navigate web site, and for them to contribute to the success of its programming. Says Ciotta: "Our overall mission is to bring more exposure to the artist and hopefully the ultimate goal is to assist them on moving their career forward and bringing some income to them so they can continue to do what they love!"
ON THE WEB: www.goindietv.com
FACEBOOK: www.facebook.com/goindietv
and http://www.facebook.com/pages/Go-Indie-TV-Latino/185351924958826
TWITTER: http://twitter.com/RealGoIndieTV