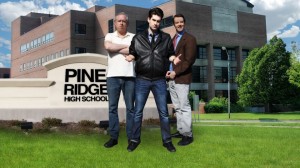 Many popular movies, TV dramas and comedies have portrayed both the excitement and challenges of high school, along with all the peer pressure and questionable decisions that come with being a teenager. Yet, what if there was a show that told the same story – but from the adults' point of view? GUIDANCE, now in its second season, is a comedy web series that proves that no matter how some of us have grown up – or have tried to, there's always that kid that still lurks inside wanting to break through.
Created by the show's co-stars Adam Cawley, Rob Baker and Patrick Smith (along with director Jared Sales), GUIDANCE follows the lives of three guidance counselors at Pine Ridge High School, who try their best to help its students through the ups and downs of life, but end up in way over their heads in the process. The show's second season began on July 1st on Bite.ca (see links below) with new episodes airing each Monday for the next three weeks. The series will also be repackaged for over the air broadcast on Bite TV this Fall.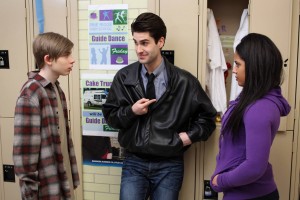 Toronto Second City MainStage alum Adam Cawley stars as former Pine Ridge student turned counselor Davey Racine, a man who yearns to be a teenager again even though his efforts to "fit in" with the students often end up disastrously. Another veteran of Second City, Rob Baker, plays Steve Barnes, the bully of the group. Now a single father, he has a somewhat over-inflated opinion of himself – and of his "sex appeal." Rounding out the group is counselor Bruce Templeton (played by Patrick Smith), and while he's in his mid '30s, most of the students think he's from another decade – or century. The cast also features Charlotte Hegele (from the TV series BOMB GIRLS which recently aired on cable's Reelz Channel in the U.S.) as Beth Martin, Janet Van De Graaf as school principal Parker, and Inessa Frantowski (also an alumnus of Second City) as Vicki.
GUIDANCE began to take shape after an unexpected reunion took place between Sales and series co-star and co-creator Cawley. "I had worked with Adam previously on a short film for a Toronto based improv festival. I hadn't seen him in a few years and ran into him at a video shoot for the Canadian Comedy Awards and he mentioned a film idea he had been working on with Rob and Pat. We then all met up and talked about the idea and re-worked the idea and developed the characters for a web series. We then pitched the idea to Bite TV and it was green lit rather quickly for a first season," Sales says. Production began shortly thereafter, and despite a meager budget, Sales, Cawley, Baker and Smith did their best to make the show's first season a success. "Our first season budget was really low, so for those episodes we reached out to some friends we had all worked with before performing comedy.  For the second season, since our budget was larger, we did a few days of casting and saw a ton of talented people and found this amazing cast."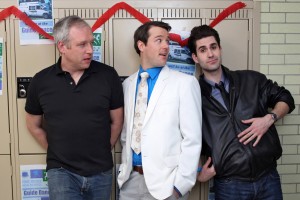 Although the budget was bigger, the work got harder – and more rewarding – for the show's creators. Recalls Sales: "The second season production took longer just because the scale of the show had grown from the first to the second. Rob (Baker), Adam (Cawley) and Pat (Smith) wrote the episodes, so that took a few weeks. While they were working on those scripts, I worked with our producer Cullen (Fairfield) scouting locations, planning sets with our art director, shooting schedules, etc. It definitely was a lot of work, but it was one of the best experiences I've had working on a project like this."
While Sales and his co-producers/co-stars Baker, Cawley and Smith cite such shows like SAVED BY THE BELL, FREAKS AND GEEKS and the long-running Canadian drama DEGRASSI (in all its incarnations) as their main inspirations for creating GUIDANCE, each of them have brought viewers a unique comedy that stands apart from those shows by proving that in high school, the students aren't the only ones that don't always make the right choices. Says Sales: "Sometimes shows that take place in high school can sugarcoat some controversial subjects, but we wanted an honest portrayal of high school and we wanted to show that sometimes the staff of high schools make more cringeworthy decisions than the students."
ON THE WEB: www.bite.ca (to view the series)
and www.guidancetv.tumblr.com (official web site)
FACEBOOK: http://www.facebook.com/guidanceTV
TWITTER: http://www.twitter.com/GuidanceTV