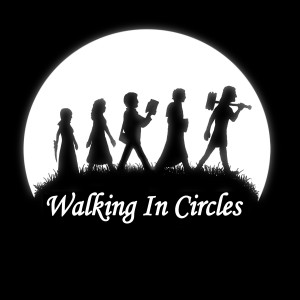 A ragtag group of would-be heroes continues the greatest adventure of their lives in the second season of WIC (WALKING IN CIRCLES), premiering soon on both Youtube, and the show's official web site. In addition to those platforms, the season's eight episodes will also be streaming on August 27th on 1337 Lounge Live's web site (see links for all platforms below). However, before the rest of the world gets to see the latest adventures of the show's hapless adventurers, lucky fans who attend the upcoming Gen Con in Indianapolis will be among the first to see its second season premiere, which will be screened on August 16th at 10:00 A.M. Eastern time. Fans who have a Gen Con badge will be able to attend the event free. (Details on how to attend Gen Con are also on the show's official web site).
WALKING IN CIRCLES, written by James Rodehaver and directed by Adam Rady, follows the adventures (and misadventures) of a tribe who seek fame, glory and heroism as they battle ferocious monsters and other assorted villains. Led by the barbarian prince Krag (played by Eric Radic), the group also features druid Angie (Katie Wilson), wizard Markus (played by Rady), the mysterious Alex (played by Diana Restrepo and Jennifer Kairis) and aspiring knight Squire Quigley (Ben Burch).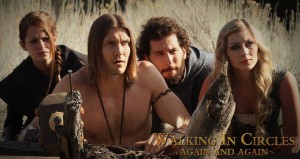 After last season's confrontation pitting the aspiring heroes against the Dragon and the Demon, the second season picks up where the first left off – with the aftermath of the battle, and also with Krag's return to his homeland, where he confronts some past demons – only to have his life turned upside down when he ends up being cursed by an ancient spirit of the wood. Inspired by a lifelong love of fantasy and tabletop gaming, one that grew in large part because of his father, Rodehaver's mission with WALKING IN CIRCLES was twofold: to transform the worlds of fantasy storytelling and role playing games far beyond its geeky perception through his series, and to create a show without having to go through the usual gatekeepers. "The whole point of this show at its inception was to film something we wanted to see. We knew that something like this wasn't going to get made unless we made it. We were also all tired of trying to get involved with other people's projects and getting told no. Obviously, acting, writing, and directing are extremely competitive fields, but knowing that doesn't make it any less discouraging when you get turned down for the hundredth time. Rather than give up, we said, 'let's just make something ourselves'," he says.
While the first season's 10 episodes had its rough spots, Rodehaver says that filming the show was a learning experience for both cast and crew alike. Yet, much has changed as the second season begins. "Our goal with Season 1 was to see if we could do a show at all. With season 2, we wanted to see if we could do a show right. We had a bigger crew, a bigger cast, the knowledge and experience from Season 1, and a much bigger vision. We incorporated stunts and choreographed fighting into the show, as well as much grander special effects. We filmed on location for 2 straight weeks, as opposed to season 1 where we would go out on the weekends over the course of 3 months. It was a lot harder to pull off, but the result is much greater. Our budget for the second season was actually about the same. (In) season 1, we had to buy ALL of our equipment, wardrobe, and props first hand. For the second season, we had all that stuff already, so that money went towards hiring a bigger crew and securing a better filming environment," he says.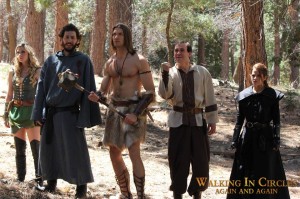 Even though WALKING IN CIRCLES was made for viewers who are already familiar with both the fantasy genre and role playing games like Dungeons and Dragons, Rodehaver hopes to have his show reach a wider audience, and it's a series that combines exciting adventure with hilarious comedy. "We want to make fantasy accessible to everyone. It's a real shame to me when I hear people bash fantasy and role playing games as being extremely nerdy and lame. Granted, nerds can definitely be nerds, no doubt, but there is a lot of joy in the genre for me that I really want other people to see.  In terms of the story, it's definitely about how people rise up and become heroes. When you first meet Krag and his party, you can't help thinking that there is no way these guys are ever going to make it. But little by little, you see these people start to mesh, to grow, and you start to see glimmers of heroism. It's all about how the big guys got started."
ON THE WEB: www.wictheseries.com and www.1337loungelive.com (Streaming Only)
YOUTUBE: www.youtube.com/WICTheSeries
FACEBOOK: www.facebook.com/wictheseries
TWITTER: @WICTheSeries