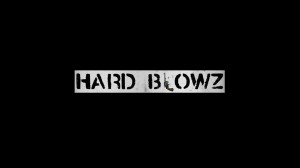 It's hard to keep it real in the world of rap music. For the two hapless wannabes in the new comedy series HARD BLOWZ, produced and created by series co-star Danny D'Anzieri, and directed by Alex Lloyd, their pursuit of authenticity proves to be just as difficult – and comical.
The show's six episode first season launched with two episodes on July 30th, and the next four are set to air each Tuesday on its Youtube and Facebook pages. HARD BLOWZ stars D'Anzieri as 'Fidel CashFlow', and David R. Roberts as his best friend 'Dangermouth', both collectively known as 'Cash and Mouth', two untalented, immature guys whose bravado is bigger than their dreams. Throughout the series, the duo is followed by a TV documentary crew (the series is in a 'mockumentary format', more on that later), that captures Cash and Mouth's misadventures. The cast also includes Christian R. Allan as Jonathan, the duo's number 1 fan/unhinged stalker who makes both of their lives miserable as they try – and fail – to be legit in the world of gangsta rap.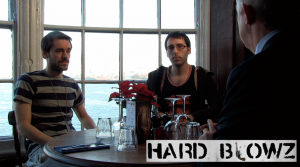 A fan of rap music himself, D'Anzieri chose to use the popular 'mockumentary' format of comedic storytelling to portray the often funny side of the music industry, and it's a style that proved to have a lot of benefits. "The reason we chose to go with that (the mockumentary format) is because Cash, the character I play, is really arrogant, and is really trying to push this rap message across, and without sort of that immediate audience there, it wouldn't have had quite the same jokes when there's people there. It sort of allowed us to catch them doing things that you wouldn't see otherwise," he says.
In keeping with the show's mockumentary format, each episode is introduced by actual British TV presenters (or hosts): Justin Noel Agabi-Keyamo plays the first episode's presenter, Clive Gregson, whose absence in the remaining five episodes, as D'Anzieri explains, was the result of a falling out between the presenter and the faux 'documentary' producers portrayed in the series. Episodes 2 through 6 are presented by the staid Alastair Greener, who portrays Lewis C. Hollingsworth. "He's not someone who should be presenting a rap documentary. He's clearly an amazing presenter, but this isn't for him (the rap documentary), and he does an absolutely fantastic job," D'Anzieri says.
HARD BLOWZ's development as a web series began, rather innocently, on a film set, where a chance encounter between D'Anzieri and Roberts soon led to an experiment in guerrilla promotion. "I met David on another film shoot, (and) straight away I saw him, and he has this fantastic look and he was so perfect for this other part for this rap group, and straight away I was thinking 'he's the guy for this'. I spoke to him about it, and we started making plans for this rap comedy called HARD BLOWZ, and we didn't have too much at this point, but we thought, you know, 'let's work on it', and then one day just by complete chance, I was cast on this commercial," he says. "I turned up for the shoot that day, and he was cast as one of the other characters, just by chance. I was sitting with him, talking, and I said 'let's be HARD BLOWZ today', and he said 'sure'," he says.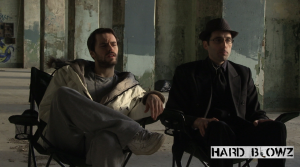 The two actors were so convincing in their roles as wannabe rappers, that they had the cast and crew assembled for the shoot fall for their act. "At lunch, people were talking. We just said to them, 'we're a gangsta rap group', and people just laughed at us. We stayed in character and said 'no, we're rappers, and we've got a lot of gangsta material coming soon (so) don't make fun of us, you're hurting our feelings.' People really laughed at it a lot; they really found it funny, so we just kept going with it. Those people probably to this day still think that we are deluded rappers, which is pretty awesome, and from that we sort of saw how the comedy worked. That was about two or three years ago, and since then we've been putting it together slowly, writing it, coming up with ideas, knitting it all together."
For a series focusing on the misadventures of two wannabe rappers, one would think that rap music would be a huge part of it. Not so, according to D'Anzieri, and for one big reason: "In this series, there is no original music (aside from the underscore). With this episode, we've really focused on their bravado, so a lot of it is talking about them being rappers rather than actually doing things rappers do. We thought for now that giving them songs legitimizes them a bit too much. It takes away any delusion of them. Without any music in it, there's no proof that they're rappers. There are some plans to get some songs together after this. We've got a few pretty good ideas for songs, and we might record a few of those," he says." Despite their intimidating presence, both rappers   have a softer side. "Cash can be a d*ck, but they are actually nice guys. I think people will empathize with them and like them. They're not bad people. They love everyone, but they just happen to be trying to be something they're not," D'Anzieri says.
While it was easy for D'Anzieri to find his cast and crew, a group (with the exception of Greener) mainly comprised of those he had worked with previously (including director Lloyd), filming each episode was a memorable experience, made even more so because of some of the hilarious moments that took place on set between D'Anzieri and Roberts, such as one that took place during filming of the series' second episode. "Mouth is eating a croissant, and I'm saying to him 'stop the f*cking eating." We couldn't do it. No one in the room could get through that scene. The sound of the croissant crunching was so hard to deal with. In the actual scene, it looks like I'm annoyed, but I'm trying not to laugh. We must have done 20 takes, so much so that we had to send someone out to get more croissants. We shot that scene so many times. There's something about Mouth eating which is really funny, I don't know why," D'Anzieri says. The final scene of episode six was filmed at the same location where the popular rock group Coldplay filmed their music video for the song "Every Teardrop Is A Waterfall", an experience made possible thanks to Lloyd.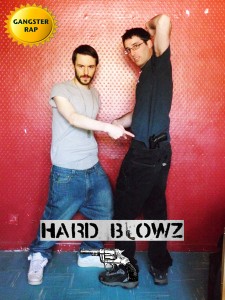 D'Anzieri feels that HARD BLOWZ may be unlike any other comedy series – web or TV, and certainly unlike any British comedy series in any of those mediums, both because of its characters and also what he describes as a 'new breed' of humor – one that doesn't try to appeal to everyone. "I don't think there's another show where there's people in an arena where they're so out of place. I don't think there's anything like this now. There's a lot of touchy moments in there, and I think we're going to upset a few people with the jokes, because there are a few semi offensive moments. The reason for those is that we try to be clever, (and) it's sort of a social commentary on how people see things. We have jokes about racism and homophobia, rather than racist or homophobic jokes. They never come from a bad place. They're always about misunderstandings and character, and they're so well intentioned. When you say something by mistake, you can't take it back, and they try to, (but) they dig deeper holes for themselves," he says.
"Comedy in England right now is really struggling," D'Anzieri says. "Most of the comedy I watch is American. I like IT'S ALWAYS SUNNY IN PHILADELPHIA, EASTBOUND AND DOWN; that's really sort of my real passions. In English comedy, there isn't anything really happening. I think comedy now is made for too broad an audience. We're doing something specific. People will either love it or hate it, but the people that love it will really love it."
YOUTUBE: www.youtube.com/HardBlowz
FACEBOOK: www.facebook.com/HardBlowz
TWITTER: @HardBlowz