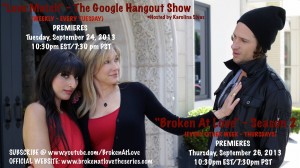 Exactly one year ago Brown-Eyed Girl Productions was proud to bring you the very first season of "Broken At Love" and the abundance of positive responses was overwhelming. We've been diligently working on the series to bring you the best possible content and continue sharing Vivienne's story. This season boasts guest stars that include Sharon Farrell (Longtime Film/TV actress, Y&R), Tony Nominated actress Marcia Rodd (All in the Family, Maude), TV actor Ben Reed (Reba, House M.D.), International Model/Actress Renee Suran, Two USA Olympians, an Abercrombie and Fitch Model and many more surprises. Season 1 of the series sparked a lot of dialogue and we expect Season 2 to do so as well. As a result, we're launching a weekly talk show to discuss topics in the series. Mark your calendars… we are back!!!
"Love Match" – A New Google Hangout Show hosted by Karolina Sivas and brought to you by Brown-Eyed Girl Productions & The Geek Supremacy Project premieres Tuesday, September 24th (10:30pm EST/7:30pm PST) and airs weekly. Guests will include cast, crew, and fans of Broken At Love. We'll discuss love/relationships and topics brought up in the series.
"Broken At Love" – Season 2 premieres Thursday, September 26th (10:30pm EST/7:30pm PST) and airs every other Thursday throughout 2013. Lengthier content, special guest stars, and a lot of surprises. Cast also includes regulars: Karolina Sivas, Rob Healy, Pamela Bowen, Carly Reeves, Amber Smith, Bobby Quinn Rice…
See you in September, thank you for being a fan.
SUBSCRIBE at www.youtube.com/BrokenAtLove
VISIT OFFICIAL WEBSITE: www.brokenatlovetheseries.com