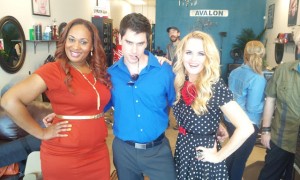 It is often said that beauty is only skin deep. For the protagonists of the new comedy web series MY LIFE IS GOD'S SITCOM, produced by Patrick Francis and Howard Nash of Film Magic Productions (F & M Productions), filmed in New Orleans, & set to debut with a ten episode first season this Wednesday on its official Youtube page (see link below), both their inner and outer beauty only serve to mask their deepest, darkest secrets.
The show revolves around Kevin (played by Francis), a gay man, who, while not exactly handsome, possesses kindness and selflessness towards others, a personality contrasted with that of his friend Mercy (Deanna Meske), a narcissistic woman who cares only about Kevin, even though it doesn't always appear that way. Kevin's life only gets more complicated when Peter (Andrew Vogel), a sexy, openly gay alpha male, enters the picture, a man who has dark secrets of his own. These contrasting personalities converge throughout the series, leading to the revelation of Kevin's own shocking secret. The show, directed by web series veteran Helen Krieger, also stars New Orleans-based online talk show host Kawana (of KICKIN' IT WITH KAWANA) as herself.
MY LIFE IS GOD'S SITCOM is based on Francis' real life, and was originally written by Francis as a short film, with the web series serving as a "prequel" to the movie, and as a means to introduce the characters. "The series conveys an underlying message that beauty is only skin deep. While Mercy and Peter are both easy on the eyes, they both share a dark and negative side. Kevin, who some may feel is not as attractive, is beautiful on the inside. The series also has several scenes with Kevin doing a video diary about his life," Francis says.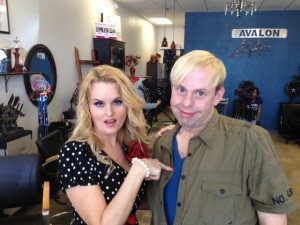 The production process for the series took two years, and like Kevin's life, it had its own share of drama and turmoil, from multiple directors, to multiple production companies, before Francis broke away to form his own production company with Nash, and then, they finally landed Krieger as the show's director. "After the first meeting we knew she was the right one for us. She understood that the writer as a big part in the over all creative vision for the series. She was open to working together with the writer to clean up and make the stories film ready," Francis says. Krieger also came with a film crew from her other web series LEAST FAVORITE LOVE SONGS (previously covered on Snobby Robot), which made the four month shoot even more smooth.
Francis, who cites David Kohan and Max Mutchnick (creators of the long-running sitcom WILL AND GRACE) as his chief comedic inspirations, set out to create a web series that will provide a welcome respite from "reality" TV and horror films, giving audiences a chance to laugh at smart, intelligent comedy. "We are hoping to provide our audience with a good source of laughter and an artistic escape from reality. Financially, we hope to sell the series to TV producers or find backers for the movie version." He describes the show as "a combination of "I Love Lucy" meets "Will and Grace" with some "Seinfeld" and "Modern Family" thrown in the mix." Overall, Francis hopes that MY LIFE IS GOD'S SITCOM will not only entertain people, but also give viewers a chance to put their lives in perspective, through Kevin's hilarious adventures. "We want our audience to know that although life can be hard and crazy at times, at the end of the day, people are resilient and can survive almost anything. Also, as the old adage says, never judge a book by its cover."
YOUTUBE: http://www.youtube.com/user/MyLifeisGodsSitcom
FACEBOOK: https://www.facebook.com/mylifeis.godssitom
TWITTER: https://twitter.com/avalonchalmette