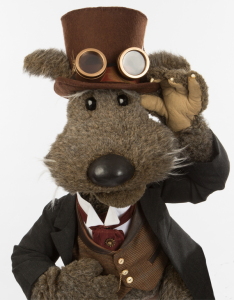 Educational programming for preschool and kindergarten-age viewers has always been a huge part of TV, especially through live action shows like SESAME STREET, to cartoons such as SID THE SCIENCE KID, CURIOUS GEORGE and ARTHUR, just to name a few. Yet, there's also a substantial amount of great content for kids available on the web. One of those shows happens to be a popular Canadian program called RUFFUS, featuring a book-loving dog who catapults himself into the fantastic world of his favorite fairy tales.
After first airing on TV, then online, it has built up an incredible following with kids and adults alike, as well as critical acclaim and recognition by the Canadian TV industry (the series was nominated for several Gemini Awards, the Canadian equivalent of the Emmy in the U.S.). Now, the erstwhile canine is back in a new set of adventures that are unlike any produced for TV or the web – RUFFUS' STEAMPUNK ADVENTURE, written, produced and directed by Robert Mills, and airing exclusively on the web on what he hopes will be a variety of platforms. "We intend to release the Ruffus Steampunk Adventure on every possible platform to reach as wide an audience as possible.  YouTube, Blip, Vimeo, DailyMotion etc.  and on aggregators like Ameba, BatteryPop and others," Mills says.
The show's official promotional trailer was shot in May, and debuted at this past year's Fan Expo in Toronto. (Video embedded below). 10 episodes are planned, and an IndieGoGo campaign to raise funds for the show's production is underway. If successful, the show's creator hopes to get the series on the air sometime next August.
The Ruffus character, as well as the series, was created by Robert Mills (who also voices the character), a veteran puppeteer whose experience includes work with Jim Henson's Muppets on shows like SESAME STREET, FRAGGLE ROCK, THE JIM HENSON HOUR, and the 1985 fantasy film LABYRINTH (just to name a few), RUFFUS' STEAMPUNK ADVENTURE follows Ruffus in a new series of adventures set in Victorian-era London, where the popular character plays the mild-mannered owner of a bookstore who suddenly finds himself in the biggest adventure of his life as he tries to save the world from an evil robber baron (and his equally heinous henchman) who steal a valuable book once tucked safely in the back of the store.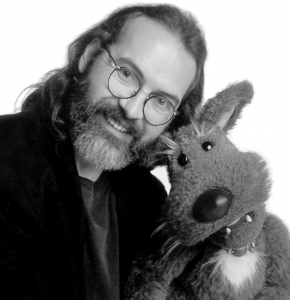 It's a book that holds the key to the most powerful steam powered technology in the world – essentially the steampunk equivalent of today's modern Internet, as Mills says, and it's a technology that Ruffus tries to wrest away from the bad guys who seek to use it for evil rather than good.
In addition to Mills' voice role as the title protagonist, the ensemble cast of RUFFUS' STEAMPUNK ADVENTURE features some talented live actors and puppeteers. The puppet characters are performed by industry vets such as Gord Robertson, Ben Deutsch, Karen Valleau (Emmy winner for the last season of the popular children's show THE BIG COMFY COUCH, and who also serves as the show's puppet designer), while the live-action roles are performed by Fred Stinson (also a puppeteer), best known for his work on projects like the horror film BRIDE OF CHUCKY and THE BIG COMFY COUCH (two polar opposites when it comes to entertainment), Alyson Court (also from THE BIG COMFY COUCH), and Ash Catherwood, known for his roles on the popular web series MICROWAVE PORN, THE GATE, and his new micro-budget sci-fi film SYNCHRONICITY (which recently completed a successful IndieGoGo crowd funding campaign).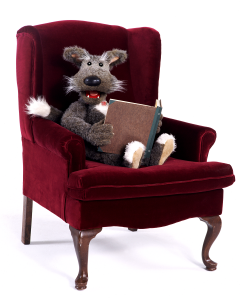 The genesis for RUFFUS' STEAMPUNK ADVENTURE took place shortly after the completion of RUFFUS THE DOG'S CHRISTMAS CAROL, a one-off holiday special featuring the popular canine character in an adaptation of the classic Charles Dickens tale A CHRISTMAS CAROL), during a conversation between Mills and the show's costume designer and line producer, Jane Edmondson. "We were looking at each other, and we were saying, 'these were great costumes; we've got to do something else with this.' We both looked at each other and said, 'steampunk, yeah!' So, we said we've got to conjure up some kind of a story, and so we took bits and pieces of stuff from Jules Verne and everywhere else. It's not just one story. We're not retelling a classic tale. We're making up our own adventure here," he says.
Originally planned to be a one-off special like the Christmas show, Mills decided to depict Ruffus' latest adventure as a web series mainly because of the expansive scope of its story. "We're going to break it into episodes, so we'll have the very first episode that sets up the world being a bit longer form. The remaining episodes will be in shorter forms that people are used to with web series, and the concluding episode will be a longer one, so that the whole thing becomes this epic tale that we're able to tell," he says.
Mills worked with many of the show's cast members before, including Stinson, on other shows, including as a puppeteer, and while he continues to work with new performers, he wanted to provide new opportunities for some of his longtime collaborators for his latest web series. "We obviously wanted to get some of our talented cast members who are not just puppeteers but are also actors, so it was nice to be able to get an opportunity to get their faces in front of the camera, instead of underneath it. There are additional roles that we are going to be casting. I've known Ash from before; I hadn't worked with him until this one (RUFFUS' STEAMPUNK ADVENTURE), but he's on the board of the IWCC (Independent Web Series Creators of Canada, previously covered on this blog) with me, and we've been hanging out through the Toronto web series community. So, you get to know these people and you get to know their work, and I've performed as an actor in other people's web series. There's a lot of cross-pollination going on, so it's a little bit incestuous but it's all good. It's all creative, and it's not just empty nepotism."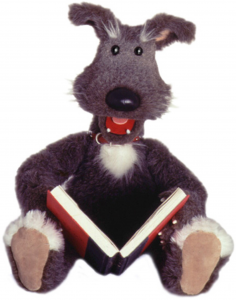 While the main series was targeted primarily towards children, the Ruffus Christmas special was made for both kids and their families, and it's that audience that Mills again hopes to serve through RUFFUS' STEAMPUNK ADVENTURE.
Most importantly, Mills seeks to bring both children and their families intelligent, creative programming that stands apart from much of what constitutes today's popular kid fare, through a series that inspires others to tell their own stories through the world of web series – and one that teaches an important lesson about the meaning of technology. "In terms of making web series, I'd like this and any other production that we do to serve as an example for anybody considering making web series to get out there and do it, to stake their turf, to tell their stories using the resources they've got at hand. Anything is possible, and you can make it look like a bazillion dollars without having that kind of money in the bank," he says.
"Within the show itself, the message is that we're a community, and whatever tools we invent to bring us together as a community, we have to use them to maintain that sense of community and not let ourselves be overrun or overruled by people who seek to use those tools against us. Very revolutionary stuff coming from a talking dog puppet," Mills says, laughingly.
ON THE WEB: www.steampunkruffus.tv (The show's official web site, which currently links to the IndieGoGo campaign, and the show's trailer).
and www.ruffusthedog.net (Ruffus' official web site).
YOUTUBE: (for all of Ruffus' adventures, including the Christmas special): http://www.youtube.com/user/ruffusthedog
The show's IndieGoGo campaign is available here:
http://www.indiegogo.com/projects/ruffus-steampunk-adventure
FACEBOOK: https://www.facebook.com/pages/Ruffus-The-Dog/19656726974
TWITTER: @RuffusTheDog