These days, one would think that trying to find that special someone is easier than ever, given the proliferation of online dating sites like eHarmony and Match.com among others. Yet, there are so many risks that come along with the possible rewards of searching for a soulmate in cyberspace, and despite the enormous growth of online dating, playing the field is still a complicated – and at times, comical pursuit.
Produced by Pentene' Monique and Brandon Kyle, the new comedy web series DATING SAVANNAH LOVE portrays that pursuit as it follows the story of Savannah Banks (played by Donna Cerise of A&E's LOW WINTER SUN), the successful, yet single editor of a popular bridal magazine. Now in her 30's, Savannah's career is the one thing that drives her daily life.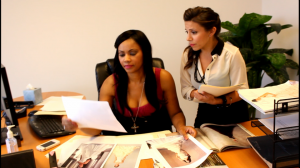 Unfortunately, the one thing she doesn't have in her life (yet) is true love, and along with the daily difficulties of balancing career and personal life, just seeking that special someone is an even bigger challenge for Savannah.
However, it's one that she reluctantly decides to take on with the help of her close friend and assistant Valerie (Mandalyn Meades) who not only serves to bring much needed humor into her life but also constantly persuades her to find that one man who will add romance to it, as well. The series debuted on Friday, January 3rd, with 10 episodes airing every other Friday on its official Youtube page. The season finale is set for May 9th.
The world of online dating has produced many lasting relationships, but it's the failures that are most common. The trials and tribulations in the pursuit of romance online have had quite an impact on all involved. For Kyle and Monique, those experiences contributed to the creation of DATING SAVANNAH LOVE.
"The show was developed based upon creating the ideas that would reflect an individual's experiences while dating, (and) thinking about certain situations people would find themselves in and the various types of personalities that we all come across and hear about from friends and family when we are out there in the dating world. It made it an interesting process to combine those various real life experiences with the addition of entertainment," Kyle says.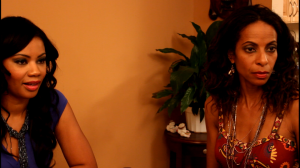 Adds Monique, "The popularity of online dating is so tremendous that it seemed like an interesting journey to follow someone that does it and create a story around. In addition, the show becomes even more relatable because more and more women are becoming successful career women before starting a family and so they are getting back into the dating pool after starting their career, but are met with difficulty finding someone. It seemed interesting to create a web series following the online dating life of a successful career woman to see if it is possible for her to find love online and at what cost," she says.
Monique's own experiences in trying to make an impact in the corporate world also served to play a key role in the series' development, and in its title character. "Being a career oriented woman myself who solely focused on a college education and training for a career in the entertainment business, I was not interested in starting a family just yet, so the idea is loosely based off of how closely I relate. Since a lot of women can identify with having a hard time finding a mate to start a family with because they choose to start a career first, its very challenging in the dating world right now so the show was created to show what women go through in today's dating pool to find someone special. It seems that more and more people are finding their soul mates online," she says.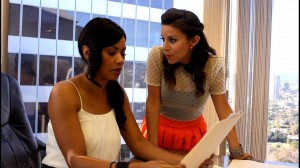 DATING SAVANNAH LOVE is for anyone who's ever tried to find love, no matter where or how it can be found. Monique feels it's a comedy series that is sure to be a hit with viewers and hopeless romantics alike through its smart, realistic and hilarious approach to its comedy and its storytelling; a romantic comedy that may be unlike any on the web. "The writing, talent and the realistic approach to the life of dating [set it apart from many web series]. It's a very relatable show and the talented cast brings the realness to the characters. The witty writing makes the dialogue comical, real and clever," she says.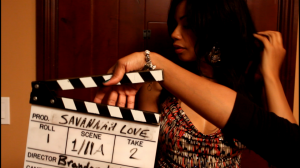 DATING SAVANNAH LOVE is not only a series that portrays one woman's quest to find her one true love in the vast reaches of the web, but it's also one that is a labor of love for both Kyle and Monique. "Entertainment is the greatest thing ever created. It brings life to everyone's daily life by getting to watch movies, television, artists and just be all around entertained. I don't know what I would do without it. I've always enjoyed the aspect of making a production happen from how ideas are created and developed to scripting and casting. Then the actual production itself. You get to be on set and it doesn't ever feel like a real job. To have the opportunity to do what you are passionate about never makes it feel like work. Although it's a tough road and lots of hard work and long hours at the end of the day it's what you love and overall I really enjoy that," Kyle says.
Along with entertaining viewers through the series' true to life characters and biting humor, Kyle and Monique hope to send viewers an important message with DATING SAVANNAH LOVE: that no matter how hard life can be, or how distracting things can get, there's always someone out there waiting to be loved. "Throughout the series we're following an individual who attempts to find her soul mate online and although she is faced with obstacles along the way she continues to pursue dating to ultimately find companionship. There are many people out there who struggle with finding that special someone. We want to show that there is hope, although you may face many challenges in the dating world. There's someone out there for everyone," Kyle says. Adds Monique:  "It's also okay to focus on your career before starting a family if that's what you choose to do, because its never too late."
(Note: The series is currently closed-captioned, according to Kyle and Monique.)
ON THE WEB: http://datingsavannahlove.wordpress.com/
YOUTUBE: www.youtube.com/namebrandfilms
FACEBOOK: https://www.facebook.com/datingsavannahlove
TWITTER: www.twitter.com/datingsavannah
TUMBLR: http://datingsavannahlove.tumblr.com/
PINTEREST: http://www.pinterest.com/datingsavannah/