Throughout the history of television, some of the most memorable personalities ever to appear on the small screen are those who work the late shift – the great hosts and comedians who've made staying up late the funniest and most entertaining part of any weekday. From such past luminaries as Steve Allen, Jack Paar, and Johnny Carson, on up to today's heavy hitters like the outgoing 'Tonight Show' host Jay Leno, David Letterman, Conan O'Brien, Jimmy Fallon – soon to assume Leno's mantle – and Jimmy Kimmel, late night talk/variety shows continue to be among the most popular programs airing on TV. Of course, any great late night host is nothing without great guests, and some of TV's most memorable moments have occurred in the presence of those aforementioned greats.
With the continuing prominence of web based content, there are plenty of talk/interview shows. However, most of these shows like Joan Rivers' IN BED WITH JOAN, LARRY KING NOW, KEVIN POLLAK'S CHAT SHOW and others rely solely on one-on-one interviews, and don't necessarily fit the studio audience based, talk/variety mold usually found in late night TV. One such web series not only brings that atmosphere to both live and online viewers, but does so in a manner that's much different than even its TV brethren; one that balances both the serious and the silly in an entertaining, informative and dynamic way.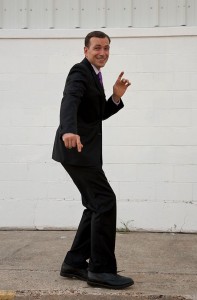 Described by show host John Calhoun as "like Jimmy Fallon, but with a local specificity like A Prairie Home Companion and a little heavier on the music," the 90 minute New Orleans based THE GOODNIGHT SHOW is a show that brings viewers a taste of the Big Easy in every episode.
Having debuted in August of 2012, THE GOODNIGHT SHOW tapes on the second Wednesday of each month (except for August and September) at 8 PM Central at New Orleans' Cafe Istanbul located on St. Claude Avenue behind the New Orleans Healing Center on St. Roch and Rampart St.
Viewers can watch clips of each episode on the show's official web site and Youtube page, and the show has also gained a substantial social media following through Facebook (more on that later). The show's Youtube page features the complete seventh episode of THE GOODNIGHT SHOW, and a video of its opening monologue is embedded below.
The next episode will be taped live February 12th, and it's just in time for Mardi Gras with guests Virginia Saussy (creative director of the popular Mardi Gras krewe Muses), Spy Boy Honey of the Creole Wild West Mardi Gras Indians, CJ Hunt and Kyle June Williams (the team behind the New Orleans comedy web series SUNKEN CITY, previously covered here) and musical guests George Porter Jr. and the Runnin' Pardners.
Calhoun is also joined by his sidekick, announcer (and series art director) Ben Ellis, plus the show's house band, The Goodnight Show Orchestra. In addition, The Goodnight Show Players (Kate Becker, Chris Lane, Jon Mayhue and Canae White) appear in the show's hilarious 'live' commercials for local sponsors (a throwback to the days of live ads most prominent in TV's Golden Age), further adding to the exciting atmosphere people can expect when they attend and watch each episode.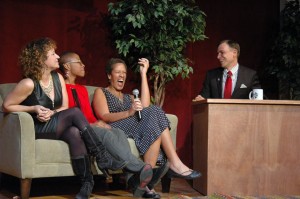 Many guests from the world of entertainment, food and culture have appeared throughout the show's run. Among them: musical guests like John Boutte and legendary blues guitarist Little Freddie King, comedian Sean Patton, actor Dwight Henry (BEASTS OF THE SOUTHERN WILD, 12 YEARS A SLAVE), plus great chefs like Susan Spicer, and newsmakers including environmental activist, acclaimed New York Times best-selling author and New Orleanian of The Year John Barry (RISING TIDE: THE GREAT MISSISSIPPI FLOOD OF 1927 AND HOW IT CHANGED AMERICA).
As Calhoun explains, THE GOODNIGHT SHOW is the culmination of a dream that he long had hoped to achieve: to combine the hilarious and free wheeling atmosphere of a late night talk show with his goals to achieve positive social change in a city that's otherwise known for its problems. "I wanted an opportunity to perform, and thought it would be fun to have my own show and got the idea to do a late-night talk show style thing, but in front of a live audience and do it New Orleans style. I called my talented friends and it just developed from there."
Those talented friends include the show's head writer/director Duncan Pace, producer/guest booker Cassandra Snyder, plus the hilarious four members of The Goodnight Show Players, the show's in-house repertory company (Becker, Mayhue, White and Lane), Calhoun's announcer Ben Ellis, and the six piece Goodnight Show Orchestra led by drummer Steve Walkup and backed by guitarist Trey Ledford, bassist Matt White, keyboardist Tom Beeman, Drew Calhoun on sax, and trumpeter Hannah Krieger-Benson.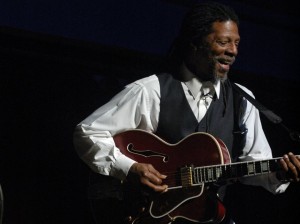 Each episode of THE GOODNIGHT SHOW brings viewers a unique mix of great comedy and insightful, hard hitting interviews with some of New Orleans' most important  and fascinating public figures from all walks of life. "(There are) four guests: a notable New Orleanian (an iconic, fun, or famous person, actor or chef, etc.). Guest two is usually more serious, (like someone who) does important work for the community such as coastal restoration or is a youth mentor. (The) third guest is a musical guest and also sits for an interview. (The) fourth guest, usually a comic, does (a) set and sits for a short interview. (The) show begins with a monologue and then there are commercials between each guest. I play and sing a song on my ukelele to close the show," Calhoun says.
Like virtually all talk/variety shows, there's a monologue, guests, a couch, music, a studio audience and a host seated at a desk. However, while shows like THE TONIGHT SHOW, THE LATE SHOW and CONAN focus on national figures spanning the world of music, movies, TV and sports, THE GOODNIGHT SHOW brings viewers a distinctly New Orleans style spin on the genre. "We focus on New Orleans culture, (from) Mardi Gras indians, (to) brass bands, (and) excellent musical guests. An audience member can hear some of the best music and comedy New Orleans has to offer, learn about an important issue or organization in town, learn more about a loved New Orleans icon or local movie star or chef, (and) laugh at our commercials and all this in one show," Calhoun says.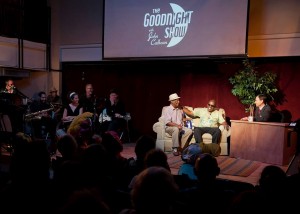 Along with its distinct local flavor, THE GOODNIGHT SHOW is also different than most gabfests because it's not afraid to tackle the difficult issues – mainly those like crime, politics and the impact felt by the city after the devastation of Hurricane Katrina. "Our show is more serious than shows like Letterman. We always have a guest where the interview and show get deep and serious. Maybe we are talking about the murder rate in New Orleans or injustice in the criminal court system or youth mentoring programs, but our writers and performers are hilarious, so the show then goes back to huge laughs. Our audience gets a wide range of experience all in one show."
The spontaneous, exciting atmosphere of a live show is always exciting, and nowhere is that more evident when the cameras roll and THE GOODNIGHT SHOW hits the air. Yet, as is always the case with any talk show, preparation is key. "Cassandra finds great people to be guests. Duncan writes the scripts for the commercials and some other comedy sketches. I work with him on my monologues along with Chris Lane. I write my song. I pre-interview the guests and research to prepare for the interviews. We have many rehearsals. The band has their own rehearsals as do the commercial actors and then we have a couple of rehearsals with the whole team. Then the show pretty much goes as planned, but (it's) better because we have the excitement off a live audience and all the magic our guests bring to it. We have 3 cameras catching all the action," Calhoun says.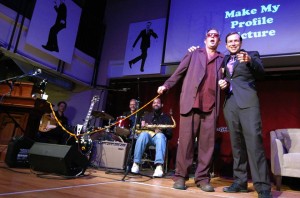 THE GOODNIGHT SHOW has won over fans and critics alike, and with 600 likes on its official Facebook page plus countless local media attention, Calhoun says that the momentum and fan following for the show continues to build. "Our audience is growing, and we are serving a very important role in new orleans. People are doing vital work such as restoring the coast, giving young people an alternative to a life of violence and the show is a platform to highlight the important work some of our guests are doing. Audiences are discovering new comics and musicians and it really brings diverse elements of the community together. It's a magic experience."
So too has the show's overall production quality. "There has been some criticism and as time goes on we work hard to use this to improve our show. My monologues are way funnier than the first season and my interview skills are improving. The writing is getting better and the transitions from one segment to the next gets smoother. Our band is awesome! We have a growing fan base," adds Calhoun.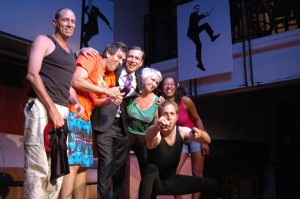 While Calhoun and his talented team hope to expand that fan base, they also hope to bring viewers of THE GOODNIGHT SHOW the ultimate experience – seeing the magic happen live. "We would love to broadcast the show live one day. We are waiting for the right person to come see the show. We believe we are ready! Our budget is a shoestring, but the future is bright!" Even though they hope THE GOODNIGHT SHOW will be a sustainable and profitable venture, their biggest goal is to continue to make a positive difference in the city they call home. "We want to continue to be an important part of the New Orleans community," Calhoun says.
THE GOODNIGHT SHOW is truly unlike all the other talk shows out there – both online and over the air. It's a show that gives viewers from all over America a chance to laugh, learn, and celebrate an imperfect yet incredible city unlike any other. Calhoun sums up the show this way: "Our show is late night talk without the sarcasm and irony and super funny and poignant and relevant with the best music the world has to offer – there is so, so much talent in New Orleans and producing this show makes me proud to call New Orleans home!"
ON THE WEB: www.thegoodnightshow.us
YOUTUBE: www.youtube.com/thegoodnightshownola
FACEBOOK: https://www.facebook.com/TheGoodnightShowwithJohnCalhoun