Sharing an apartment with your best friend can be awesome. While there's always the advantage of living in the same spot with someone you know well and get along with, such an arrangement can also come with difficulties like a roommate who leaves the toilet seat up, or worse, comes home drunk and pees in the waste basket. Yet, the biggest challenge for anyone sharing an apartment can be the constant struggle to make sure they keep a roof over their heads. It's a task that two males (one gay, one straight) face with humor in the new comedy web series ROOMMATES, premiering this spring on the new video platform HeyAudience! and on its official Youtube page. As of press time, series creator, writer and co-star Liam Gareau says that 10 episodes are set to air but that amount could change between now and its spring premiere.
ROOMMATES stars Gareau as Liam, the wacky, offbeat and sometimes misunderstood gay counterpart to Ned (Ned Petrie), a straight man in every possible way – and not just sexually. Ned usually serves as the duo's voice of reason and tries to keep a cool head amid Liam's otherwise chaotic behavior. The series' ensemble cast also includes Anders Yates as Anders, Liam's boyfriend, and Leigh Cameron as Leigh, who Ned immediately becomes smitten with.
Over time, both Anders and Leigh not only serve as love interests for the two roommates (Liam and Ned, respectively) but also remind them of how different life could be once they decided to fully commit to a long term relationship – especially considering that it would mean both men trying to live their lives separately. Rounding out the cast is Jennifer Goodhue as Liam and Ned's recently divorced landlord, Jen, newly single as a result of her ex-husband marrying another man – and newly fit thanks to an intense exercise regimen comprised of the Israeli self defense program known as Krav Maga.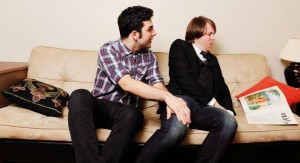 For some web series creators, real life experiences often prove to be a major source of inspiration. As Gareau explains, ROOMMATES was developed in large part due to his close friendship with fellow castmate Cameron – and Cameron's real life relationship. "The show was conceived out of a total joke. Leigh Cameron has a real life boyfriend named Nate, someone who I have an unabashed and very harmless crush on. And I was joking about like, 'Oh! Wouldn't it be so terrible if you and I couldn't find anywhere to live in Toronto? And the only place we could afford was a one-bedroom? And then we'd have to share a bed.' And on and on. And because Nate is such a good sport, he would continue the bit and we just riffed on the idea for…probably too long an amount of time," he says.
Along with Cameron, it was another of Gareau's friends that finally put him on a path towards bringing ROOMMATES to the screen. "…It was my friend (and also co-founder of HeyAudience) Stu (Vaughan, series co-director/co-producer) who was like, 'Y'know, I actually think that idea's really funny, you should write that down." And I would say, I was the one who wasn't convinced about how it would float as a premise for the show. I initially thought that if the idea was funny, it was because we were spontaneously joking about it in the moment and it wouldn't [have] legs if I actually sat down to write something. But after thinking about it for awhile, it occurred to me that there aren't many shows that display straight/gay male friendships in such a way where they do really love each other, just in a very specific way. And what then I began to wonder what the show would look like if these two characters were really dependent on one another," Gareau recalls.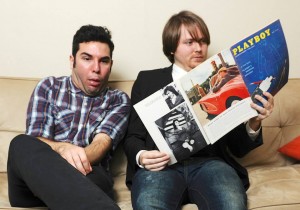 Perhaps the biggest reason Gareau created ROOMMATES is the continuing acceptance of gays in society – especially among men. "I think the inspiration of the show really comes from the progressive attitudes of some straight men. Especially in my circle of friends, there isn't this sense of "gay panic" or fear about gay people. If I went to one of my straight male friends and said, "Oh, you look great in that suit." They wouldn't start to worry about the implications of a gay man complimenting them on what they look like. Instead they'd probably just say, "Really? Thank you!" Now more than ever straight men have friendships with gay men, some of which are really meaningful and I wanted to write a show that reflects that," he says.
Before the cameras rolled, Gareau didn't have to go far to find his talented cast – nor did he have to jump through hoops to ask them to bring ROOMMATES to life. "Everyone in the cast are friends of mine who also happen to be very talented performers. A goal of mine with the show was to be able to have everyone see just how great all these people are and luckily, in order to nab these guys, all I had to do was ask," he says.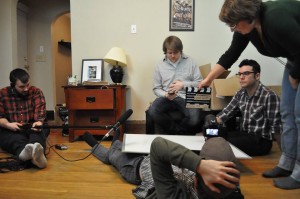 Given that Gareau and his cast were new to the process of creating a web series, there was plenty of time and opportunity for all of them to learn what it takes to bring such a production from the page to the stage. "The filming process was really fun and really interesting because this, by and large was everyone's first venture into this terrain, so it was cool to sort of learn as we go," Gareau adds.
While there have been many series devoted to the lives of gay men, ROOMMATES stands out for many reasons that include, but aren't necessarily limited to, the portrayal of friendships between them. "I think an important thing to remember about ideas or storytelling, is that every story's been told, but it's not been told by you. So because this project has all of our unique voices attached to it, I think it's a unique telling of what this kind of friendship between these two men look like. Also, I can't think of many shows that have depicted a friendship in this way, so that's exciting to me."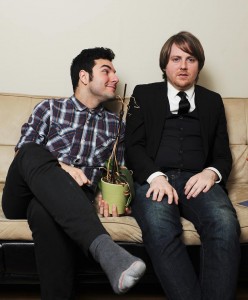 Through ROOMMATES, Gareau hopes to bring viewers a comedy that's both hilarious and heartfelt; one that features instantly relatable characters and situations portrayed with comic and emotional depth. "I think if people enjoy comedies with a lot of heart, they'll like our show. GIRLS, PARKS AND RECREATION, THE OFFICE, those are certainly shows I look to as prime examples of what comedies can do. Not only can they be silly and funny, but they're also unafraid to shy away from grounded, emotional moment. We hope to do that with our show," he says.
For Gareau, the biggest goal he hopes to achieve with ROOMMATES is one every web series creator tries to accomplish – to make a lasting impact with the viewer. "I can't honestly say that there's a 'message' or "goal' for the show. The only goals I'd say that we all had going into process was, we all wanted to create something that we could be proud of, that would keep us busy and working. And if people could find the show, see it respond to it in any way. Ha. I'd say that's truly our goal. For people to see it."
[Note: Gareau says that the series will be closed-captioned through HeyAudience's Youtube page (linked through the HeyAudience website).]
ON THE WEB: www.heyaudience.net
YOUTUBE: http://www.youtube.com/user/heyaudienceofficial
FACEBOOK: www.facebook.com/itsroommatesthewebseries
TWITTER: @RoommatesWeb