For some, moving on from the bitter heartbreak of lost love is difficult. For others, no matter how hard they try, they just can't seem to let go of each other. That's the situation that a young couple named Wes and Allison face in the new comedy web series LOVE'S A BITCH, debuting this week on the Official Comedy web series network and on the series' official web site and Youtube pages. The 12 episode series began airing on Wednesday, Feb. 12th and will air its first 3 episodes from now until Valentine's Day (February 14th). The remaining episodes will air in threes the following 3 1/2 weeks.
Created by Eric Ian Goldberg, Matt Kazman and Jeff Schwartz of No Parents Productions, LOVE'S A BITCH stars comedians Jamie Lee as Allison, and Josh Rabinowitz as Wes, a couple reeling from their emotional breakup and trying desperately to move on from each other. Intelligent yet often self assured, Allison feels that she should make the most of her young years to the fullest. Yet, she doesn't really know what to do in order to accomplish that goal. Meanwhile, Wes is determined to embrace his new life as a single man but his efforts are complicated by both his immature behavior and his indecisiveness. Of course, making things even worse for him is that he just can't forget about Allison, and he's out to prove that he's doing better without her.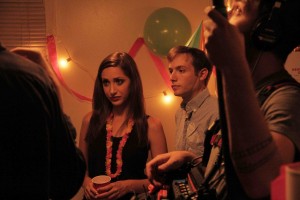 LOVE'S A BITCH was developed over three years ago, when series co-writers Tim Moran and Anu Valia came to Kazman with a concept for an original comedy about just how hard it can be for those who've fallen out of love to move on from each other – especially if they still secretly hope they can make it work again.
Yet, as Kazman insists (much to Goldberg's chagrin), it may or may not be based on actual breakups. "We all wrote a pilot together that was definitely NOT secretly a therapeutic exercise for Eric. Then we shot that pilot, again, not for therapeutic reasons or anything. Definitely not. After making the pilot, Eric and I talked about how to build the show from there, and we developed it into a longer storyline about two people who don't want to be together anymore but also don't know how to be alone. There's still a grieving process, but it's more of a rehabilitation process," he says.
For each creator, the painful (and painfully awkward) moments that often take place in a romantic relationship contributed greatly to the show's development. "Mostly, we would just tell each other all the dumb things we've ever said or done for/to someone we cared about. Then as we cried into each other's arms, we would mold the episodes from there and I would think about seeing a therapist," Goldberg adds.
While most web series rely on either existing income or through donations via crowd funding campaign sites like IndieGoGo or Kickstarter, LIFE'S A BITCH raised the money needed to put the show in production via two different streams. Says Schwartz: "The series in its current incarnation was funded entirely by Official Comedy. But before they came in with this 12-episode order, we made an independent pilot for it, which was supported by a very successful Kickstarter campaign (thanks again to everyone who donated!)"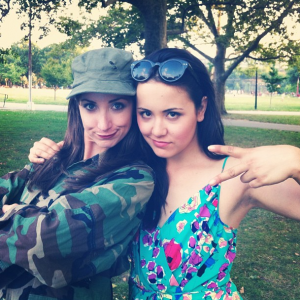 Finding the show's talented performers was easy thanks to the rich and diverse New York acting community. "Luckily we live in N.Y. with some of the best comedy actors in the city at our disposal. We looked to UCB (Upright Citizens Brigade)/The PIT (People's Improv Theatre) and stand-up performers we admired. There were some fantastic theater actors we tracked down and convinced that web content was where the cool kids all hung out. Honestly, we tried to grab anyone we thought was funnier than we were. We also threw Matt in there somewhere," Goldberg remembers.
With a cast that includes some of New York's best comedic actors, Goldberg, Kazman and Schwartz set about bringing LOVE'S A BITCH to the web. As Kazman recalls, the production process was not only efficient but incredibly swift. "After getting the green light from Official Comedy, we came up with a bunch of ideas, and then narrowed them down to our top 12. Eric, Tim, Anu and I each wrote first drafts for a few episodes, then Eric and I got together and revised them all. We wrote the entire series in a month, then shot it a month after that, over 11 days last July. We shot it all at once, completely out of order – we'd shoot scenes from 3 or 4 different episodes every day. Every scene we shot, the crew was like "I have no idea where this fits in, but this is super funny. Also, when is lunch?"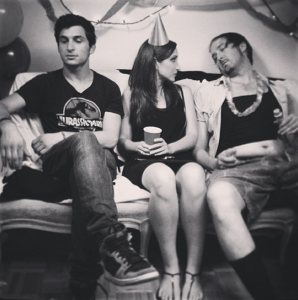 The production's overall efficiency and speed is reflected by these stats: "The final shooting scripts added up to 77 pages of stuff, with 36 locations and 45 speaking roles. It was crazy, (and) it felt like we shot a mini movie. After writing and shooting it so quickly, we took our time editing it over a few months, which might be the backwards way of doing things, but it worked out for us," Kazman adds.
With great characters (and situations) that viewers will instantly identify with, LOVE'S A BITCH is a comedy that not only brings the laughs, but also makes the most of the short format typically found in most web series. "I think that what sets LOVE'S A BITCH apart is how ambitious it is. We tried to create storylines for each episode that had enough in them for a half-hour long comedy and then make it all happen in 5-8 minute episodes. The show follows two separated characters, so episodes usually have two storylines going on. As a result, I think it feels a lot bigger than a web-series. While we were shooting it, Jamie said it felt like a TV show that just happens to be on the internet," says Kazman.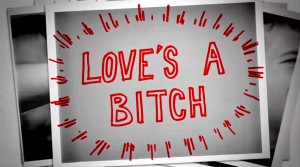 Through the hilarious story of two ex-lovers who struggle to begin their new lives apart, LOVE'S A BITCH proves that while breaking up is always hard to do, it's even harder – and often just as painfully funny – to try to move on from the heartbreak of a failed relationship.
It's a comedy that both Schwartz, Goldberg and Kazman hope will strike a chord with anyone who's ever had to deal with the heartbreak of falling out of love. "Wes and Allison break up because they think they can do better. We soon learn that they can't. The end of their relationship is like a horrific car accident where the car flips and skids down four lanes of traffic, knocking out a milk truck and erupting into a fireball, but in narrative television form. Wes and Alison will have to decide if all the heartbreak and headaches are worth them growing as responsible adults, especially when it is so much easier/cheaper/lazier to just get back together," Goldberg says.
Adds Schwartz: "Break-ups are hard. But getting over them is harder, longer, sillier, stupider, and more human."
(Note: The series is not currently closed-captioned.)
ON THE WEB: www.officialcomedy.com
and
YOUTUBE: www.youtube.com/user/OfficialComedy
FACEBOOK: www.facebook.com/officialcomedy
TWITTER: @OfficialComedy
INSTAGRAM: @OfficialComedy