Whether it's popular online auction sites like eBay, or flea markets, or garage sales, the world of collectibles has always resulted in big business. Along with that comes our fascination with relics of the past; things once common but now seemingly outdated given today's technological advances. In the new paranormal/suspense comedy TWEET, a young teenage collector soon finds out that while one such item she buys (in this case, a broken iPhone) may have some value, it ends up taking on a strange life of its own.
The series' 12 episode first season is set to premiere later this Summer on its official Youtube page (soon to be launched). As of this writing, the show's IndieGoGo crowd funding campaign has raised just over half of its $14,000 goal ($7,555) before its deadline of March 4th.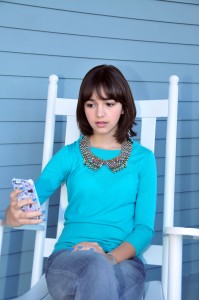 Produced by the husband and wife team of Marc Zatorsky and Shawn Morell Lewis (ORTHO AND HIS REMOTE), TWEET follows the life of Fallon Ward (played by Taylor Blackwell of DOLPHIN TALE 2, along with roles in the TV series MAGIC CITY and THE GLADES, among others).
Even though she's 15 years old, Fallon has a real appreciation for, and fascination with, all things vintage, and is an avid collector of things that were once a part of everyday life but have now been made all but obsolete thanks to changing technology (old cameras, records, typewriters, etc.) Yet, she also has a tendency to overreact to the smallest things. When she buys a broken iPhone that soon sends her ominous psychic tweets regarding her life, and when those events suddenly come to pass, Fallon's life is turned upside down.
The series' cast also includes veteran Broadway and TV actress Avery Sommers (MIAMI VICE, Burt Reynolds' B.L. STRYKER, and the made for TV movie THE MAN FROM LEFT FIELD, etc.) as Prudence Wildflower, the owner of a vintage antiques store who shares the same passion for nostalgia and collecting as Taylor does. Taylor's family comprises of her mother, Nancy (Julie Upton), who loves Fallon but sometimes has her patience tested with her daughter's consistent overreactions.
There's also Woody (Rick Seguso), Fallon's ex-Army grandfather (and Nancy's father). Though he prefers order and structure, Woody's life away from the military has been far too quiet for his liking, and he hopes to change that when he asks Nancy to move in with her two children. Along with Fallon is her annoying younger brother Jeremy (Zack Michael), a budding viral video filmmaker and prankster who tries constantly to catch her sister in whatever embarrassing situation she finds herself in.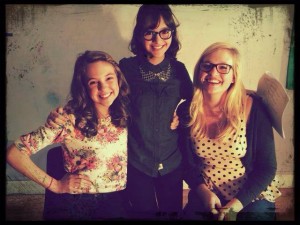 In addition, the cast includes Lucie Rhodes Evans as Lizzy, and Cayla Brady as Jena, Fallon's best friends from Ohio (where she, her mother and brother moved from), Mike Benitez as Petey, Woody's close friend from Brooklyn and the owner of a local clock repair shop, Cheri Burr as Caroline, the proprietor of Woody's favorite health food joint Smoothie Whirl'd, Mario Temes as the smooth talking busboy Diego, and Mitch Lemos as the mysterious Ettinger Bradley, a man whose true identity and purpose is finally revealed at the conclusion of the show's first season.  Rounding out the ensemble are three veterans of the acting scene in South Florida: Donnie Kent as Lydia, Alexander Artiles as Kiara, and Julie Kendal (appearing as a 1940's movie actress in the series).
Just where or what inspired Zatorsky to come up with a web series revolving around a teenager whose life is suddenly changed forever thanks to a cryptic series of tweets isn't exactly clear. As he recalls, though, the concept for TWEET came just as quickly. "Every story, script or show I come up with, I can always tell you exactly when and where the idea came to me, but I can't with TWEET. It kind of just snuck up on me out of nowhere. I can't remember when or where. It's freaky when you realize the story is about a psychic phone, isn't it?"
It's very common for many writers to envision specific actors playing the roles they've created for them on the page. Zatorsky used that process when he began crafting two of TWEET's key characters. "When I create a story, on occasion I write parts for certain actors I have in mind, not knowing if they would be available or even interested in the part. I did this with Tweet. I wrote two parts with Taylor and Avery in mind and was totally thrilled when they read the script and came on aboard. The rest of the cast was found through auditions in January," he says.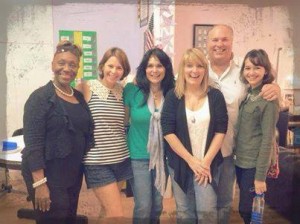 While the writing process has remained generally the same for Zatorsky and Lewis, TWEET was a first for Zatorsky in one key respect: "I almost always write on my own. Then I get together with Shawnee and work on the rewrites. This is the first time I worked in depth with our lead actor, Taylor, in creating their character and some story lines," he adds.
Having begun her professional acting career at the age of 5, Blackwell takes pride in how TWEET grew from a simple idea into a full fledged web series that is sure to be a favorite with teens and their families. "Many months ago, Marc approached me with the idea when that's all it was – an idea. I have not only been able to see Marc's story come to life on paper, but I've also seen it grow to great heights. There are so many elements in the storyline that I believe the audience will love just as much as I do. I look forward to seeing his words fly off the paper, and onto the computer screen and I am truly blessed to be a part of it," she says.
For Blackwell, the role of Fallon Ward came naturally in large part due to the fact that she shares many of her character's traits. "As an actress, you always want to bring a lot of yourself into the role. For me, this tends to be very easy because I am a lot like Fallon. I have two younger brothers, and a sister. I am an old soul, and I'm fascinated by things from the past. Even though the storyline deals with the supernatural, I want to bring honesty to the character," she says.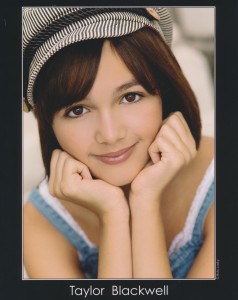 In fact, both the character and the series' story instantly won Blackwell over. "I think Fallon is a really likable character, and many teens will be able to relate to her. I think the concept is so unique, and the story is the perfect balance of funny, dramatic, and suspenseful," says Blackwell, who was also drawn to TWEET by its writing and by her character's rapport with her family and friends.
"It's very cleverly written, and I've never seen something done like this before. I think the relationships in the story are great too, such as Fallon's relationship with her grandpa, her brother, and her two best friends," she adds.
The show's ensemble cast was assembled after an extensive audition process, with over 300 hopefuls signing up to audition when Zatorsky announced that TWEET would soon go into production. It's an incredible feat considering that Zatorsky only had a limited time to get the message to Florida's vast acting community. While his and Lewis' previous series ORTHO AND HIS REMOTE was filmed on a much smaller scale, TWEET's production was far more expansive thanks to its storyline and cast.
"ORTHO was a 3 episode series and TWEET is twelve episodes. Our current production is increased 400%, which normally means 400% more bumps in the road, plus there are many more actors and locations in Tweet. ORTHO was sketch comedy and filmed totally indoors. With TWEET, we have an episodic story and we plan to utilize some breathtaking exterior views of South Florida," he says. For Blackwell, her experience working on TWEET has been tremendously rewarding. "The cast and crew is a lot smaller than previous productions I've worked on, which means we have to put in twice the amount of effort and energy. Because we are a smaller group, we all work as a team and it feels very much like a family," she says.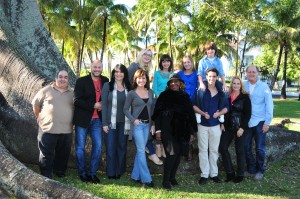 That experience was made all the more worthwhile thanks to the hard work and dedication of series co-producers Zatorsky and Morell. "Marc and Shawnee are great. They have so much passion towards the project, which is so nice. Marc used to be my improv teacher many years ago, and although I never would have expected that we'd be doing all these projects together today, I am pleasantly surprised. Shawnee has really done her homework when it comes to crowd funding, and SAG, so I'm really glad to have her on the team. I couldn't ask for a better duo to work with," Blackwell adds.
While most movies, TV shows and web series that delve in the paranormal rely on visual shock value and violence in order to be effective with viewers, TWEET takes a dramatically different approach that emphasizes story and substance over blood and guts. It also takes a smarter approach to its more comedic elements. "Most shows of this genre either swing the pendulum all way towards gory and gruesome, or they go to completely to the opposite direction and are sappy and cute. We are going down the middle; suspenseful and edgy but not gory, with some comedy that's not childish," Zatorsky says.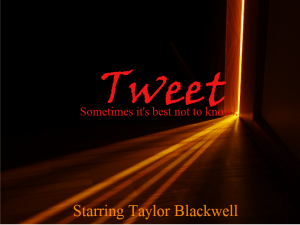 As a result, TWEET has something for everyone. "We have a story for those who have a love for paranormal genres, to those who love to laugh, to those who enjoy a true suspense story that will leave you hanging on the edge of your seat. TWEET is a family show that pushes the limits on scaring without the gore, which to me, is just as frightening," Zatorsky says.
Through her portrayal of a teenager whose love of nostalgia soon leads to a frightening life changing experience, Blackwell hopes to make quite an impression on viewers of TWEET. "I hope to evoke some sort of emotion with people. I want the audience to laugh, or to be really scared. I want to get people thinking. And of course, I want to leave the audience wanting more," she says.
For Zatorsky and Lewis, their goals for the success of TWEET are quite simple: "We are storytellers. In the end, we are looking to entertain people and leave them wanting more. We never look at it financially, obviously being able to do this for a living is our goal, but if that is the focus of anyone doing this, I believe it will show in your work, your actor's soul and and overall production," Zatorsky says. TWEET proves that although life comes with its own twists and turns, it's all a matter of how you deal with them. As Zatorsky describes the series' overall theme: "No matter what life hands you, you can survive."
(Note: The show is not currently closed captioned, as of yet.)
More on TWEET, and on the show's IndieGoGo campaign, via the embedded video:
ON THE WEB: www.seeworthyfilms.com
FACEBOOK: www.facebook.com/SeeWorthyFilms
TWITTER: www.twitter.com/TweetSeries
and www.twitter.com/SeeWorthyFilms
TUMBLR: www.seeworthyfilms.tumblr.com
IndieGoGo: http://www.indiegogo.com/projects/tweet-the-series/x/1659770