When I think about where the idea of crowdsourcing started and where it is going, my brain wanders to Madonna. Why you might ask? Well, in many ways I think she might just be the inventor! It's funny how everything leads back to Madonna.
In 1986 when the album True Blue hit the charts, she partnered with MTV (back when they actually played music videos) to crowdsource a video for the title track.
There was much hullabaloo leading up to the airing of the contest winner's video. I can remember my 11-year-old self, waiting in front of the TV, vibrating with anticipation and thinking that if only I were a little older, I could have entered the contest!
About 3 years later the internet was officially invented and about 10 years after that, Google became a household word. As the Aughts barreled on, the Web graduated into "Web 2.0," adding words and phrases into the vernacular like "social media," "selfies," and "tweeting." Who knew that the # would be used for anything other than erasing a message on your phone?
Anyone could put anything on the internet and everyone could see it. Web pages were more dynamic and sites like WordPress and Tumblr made it super easy to upload, share and maintain content. The era of the Narcissist had begun.
You could keep an online journal for everyone to read or post selfies along with pictures of your friends and babies and babies of friends, but then in 2009, Tosh.0 came along. This was a game changer. It was like Talk Soup on steroids. He had found a way to exploit the free material on the internet and has now used this as the basis for six successful seasons on Comedy Central.
Advertisers have become particularly keen to this trend as well. Consider the Doritos "Crash the Superbowl" contest of 2013, where contestants made their own commercials with the hope of it airing during a prime time slot in addition to winning a million dollars. Pepsi and Lincoln would soon follow. Why pay an advertising agency, when you can have millions of people do the work for you and generate their own media coverage utilizing their own social media networks?
One inevitable result of this sharing (and sometimes, oversharing) became what is sometimes referred to as "creative crowdsourcing"; artists connecting across the world, generating and responding to collaborative material in different art mediums – all online. Folks are not just creating content, but using pre-existing content as a springboard to then make a whole new something from it.
In 2010 the ever-so-dreamy renaissance man Joseph Gordon Levitt (Joseph, if you're reading this, will you marry me?) partnered with the Sundance Film Festival to launch his pet project hitREC●rd online. He managed to create a co-op of sorts where artists are able to not only post work and collaborate on other projects, but if viable, make some money off of them and maybe even see their work on television (hitREC●rd on TV premiered on Pivot in January, 2014).
When HOT MESS began in 2009, it's creator Amy Kersten mostly wrote about her own hot mess experiences (there were plenty to choose from). Our episodes were based on real events, quotes and stories from ourselves and people in our lives. Keys, our pilot episode, was filmed just weeks after Amy literally lost her keys and climbed a fire escape to break into her own apartment.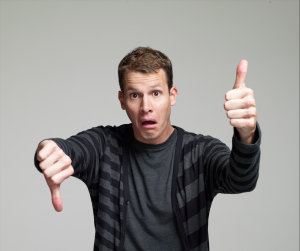 However, as the series expanded, our team grew, and we began to promote through social media. People began sharing their own hot mess stories with us, and we began to understand that social media sites like Facebook and Twitter provided self generating content: more fans = more plots = more fans. Now, fans can share their real life stories via social media and see them re-enacted by a cast of recurring characters they've come to know and love. It's like Unsolved Mysteries, sans Robert Stack and the trench coat!
In 2011, we were lucky enough to hook up with Voicefield creator, Trevor MacDermid, who set up our HOT MESS Hotline. The phone to web interface allowed fans to leave their messy stories as messages for us to mine for comedy gold. We really hit the jackpot with Carmen Grossman. Her Voicefield message about a hike through the wilderness gone horribly wrong became our Season 3 episode, Lip Stick – featuring our Producer/Director/Starlet, Cheri Paige Fogleman.
With our Season 2 episode Mugged, Amy pulled (from Facebook) a stranger than fiction tale posted by Lindsay Fanelli. Her story involved making friends with her would-be mugger.  It happens to be one of my personal favorites because it embodies some of the major HOT MESS elements we try to convey: it's a New York story, it's 100% true and it is FUNNY.
We continued to experiment with crowdsourcing when we made Splash. In this instance we made an episode based on Woman Falls in Fountain, a YouTube video of a woman texting at the mall and literally walking right into a fountain. Our idea was to build on content that was already trending by making our own HOT MESS version of the story. We also added crowdsourced footage shot on various iPhones (of Amy falling in the fountain) to give it more of a cinema verite type feel.
Now, with the release of HOT MESS Season 3, we have a nice mix of crowdsourced material and our own personal experiences and anecdotes. Our most recent episode, Catastrophe Waitress, is what we call a crowdsourcing mashup. It combines elements aggregated from different sources to form one cohesive episode. In this case, fans Lindsay Rae Taylor and Courtney Esser, along with new resident MESS, Yasha Jackson, contributed stories.
In an effort to capitalize on our use of crowdsourcing, while maximizing our viewership, Cheri and Amy had the brilliant idea of pairing an accompanying interview with each episode. We call it Talking MESS. In these interviews we explain the source of our material and/or have an actual conversation with the person who provided the content. This has given us a great opportunity to talk about our process and allow fans to find out the story behind the story – resulting in more follows, more shares and thus completes the Web 2.0 circle.
Madonna might be the Mother of crowdsourcing and perhaps the first real hot mess. Either way, from True Blue to Tosh.0 it's clear that crowdsourcing is a new transformative way of making content and in some instances, elevates it to art. Who knows how this will be taken to the next level? I think my 11 year old self would be smiling at the work created by my almost 40 year old self with HOT MESS. Things have certainly changed quite a bit since the days of Atari, dial-up Internet, and MTV exclusively playing videos, but one thing has not; everyone has a story to tell. Now it's just easier to share it