Ever find your car was towed the morning after a steamy night with a GQ model? Or maybe your one-night-stand woke you up… when he wet the bed. These situations, and many others, are the type that might just get your story reenacted on 'Hot Mess.'
'Hot Mess' takes stories submitted to the producers through social media, then converts them into a nice YouTube video for all the internet to enjoy. Some are just so good I had to question the reality of the situation. The example that comes to mind is a blind date episode where the couple met in a bar. The girl orders a Wild Turkey, on the rocks. An odd choice for a girl, no doubt, but it's her date's reaction that is truly over the top. His response: "that's what my dad used to drink when he'd get drunk and beat my mother."
D:
According to the show's creators the more off the wall the tale, the more true to it's origin the video likely is.
'Hot Mess' that almost perfect combination of short and funny that YouTube seems designed for. The short and to the point nature of the show has allowed them to create three seasons worth of videos that all stand on their own
This show kind of does everything right. Beyond the fun, brief, stand alone nature of each episode is the quality acting, the production value, the editing, the bonus content, the call to subscribe at the end of each video, the well designed website and the aforementioned social media aspect. Ultimately the responsibility for this falls on the mostly female team headed by creator Amy Kersten. Let's dig a little deeper into the specifics.
When watching the show it was easy to notice that they didn't cut any corners production wise. This isn't one of those shows that takes place entirely within a single apartment. The short length of most of the episodes is what really makes this possible. Since each episode is essentially one scene, likely shot on one day, it makes sense to stage each one in a unique location, be it a bar, an apartment, restaurant, or park.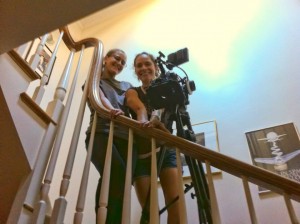 One of the coolest things about the show is their 'Talking Mess' bonus video that comes along with each episode. These are essentially behind the scenes style bonus content that features an interview with the person that the story is actually based off of. It really adds to the absurdity of a lot of these situations by grounding them in the real world. It's also cool to be able to have two videos available for each episode.
Lastly, one thing I love – that the bonus content ties into – is the way in which this group of women presents their own personalities to viewers. These aren't just characters in an episode. At the end of each video, the girl who starred in the episode will share a few thoughts, thank the viewer for watching and politely ask them to subscribe. This is all done out of character, and feels like a genuine look into the real persons personality. Needless to say letting your audience get to know you is essential and girls with personalities like these should be going places.
The only downside her is that not enough people are watching! This is good stuff, so you should take a gander – it's to the point where their mothers are starting to question their life choices.
You can find this group of Hot Messes at http://shesamess.com