Sci-fi Comedy Voyage Trekkers Warps From Web Series to the Big Screen.
Voyage Trekkers, the award-winning web series about the worst starship crew in the galaxy, turns to it's fans to transform the series into a movie with their Indiegogo Campaign.
Voyage Trekkers follows the misadventures of the GSV Remarkable and her crew as they struggle to make a name for themselves in the Galactic Union.  Lead by the brash Captain Sunstrike (Adam Rini), apathetic Commander Powell (Logan Blackwell), and the exasperated Doctor Rena (Gabrielle Van Buren), the series was praised by actor Nathan Fillion saying, "This is solid gold."
"We wanted to go big," says co-writer and director Nathan Blackwell.  "We wanted to take the characters and the world to the next level.  We raised the bar with Season Two with what people expect from a low-budget sci-fi web series, and we wanted to continue to up the ante with a movie."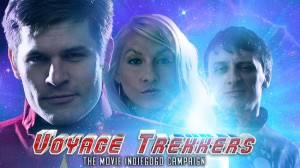 The campaign, as of this writing has reached $10,497, surpassing it's target of $10,000 with 14 days left to raise additional funds. They have also added a list of new stretch goals that will unlock additional perks.
Voyage Trekkers is a comedy web series about the worst starship crew in the galaxy, much in the humor of Galaxy Quest and Arrested Development.  The two-season web series has won over fifteen awards and was nominated by the International Academy of Web Television.
Created by Nathan Blackwell and Craig Michael Curtis, the show is produced by their production company Squishy Studios and Executive Producer Tray Goodman's Goodman Creative Minds Media. Visual Effects Supervisor David Stipes is a two time Emmy Award winner whose credits include Star Trek: The Next Generation, Star Trek: Deep Space Nine, Star Trek: Voyager, Battlestar Galactica (original series), and Buck Rogers in the 25th Century.
"We're so excited to make the movie," continues Blackwell.  "This time our bumbling characters will actually have the fate of the galaxy in their hands when they steal the most important quest of the entire war.  Not only does this raise the stakes for the story but sends the comedy in brand new directions as well."
Rewards for contributing to the Indiegogo campaign include a Voyage Trekkers comic book, walk-on roles in the movie, and an exclusive limited edition Voyage Trekkers board game.
Voyage Trekkers The Movie Indiegogo Campaign: http://igg.me/at/voyagetrekkersmovie
Voyage Trekkers The Movie Pitch Video:  https://www.youtube.com/watch?v=0gNjyVHq4Is
For all press inquiries contact:  [email protected]
You can connect with Voyage Trekkers on Facebook, Twitter, YouTube, Blip, and at voyagetrekkers.com.