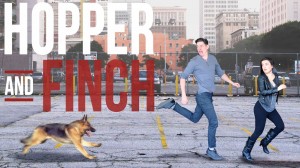 For decades, moviegoers and TV viewers have watched countless action comedies that feature "buddy cops," most notably movies like the LETHAL WEAPON, RUSH HOUR and BAD BOYS franchises, and even that immortal pairing of dog and detective, TURNER AND HOOCH, just to name a few.
To a slightly lesser extent, TV shows have also contributed their share to the sub genre on shows like STARSKY AND HUTCH. Even web series like the comedy/action cop show parody RAW HEAT have added to the "buddy cop" sub genre's staying power.
Yet, have you ever wondered just what it would be like if there was a "buddy" comedy revolving around the bad guys? The new comedy web series HOPPER AND FINCH follows a devious duo of crooks who team up to accomplish some dangerous missions in order to attract the mysterious head of an elite con artist agency that they hope to join.
The series' IndieGoGo campaign is still underway and will run through July 6th, with its 7 episode first season set to air sometime afterward on its official Youtube page. The show's prologue episode has already aired and is currently streaming via the aforementioned link. In addition, a new video that features more information on the show's IndieGoGo campaign is embedded at the end of this article.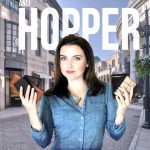 Co-created by and co-starring Ashley Lenz and AJ Rome, HOPPER AND FINCH stars Lenz as Andi Hopper and Rome as Dylan Finch. Though they're both professional con artists, neither could be more different from each other.
For one thing, Andi takes the job (get it?) of pulling off a successful scam very seriously and tries to do everything as close to the vest as possible.
On the other hand, Dylan pursues his cons in some very unusual ways that frequently clash with Andi's more traditional methods. No matter what, though, they both manage to pull off the biggest scams they can.
The entertainment industry is filled with talented actors, writers, producers and directors who have long sought to shatter the tightly closed gates of mainstream Hollywood. Having been veterans of the industry on both sides of the camera, Lenz and Rome knew all too well the struggles of getting noticed in showbiz. As Rome explains, he and Lenz decided to disrupt the traditional film and TV industry's game plan as they created opportunities for themselves to attract audiences – and the studios themselves – through HOPPER AND FINCH.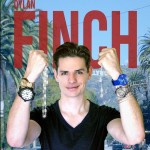 "We knew we wanted to create something for ourselves. The traditional way of Hollywood is to wait for other productions to tell you where you fit in. We wanted to write something that we wanted Hollywood to see us as. We also needed something we could shoot on practically no budget. We considered many different plot lines, characters, and stories (all comedies) before we landed on this one, and loved it. It also helped that we haven't seen many shows about con artists," he says.
The series' prologue episode was shot over the course of a weekend. Yet, while the show's first season has yet to be filmed, Lenz and Rome's experience in front of and behind the camera made the production of that opening episode smooth and efficient. When the show finally arrives on Youtube, Rome believes that it won't be your typical "buddy" comedy.
"I like to think of this show almost as a buddy cop comedy, but on the other end of the moral compass. Instead of chasing bad guys, you're watching the bad guys, and rooting for them to pull one over on the good guys," he says.
To sum it all up, HOPPER AND FINCH promises to be a comedy web series for all those who like intelligent yet hilarious comedy, plus characters who possess more depth than those portrayed in most sitcoms.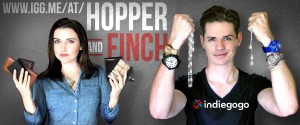 "The show is put together in a strategically vague manner. You see important moments, but not always how they connect. People who like to 'solve' shows or movies will like our show. We would compare it to the Ocean's trilogy, mixed with a little bit of the Pink Panther detective movies," Rome says.
For Rome and Lenz, their biggest goals for the success of HOPPER AND FINCH are twofold: to show the world their incredible talents through HOPPER AND FINCH, and to show viewers a distinctively different take on the "buddy" comedy that's got plenty of laughs, mystery and above all, heart.
Says Rome: "We hope to capture a fan base of people aching for a new and original show, simultaneously capturing Hollywood's attention in our acting and writing abilities. Financially, we would like this show to make us millionaires, but would settle for a comfortable budget to shoot a Season Two."
(Note: Rome says that the show is not currently closed captioned, but that he will explore utilizing that feature once season 1 debuts.)
To contribute to the show's IndieGoGo campaign, visit:
https://www.indiegogo.com/projects/hopper-and-finch/x/7986574
To view the prologue episode of HOPPER AND FINCH, visit the show's Youtube page at:
www.youtube.com/user/hopperandfinch
FACEBOOK: www.facebook.com/HopperAndFinch
TWITTER: @HopperAndFinch
To view HOPPER AND FINCH's new interview featuring full details on the IndieGoGo campaign, watch below:
http://www.youtube.com/watch?v=rmDSK5eT864