In space, no one can hear you scream…out of frustration and sheer anger that you're stuck with the absolute worst job in the galaxy on one of the greatest space fleets in the universe. In season 2 of the comedy web series RED SHIRTS, a motley crew of space explorers tries desperately to make the best of being on the lowest end of the galactic ladder.
Created and written by R. Benjamin Warren and Ryan Gowland, RED SHIRTS' 5 episode sophomore season debuted July 22nd and is currently airing on its official Youtube page. New episodes air each Tuesday via that platform, and the season 2 premiere can be viewed at the embedded link located at the end of this article.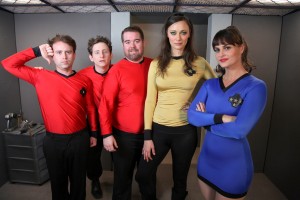 The series' ensemble cast features Shannon McKain as Ensign Monroe, the suave, debonair self-appointed "leader" of Unit Zed, a wacky group that operates aboard the elite spaceship I.S.C. Bichon.
Unfortunately, while their superiors get all the glory when it comes to saving the universe, Unit Zed ends up having to toil in obscurity behind the scenes. Among the crew: Ensign Barry (Nick Armstrong), a dimwitted man who tries way too hard to make friends among his crew and aboard the ship.
On the other end of the intellectual spectrum is Ensign Garibaldi (Arnie Pantoja). Described by Gowland and Warren as "the smartest idiot in the group", Ensign Garibaldi was a hard worker during his time at the Academy, though not necessarily the hardest given the fact that he's only advanced to Ensign Third Class.
Even worse, his brains aren't exactly a turn on for any woman he hopes to hook up with…except for maybe Ensign Carver (Meghan Falcone). Unfortunately, Ensign Carver has disappeared from the ship, but Warren says she may still return in season 2.
There's also the I.S.C. Bichon's no-nonsense medical officer Lt. Davis (Heather Barr), and Captain Aleena Truehart (Deanna Russo), a woman who thinks highly of herself and very little of Unit Zed or anyone who works below her.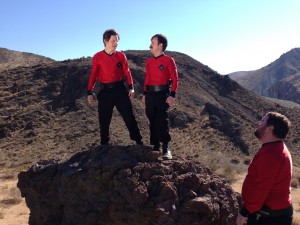 Inspired (obviously) by the classic TV versions of the legendary sci-fi franchise STAR TREK, plus its late '80s sequel STAR TREK: THE NEXT GENERATION, Gowland and Warren created RED SHIRTS thanks primarily due to their curiosity about just what life would have been like aboard the Starship Enterprise…but only for those who ranked far below Captains Kirk and Picard.
As Gowland explains, though, just how the concept for what would become RED SHIRTS came together is just as significant as the primary source that facilitated its development.
"Well, there are inspirations behind making something and inspirations for HOW you make something. For me, the inspiration behind this show was born at its genesis. We found that once we opened up this idea of the nameless guys on board a spaceship, we were off to the races coming up with ideas for episodes and jokes. So, that inspiration really came from the wellspring of the idea itself."
From there, the comedic possibilities quickly grew. "Ben (Warren) and I came up with the show because we were discussing STAR TREK: THE NEXT GENERATION and how whenever Data or Wesley or whomever would get up from his seat, some nameless guy would take their place. So we started joking about those guys just standing off to the side on the bridge, waiting to take someone's place and it grew from there," Gowland says.
While Gowland and Warren had found the jumping off point for their concept, they decided to take it one step further by creating a comedic scenario that focused on something we've all had at one point or another…a crummy job, and people having to perform some of the most menial tasks without any sense of appreciation. In the case of RED SHIRTS, that scenario plays out aboard the mightiest ship in the galaxy.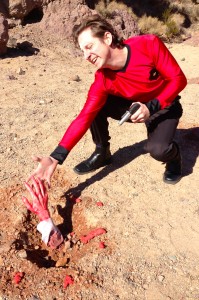 "Once we refined it to incorporate how they would go about life on board a spaceship while trying to survive in the worst job in the world, that added to it. Now, I get inspired by the characters. Getting to put them in new situations and see how they handle them, that's a real thrill for me," Gowland says.
"And I love the editing process. I love the process of finishing something. It's a blast for Ben and I to write something, but seeing it all come together and becoming complete? That's just the absolute best feeling."
However, bringing RED SHIRTS from script to screen had its share of difficulties, not the least of which was the challenge of balancing work and family life. "Ben and I initially wrote 5 episodes, which took us about 6 months because I was working from home at the time and taking care of my daughter," he recalls.
Once Gowland and Warren found their cast of talented performers, each of whom were skilled in improv comedy, the task of writing each episode became easier. "Then we mostly cast it, did a reading and everyone said, 'write more, let's do a full season!' It was awesome to get a positive response and encouragement, and I still don't know what a full season is, but we wrote 12 episodes in total," Gowland recalls.
After season 1 was completed, Gowland also took it upon himself to become more familiar with sci-fi comedy, and was quickly won over by one of the web's most popular genre hybrids.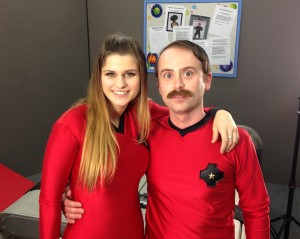 "Prior to writing our first 12 episodes, I hadn't watched many sci-fi comedy web series but I did happen upon TRANSOLAR GALACTICA after we had shot our first season and I love, love, love that show. They are more effects-heavy, but they did so much without even having a set!  And it's hilarious! I'm glad I didn't find it until we were already far along or I would have stopped right there."
Although the duo wrote 12 episodes of RED SHIRTS, the transition from the written page to the visual realities of an online web series would not come instantly.
"Then it took us about another year to finally produce the first season, which, by that time, meant we could only shoot 3 episodes because it's all Ben and I could afford. That's when we started crowd funding for season 2, which, again, took us almost another year to finally get to production." After their successful IndieGoGo campaign, shooting the 5 episodes that make up season 2 began in earnest.
While there are many comedy web series that portray the wackier side of space travel (ACE DISCOVERY, VOYAGE TREKKERS – both previously covered here, etc.) RED SHIRTS stands out in that it places a significant emphasis on improvisation from its cast. As Gowland explains, even though the show is scripted, he and Warren give the show's ensemble plenty of opportunities to go off the cuff.
"We do write our episodes, and I would love to take credit for every great joke, but we've cast tremendous improvisers and we would be foolish not to listen to their ideas of let them go during some takes. Of course, I would also point out the level of chemistry between our leads. Nick was cast alongside Arnie in an indie comedy called PROJECT BIGFOOT partially due to his work in RED SHIRTS," he says.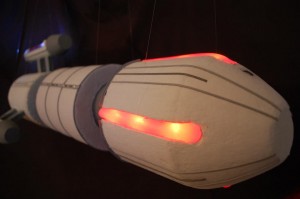 Even though RED SHIRTS is a sci-fi series, Gowland hopes that its unique brand of comedy will be a hit with fans of STAR TREK and of shows like IT'S ALWAYS SUNNY IN PHILADELPHIA, ARRESTED DEVELOPMENT alike.
"It's a genre show, so we hope genre fans will have an interest, but we are really trying to hit an audience that appreciates good comedy. Sure, we're inspired by Star Trek, but we think of ourselves as a comedy show, not just a parody show. That was a conscious decision and one that opened up more creative opportunities for us."
As Gowland sums up the concept, RED SHIRTS isn't just a great sci-fi/comedy. It's a show for the underdog in all of us, and especially a show that will appeal to every working stiff just trying to get by while having to do a job that they hate. No matter how grinding or how humiliating the five day work week can get, and no matter how dispiriting the job can be, viewers will definitely appreciate that they're not the only ones who've got it tough.
Says Gowland: "Ben called our show OFFICE SPACE in space, and I think that's pretty true. We're a workplace comedy, really, it's just that the workplace is the entire galaxy. But, at the same time, we root for the little guy. Our characters are collateral damage for an intergalactic union. I think we have tried — and this would become clear should we make a 3rd season — that they are getting a raw deal, but it's about trying to make the best of it and trying to live the life you want to live. Still, all of that might take a backseat to a good joke. Comedy comes first."
(Note: Regarding closed-captioning, Gowland says: "The first season is closed-captioned and the second will be too, in short order.")
YOUTUBE: www.youtube.com/user/RedShirtsSeries
FACEBOOK: facebook.com/shirtsofred
TWITTER: @RedShirts3
The season 2 premiere of RED SHIRTS can be viewed here:
http://www.youtube.com/watch?v=j0jgHrYPy7M&list