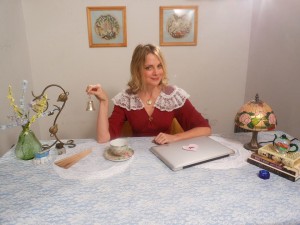 Jane Austen was one of modern literature's most famous and most prolific writers, penning such classics as SENSE AND SENSIBILITY, PRIDE AND PREJUDICE, EMMA and MANSFIELD PARK, just to name a few.
Over the years, many of Austen's books have enjoyed new life through various film and TV adaptations, and have generated new awareness and appreciation of her talents and her life.
In the past few years, acclaimed web series like Pemberly Studios' THE LIZZIE BENNET DIARIES (based on the character from PRIDE AND PREJUDICE), and its followup EMMA APPROVED, plus the interactive web series WELCOME TO SANDITON (based on an unfinished Austen manuscript), have added a distinctive 21st century touch to Austen's works.
Whether it's allowing fans to complete a story Austen never saw to completion (WELCOME TO SANDITON), or transforming Lizzie Bennet into a modern day video blogger (THE LIZZIE BENNET DIARIES), transmedia web series continue the tradition set by the many movie and TV versions of Austen's novels
Now, a new web series combines both the elegant and romantic tales of Austen with the rough, dirty and scandalous world of modern day reality TV in THE JANE GAMES, a comedy that revolves around Austen's famous characters battling each other for the love of eight sexy, and very eligible, bachelors. Though original, they're all based on many of Austen's memorable male characters (Mr. Darcy in PRIDE AND PREJUDICE, Willoughby from SENSE AND SENSIBILITY, for example).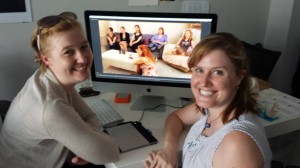 Created by series co-stars Jennifer Teska and Laura Riley, THE JANE GAMES' 22 episode first season debuts Thursday, September 18th at 10 AM Eastern on its official web site and Youtube page, with new episodes running through November 13th. A preview teaser is already streaming via Youtube, and is embedded at the end of this article.
Taking the time honored stories and characters of Jane Austen and thrusting them into the unpredictable and controversial world of reality TV competition shows, THE JANE GAMES features the legendary author (played by Lori Kee) and six of her most popular female characters – each fighting for true love, while fighting among themselves to attain it.
Among the contestants: Emma Woodhouse (from Austen's novel EMMA, played by Beth Devlin), PRIDE AND PREJUDICE's Lizzie Bennet (played by Teska), PERSUASION's Anne Eliott (played by Riley), SENSE AND SENSIBILITY's Marianne Dashwood (Nora Gustuson), MANSFIELD PARK's Mary Crawford (Mary Lane Townsend), and NORTHANGER ABBEY's Cat Moreland (Kristie Wortman).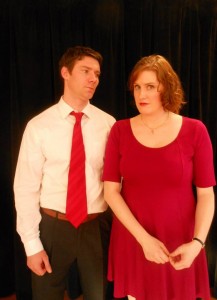 Both passionate fans of Austen's novels, Teska and Riley spent an extensive amount of time developing the unique concept and storyline for THE JANE GAMES.
The writing process began with a simple, yet intriguing proposition: what if all of Austen's iconic characters were assembled in one setting? Furthermore, what would they say and do once they found themselves all together?
As Riley explains, that concept, combined with a longtime desire to work together on the same project, was what led her and Teska to begin developing THE JANE GAMES.
"I mentioned (to Teska) I'd been trying to figure out how to combine Austen characters from different books for a stage show, like The Complete Works of William Shakespeare (Abridged) but for Jane Austen, and was having trouble with the logistics. Jen's eyes sparked and said it sounds like what you have there isn't theatre, but a web series, and it just flowed from there."
Although shows like THE LIZZIE BENNET DIARIES have pioneered the use of "vlogs" (video blogs featuring characters addressing the audience on-screen), THE JANE GAMES takes the use of video blogging a step further and combines it with the intense backstage drama and competitive elements found in today's biggest and most outrageous reality TV series.
"There are some wonderful web series out there that are using the vlog format to tell their story. While our characters know they are being recorded and will sometimes turn to the camera to comment on something, in general they are busy competing. So we see the action of the events and captured moments backstage, not just getting the story from it a certain character's perspective afterwards," Riley says.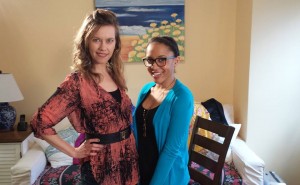 Yet, Teska adds, what may set THE JANE GAMES apart from so many of the previous adaptations of Austen's classic stories is one that's the most obvious:
"This is also the first time (to my knowledge) that different characters from Jane Austen's novels interact with each other. I think that's the biggest difference between THE JANE GAMES and some of the other wonderful modern day adaptations of her works."
Working separately, but in constant communication with each other throughout, Teska and Riley set about fine tuning the story lines and scripts for THE JANE GAMES' first season. "The show was developed through a series of brainstorming sessions followed by "assigning" ourselves specific ideas to begin working on and expanding separately. Then we would meet back together to show our work and bounce ideas off each other," Teska says.
"Once we had a basic format and storyline, we each began working on scripts for separate events. Throughout the writing process we met together and emailed frequently to make sure we were each on the same page and share ideas we'd had, and also help each other through trouble spots. Once we had a full rough draft, we sat through a series of table reads with just the two of us, in which we read each episode together, timed it, and took notes on where we wanted to go from there," she adds.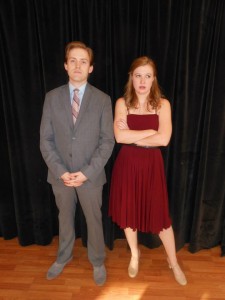 The next step would prove to be the most challenging: hearing their dialogue read aloud by their closest friends, some of whom would go on to appear in the show's ensemble cast. Before that key meeting, though, both of the series' creators had plenty of reservations about the first reactions they'd get.
"The biggest leap forward came when we finally did a table read with a small cast of actor friends. This was also one of the most terrifying moments of my artistic life to date, as I have never handed a script I have written to someone who had not been a part of the process at all to read and give feedback on," Teska recalls.
As it turned out, though, any apprehension Teska and Riley had would soon subside as the initial table read progressed. Adds Teska: "Our fantastic group of friends (many of whom read roles they would go on to play in the series) had really positive and really helpful feedback for us to move forward with the script. Thanks to their fantastic notes, we went back to the drawing board and came away with a group of much more fully developed characters and a whole flock a new characters joining them!"
When it came to casting the show's talented actors, familiarity and trust were paramount for both Teska and Riley. However, the task of finding the right performers whose personalities could easily have been found in Austen's bibliography would have its share of difficulties.
"We really wanted to go with people we knew and trusted, so we invited some talented friends we had worked with previously to our auditions. However, it turns out we didn't know as many Jane Austen types or handsome, dashing men as we would have liked, so we asked friends for recommendations and we then invited these new gentlemen to the auditions as well to fill out our cast," Riley says.
Teska echoes Riley's sentiments about the casting process, which proved to be a major learning experience for both of the show's creators. "For me, auditioning actors whose work I was unfamiliar with was a new and exciting process. It was especially interesting to try to "type" actors into certain roles based on their headshots & resumes and then see how we felt when they actually came in and read. In many cases, they fit very well, in others we got play mix & match and have them read for different characters on the spot."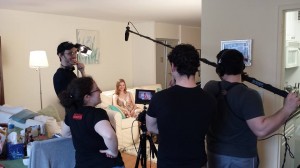 Perhaps the biggest element of any web series, movie or TV show production is when the written words of a screenplay finally see the light of day on camera.
Once the actors are cast, and the director yells "action!", the magic, and stress that leads to it, truly begins for all involved in front of and behind the camera.
Although Teska and Riley had plenty of experience on screen, they had a lot to learn when it came to managing their off camera responsibilities for THE JANE GAMES as shooting commenced.
"Neither Laura nor I had much experience on the other side of a camera, so we were both playing a lot of catch up and learning as we went. The first major learning moment was when our intrepid director Jessica Ammirati looked at the script and basically went, 'Well, I love it…but you guys know this isn't written in film format, right?' Thanks to her hard work, we managed to cobble the whole thing into a film script format, so that we could put together a filming schedule," Teska remembers.
Even though the filming process had its ups and downs, it provided both Teska and Riley many opportunities to learn the ins and outs of filmmaking, the task of putting THE JANE GAMES on screen was made much easier thanks to their dedicated, talented cast and crew; most notably director and series associate producer Ammirati.
Adds Teska: "Thanks to Jess's hard work and our very game crew, we managed to make a filming schedule that made sense and stick to it. They were all a blast to work with and really wonderful about helping us get through our learning curve!"

Along with the added attention and accolades that the TV industry has given shows like Netflix's HOUSE OF CARDS, ORANGE IS THE NEW BLACK, and independent web series like THE LIZZIE BENNET DIARIES, Teska says she's felt plenty of inspiration in seeing filmmakers/actors all over the world developing their own series, and in the process, creating unique opportunities which wouldn't be possible if they had merely relied on the traditional Hollywood gatekeepers.
"What really has been inspiring me lately is the amount of people that are creating their own work! I love seeing people (especially my peers) find something that they are excited by and find a way to make it a reality. What's wonderful about the current environment is that people can create their own works, and thanks to the internet share them with an audience that is actually interested in watching indie works," she says.
Both Teska and Riley feel that THE JANE GAMES will strongly appeal to fans of Jane Austen and reality TV alike, along with those who enjoy hilarious comedy. "We like to think of it as a loving parody of the cliches that are so prevalent (in) that genre (reality TV), as well as embracing what it is that makes it so popular."
For them, though, the biggest goal they seek to achieve with THE JANE GAMES is twofold: to put Austen's iconic characters in a distinctive setting, while continuing to portray them in a manner consistent with the author's writing and overall literary style. "We wanted to create a show that remained faithful to Austen's original characters, while at the same time allowing them to grow and evolve when placed in a very different setting," Teska says.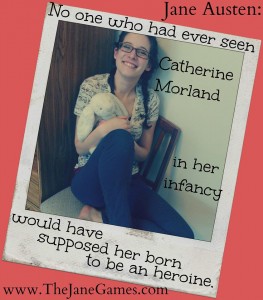 However, an even larger goal Teska and Riley hope to accomplish through THE JANE GAMES is to give fans of the series who are unfamiliar with the author's popular novels a greater impetus to seek them out, and to learn more about Austen herself.
"I think some people of today are discouraged from reading her books simply because they are intimidated by the language. But the truth is that though the language and customs may be very different from today, her characters and stories are really universal," Teska says.
"Also, I've fallen in love with our modern Austen characters and their story. I want to share it with the world, to give everyone else a chance to enjoy the newest addition to the world of Austen," Riley responds.
With its one of a kind portrayal of Austen's famed 19th century stories and characters taking place in the dramatically rough and tumble world of reality TV, THE JANE GAMES not only continues in the great tradition set by the many film, TV and web series adaptations that preceded it; it may continue to make more people aware of Jane Austen, her memorable novels and the unforgettable characters who've made an indelible impact on her fans.
Riley sums up the show's themes perfectly: "The message I hope that comes across with THE JANE GAMES is that Jane Austen and her characters are both timeless and fun. It's the reason why they have captured countless hearts and minds around the world. I hope this series can be a sweet validation/reminder for Austen fans and an inviting introduction to those who so far have lived without her. As for (the show's) theme, femininity and all it involves. It's power, it's sacrifice, it's humor, it's heart, it's joy."
(Note: Regarding closed-captioning of THE JANE GAMES, Teska and Riley say while it's not currently captioned, they are looking into adding that feature soon.)
ON THE WEB: www.TheJaneGames.com
YOUTUBE: https://www.youtube.com/channel/UCFuMnFyDqJGO_4shsF5QqCg
FACEBOOK: facebook.com/TheJaneGames2014
TWITTER: @TheJaneGames
To view the series' preview trailer, watch here: