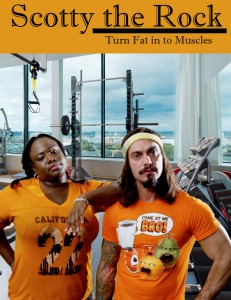 Collaborations and "mashups" have been a huge part of online media for years. While web series like SUPER MASHED UP and VERSUS VALERIE have offered viewers some memorable "crossovers" featuring characters from multiple shows in exciting original content, the collaboration between Mike Diamond (creator/star of the new comedy SINNERS FROM DOWN UNDER) and Youtube star Shanna Malcolm may well be the most unique of the lot.
Diamond will portray three different, yet hilarious roles in a series of exercise videos (6 episodes each, premiering this January) that will keep viewers entertained while giving them a powerful workout.
It's a collaborative effort between Diamond, Malcolm, Tanna Lee and UFC champion Frank Trigg, and will also introduce viewers to Johnson's new exercise system, RockFit (get it? Rock Fit? Patent pending.) These videos also tie in to SINNERS FROM DOWN UNDER as it follows Scotty "The Rock" Johnson's (played by Diamond) efforts to get back on top of the male stripping world.
The series' 10 episode first season is now streaming on its official web site and Youtube page. Co-produced by Diamond and Ches Owen, SINNERS FROM DOWN UNDER stars Diamond as three fun loving, yet hard working Aussies who hope to make their dreams come true in the place affectionately known as "Sin City" – Las Vegas.
Those transplants from Down Under consist of Scotty "The Rock" Johnson, a disgraced male stripper who seeks to get back on top after an embarrassing on-stage incident, DJ Waterfall, an electric dance music (EDM) DJ who hopes that his latest bass thumping groove will be the hit of the summer, and nightclub owner Costa Panis, whose newest establishment could already get attention before it even opens. Why? Because it's got a giant statue of Jesus Christ outside.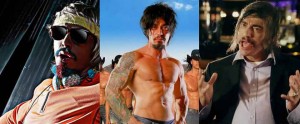 Also launching early in 2015 is a new "all-access" documentary series starring Diamond as DJ Waterfall. Each episode takes viewers from the studio to the dance floor and everywhere in between, as the "greatest DJ in the world" takes aim at the EDM charts yet again.
2 new music videos and 2 singles by the eponymous DJ will also be released. As Diamond and Malcolm explain, their partnership began, rather innocently, thanks to the man responsible for getting the word out about Diamond's incredible talents: longtime publicist and web series consultant Brian Rodda.
How did you two begin collaborating?
Shanna: Mike and I began collaborating as a result of an introduction made by Mike's publicist (Rodda). I instantly liked Mike and the project, so it was an easy decision to hop on board and collaborate. He's good peeps!
Since you guys have filmed a series of exercise videos for a product called ROCK FIT, what is the product like, what exercises are featured and how will it help you get patenting for the product?
Rock Fit Series 1 is all about circuit training. Scotty takes the audience through a full body workout. Each body part is highlighted, then trained. Scotty breaks down circuit training and the benefits to overall health and fitness.
For all body parts, 4 exercises are performed in a circuit routine 4 times around. Rock Fit Season 2 with Tanna Lee will focus on the importance and drop sets, and Rock Fit Season 3 with UFC champion Frank Trigg will be all about supersets.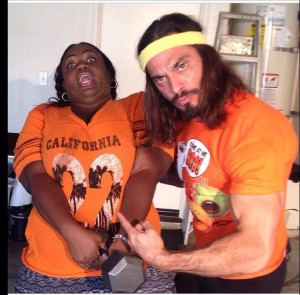 Why did you decide to do exercise videos for your collaboration? 
Mike: We decided to collaborate on workout videos because we felt the need to pair comedy with exercise and the collaboration between Scotty and Shanna was a breath of fresh air.
Why did you think it was a good idea for you to do them?
Mike: People like to see exercise videos as everyone is trying to get in shape. So much of our society is based on looks. Just take a look at Instagram, a site where people become famous from posting half naked pictures of themselves. Scotty is that guy caught up in body image and whatever it takes to look good and feel good, but we wanted to take that genre and turn it on its head. So that's what we did.
Whose idea was it to create these videos?
Shanna: It was Mike's idea to create the content for the videos. I'm here as an active collaborator, of course, but it's Mike's series, main ideas, and vision that we're executing.
What (or who) led you two to collaborate on them?
Mike: Shanna and I both thought it was a great idea for Scotty and her to collaborate.
How does this tie in to SINNERS FROM DOWN UNDER?
Mike: Scotty is an important part of the Sinners From Down Under. The workout videos are putting him back on the map. Scotty is desperate to become part of the Thunder From Down Under team once again.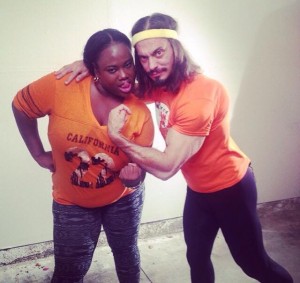 Since SINNERS FROM DOWN UNDER is an interactive transmedia web series that heavily uses social media, will there be any interactive elements for these exercise videos?
The videos do not have any internal interactivity, but we do have a strong social push planned as the videos become available.
To your knowledge, has anything like this been tried before by a web series?
Mike: The multi-tiered approach that we're going for has echoes of what Mike Fly and Simon Fraser did with SEXY NERD GIRL/VERSUS VALERIE, but no one has tried 3 characters like this. With Electric Dance Music so huge, DJ Waterfall will find his way in the world.
Scotty will show people what it's really like to be Magic Mike, and Costa Panis will give everyone an up close look at the underbelly of the Vegas nightlife industry. Collaborating with major YouTube talent just makes this world even more expansive.
What are your overall goals for the success of these videos, both among viewers and as a means of gaining new viewers for SINNERS FROM DOWN UNDER?
Mike: My goal for these videos is to find my audience and keep creating fun content for people to enjoy.
What are the goals for the success of your collaboration?
Mike: Collaborating with a talent like Shanna will open up a whole new audience for me. She is and amazing star and incredible at what she does. Working with her was amazing. We are collaborating on other content as we speak.
Shanna: My personal goals are to get in shape, work with good people and have fun.  Collaborating with Mike gives me all three.
(Note: Regarding closed-captioning of each video, plus the series itself, Diamond says: "We're still working that out so that the widest possible audience can view all of the content.")
ON THE WEB: http://thesinnersfromdownunder.com/episodes/
YOUTUBE: https://www.youtube.com/user/mikediamondtv
To view SINNERS FROM DOWN UNDER's preview trailer, watch the embedded video below: