Millions of people have spent many a day or night playing such popular tabletop games like DUNGEONS AND DRAGONS and MAGIC: THE GATHERING plus today's modern video RPGs (role playing games) including FINAL FANTASY and WORLD OF WARCRAFT. Outside of the highly fun and competitive atmosphere of those games, the daily lives of those who play them are just like anyone else's.
Created, written and directed by Bruce Monach (who also has a cameo role in season 1), and with a possible launch early next year, the new 6 episode sci-fi web series PEN AND PAPER AND LASER GUNS focuses on one such group of close friends known as "The Party".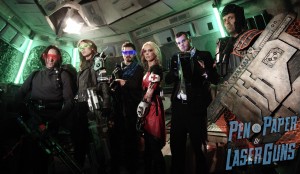 Together, they try to navigate through the mysterious and wide ranging fantasy world of their favorite RPG (which shares the same name as the series title), while attempting to balance their otherwise mundane lives outside of the gaming table.
Within the world of the game they play exists a covert band of operatives who work alongside a nefarious corporate conglomerate known as Titan to navigate an abandoned, yet highly sophisticated landscape called "The Hub", which connects every galaxy in our solar system – including planet Earth.
More information about the series is located on its Facebook and Twitter pages. Although its official web site has not yet been launched, the official trailer for PEN AND PAPER AND LASER GUNS can be viewed at the end of this article.
The series' talented ensemble cast includes Chloe Dykstra as Casey, who co-created PPLG with her ex-boyfriend, and equally dedicated gamer, Steven (played by Bryan Forrest) as they began dating. Despite their breakup, they remain good friends, which has caused considerable strain on her friendship with Hannah (Marisha Ray), a young gamer who ends up being the party's peacemaker when things get heavy.
In addition, the party includes working mom and legal eagle Tanya (Michele Morrow, also the series' co-producer), who serves as its unofficial leader and healing force. On the other hand, Tanya's husband Chad (Matt Mercer), cares for their son Aidan at home, but gets his chance to have fun every time he enters the magical world of "The Hub" at each party.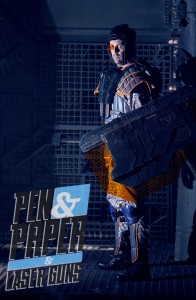 The group also features Michael (played by David Nett, GOLD: THE SERIES, THE LADIES AND THE GENTS), an old school gamer who works hard to make his character an important part of the RPG, while taking a passionate interest in its story.
Another key character that's a huge part of the game's world is "Sotra" (played by Satine Phoenix), one of several villains who lurk amid the atmosphere of "The Hub".
While the rest of the party resides on the West Coast, the wonders of technology propel East Coast-based Justin (Jaike Foley-Schultz) to participate in each week's game, portraying the mysterious hacker "Pulse".
The newest member of the party is Justin's high school classmate and friend Zac (played by Jake Stormoen), who joins Casey's game night and plays "Captain" Greg Trent inside the fantasy RPG. There's just one problem – they don't possess a ship! Monach also stars as Titan employee Alan Turney, who supervises the party, but whose real intentions will be revealed by season's end.
A longtime fan of sci-fi, horror and fantasy, Monach wrote several scripts in those genres. However, he soon realized that producing those scripts on a limited budget would not only be hard to do, but that their effectiveness would be diminished as a result. "Before writing PPLG, I knew that I wanted to film something on the scope of a feature film, but when I took the films I had written and toned them down to shoot, I felt like each lost its spark," he says.
Changing tactics, Monach decided to borrow from his own personal experience as a gamer when he developed the concept for PPLG. "Since I had always loved gaming, I decided that if I couldn't make my budget fit into the kinds of stories I wanted to tell, I decided to try my hand at writing a game setting and pre-made adventures."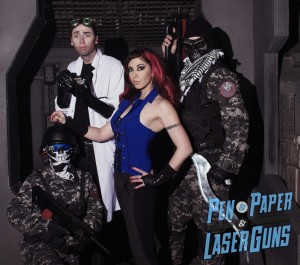 Those memories, plus the real life aspects of the daily lives of gamers, added to the authenticity of PPLG's storyline and characters.
"It didn't take long working on these game ideas for me to realize I could shoot the cool sci-fi scenes I wanted, while creating a fully fleshed out story inspired by my own life as a tabletop role-player," he says.
Adds Monach: "I could tell a dramatic space opera while also following the arcs of real world characters. So in the end, I made PPLG, because it was a story I could fall in love with and one I could actually shoot."
While shows like GOLD: THE SERIES, its spinoff NIGHT OF THE ZOMBIE KING and others have portrayed the world of tabletop gaming in hilarious and memorable fashion, Monach believes that PPLG is unlike all those that preceded it for two important reasons: "The first is that it is science fiction. I find that almost all of the role-playing series focus on fantasy worlds, which are awesome, but we wanted to expand into other worlds and settings," he says.
"The second is that we worked on creating a story that is dramatic and interesting within the story world itself. And by that I mean, most series are completely focused on the lives of the characters in the real world, and the fantasy element often plays second," the show's creator adds. "We created two stories for the audience, a character piece about work and love, and a space opera about alien worlds and corrupt corporations."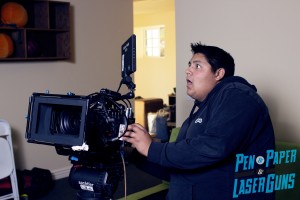 As he assembled his cast through meetings at several popular gaming events, including Blizzcon, Emerald Knights and DNDMelt, Monach discussed his love of RPGs with them as a way of getting them on board with the unique, multifaceted story he sought to tell through PPLG.  As he recalls, their camaraderie and friendships continued long after cameras stopped rolling.
"When first meeting each member of the cast, we talked about Final Fantasy, Warcraft, or our favorite DND Games, which was far more important to me than anything else," he remembers. "As a creator and director, I wanted the cast to love the material and specifically gaming. What it led to is a group of people who became great friends on set and still regularly get together. It was an amazing experience."
Given the multiple elements of sci-fi and straight drama depicted in each episode of PPLG, the production process for the series was just as extensive. "We shot everything over 3 production weeks. Our first week was all the sci-fi. The first 2 days were in a warehouse, followed by two days in the Angeles National Forest, and finally 2 days at Laurel Canyon Studios," Monach adds.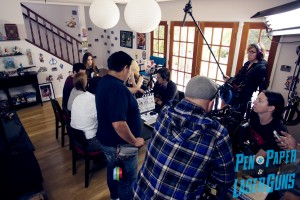 Then, the scene and mood shifted considerably as filming of the gaming scenes got underway.
"With all of that fun and insanity out of the way, we had a more laid back time shooting a week at various locations, including Game Empire in Pasadena, and then a week shooting in my living room for the gaming table," recalls Monach.
Even if you're not a gamer, or have never played DUNGEONS AND DRAGONS or WORLD OF WARCRAFT, Monach feels that PPLG will appeal to everyone who watches. More importantly, he also seeks to dispel the all too common stereotypes that have long been associated with today's gaming community.
"One of the guiding themes of the series is that gamers can be normal cool people, too. I often find in gamer targeted media, that gamers and geeks are presented as odd or stereotypical with little to no social skills," he says. "But in my experience, most of the people I meet are actually quite social. Role-playing games are entirely about creativity, problem solving skills, and player interactions. And when I've LARP (live action role play), those interpersonal skills are even more important."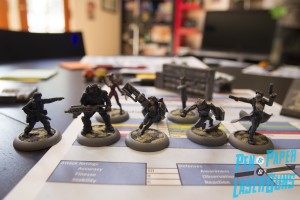 Through the characters and distinctive story portrayed in each episode of PPLG, Monach seeks to prove that no matter how often the world perceives gamers as odd, eccentric or just plain weird, they're still people too.
"No matter what someone is interested in, they can almost always find a group they love to hang out with, and many of them meet and gather at conventions," he says. "So my goal with the series is to tell a funny and compelling story about people who might be a little goofy and have some niche hobbies, but at the end of the day, these are people who are not caricatures of what it means to be a geek."
(Note: The series is not currently closed-captioned, but Monach says he would love to add that feature to the series should the interest arise.)
FACEBOOK: https://www.facebook.com/PenPaperLaserGuns
TWITTER: https://twitter.com/PenPaperLasers
The official trailer for PEN AND PAPER AND LASER GUNS can be viewed here: