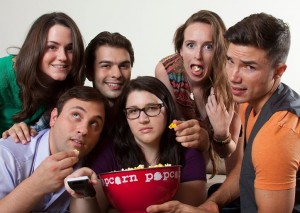 Nothing brings people together like a great movie, no matter if it's in today's luxurious multiplexes, or in the comforts of a living room.
In the new comedy web series MOVIE NIGHT, it's in the latter setting where five young friends meet once a week to watch movies, to bond, and to quite possibly learn more about each other than ever before.
Co-created by and co-starring Justin Scarelli, MOVIE NIGHT's 12 episode first season is now streaming on its official web site and Youtube page, and plans are underway for a second season. In addition to the series being a hilarious ensemble comedy, it's also a show that honors the legendary films, stars and personalities that defined, and continue to define, cinema today.
The series stars Oriana Nudo as the group's headstrong de facto leader, Esther, who chooses what movies will be screened every week, and runs the weekly meetings like a well oiled machine.
Beneath her heavily by the book demeanor, though, Esther's got a thing for Blake (Kerrington Fier), a background actor who seeks to become Hollywood's next leading man. In the meantime, he's stuck trying to keep Esther's ego in check.  Although Esther's got a firm grip on the group, a new addition named Jaynee (Beth Crudele) proves to make things even more hectic for her during every movie night.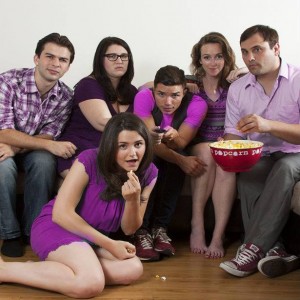 The series also stars Rance Collins as Kevin, a man who hopes to one day ascend the Hollywood ladder, but is stuck in a seemingly monotonous job as an assistant.
He's also gay, and lives his life openly among his friends, but hasn't yet come out to his overly conservative Southern family. Yet, he shares the same love of great cinema his friends have.
MOVIE NIGHT's ensemble cast also features Scarelli as Ashley, a huge fan of Judy Garland, and a producer of some sort whose real work isn't quite known to the rest of the group.
Rounding out the group of movie lovers is Kevin and Blake's neighbor La'Sarah (Rachel Wolf). Having been born in South Africa and adopted by Jewish parents, La'Sarah's multicultural background plays heavily into the kinds of movies she likes to watch, plus the overall atmosphere of weekly movie night. At her core, though, she strongly believes in family, and sees the people she hangs out with each week as exactly that.
In addition to starring in MOVIE NIGHT, Scarelli, Collins, Crudele, Fier, Wolf and Nudo also serve as the show's production team (writing, directing, editing, etc.)  Having worked together in the Warner Bros. Tour Department, their love of movies and of the history of cinema played heavily into the development of their series. As Scarelli explains, their own real life movie nights also provided the spark for MOVIE NIGHT's creation.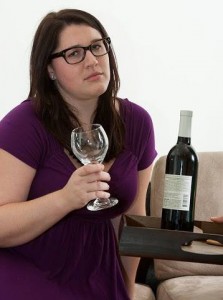 "Oriana (who plays Esther) and a friend had started a weekly movie night because they wanted to expand their film knowledge," Scarelli says.
"They began with an eclectic mix: movies that you're supposed to see, the best-of's, and movies that they liked and wanted to share with their other friends. The inaugural films were BROADCAST NEWS, SOME LIKE IT HOT, THE INNOCENTS, THE THIN MAN, and L.A. CONFIDENTIAL."
The desire to share the fun moments that Scarelli and his friends experienced in their weekly movie outings was another factor that led to the production of MOVIE NIGHT. "We enjoyed our actual movie nights so much, that we wondered how we could possibly share the enjoyment with a larger audience," he remembers.
"Living in a busy and competitive city like Los Angeles, there's hardly any real time to sit down and relax. Mostly your family is far away, so your friends become the connective tissue."
Although Los Angeles is known the world over for its stars, glitz and glamour, the big city atmosphere can be intimidating if you don't know anyone. Thankfully for Scarelli, the love of movies and of their rich history led to his weekly movie viewing group becoming something of a second family for him.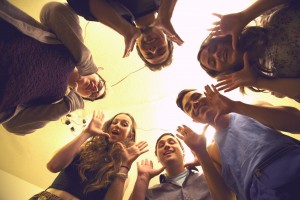 "Some people meet around a coffee shop or a diner, we meet every week on a couch in someone's apartment, and watch a classic film," he adds.
"We drink wine, we have snacks, we discuss, and when we hug goodbye everyone feels rejuvenated and refreshed to take on the city once more."
In fact, those weekly meetings added heavily to the cast's portrayal of their characters. "…All of us are unique and have different backgrounds and approaches to each film, so our conversations naturally lent themselves to mining any comedic brilliance and putting ideas in each script," Scarelli adds.
The biggest impetus for Scarelli and his team to produce MOVIE NIGHT was one that's quite common among everyone who seeks to make a name for themselves in the entertainment industry; one that's especially true of many actors and actresses who launch themselves into producing web series.
"The project was born out of all of us wanting to create something, to feel like we were moving forward in our chosen professions, he says. "It's been an outlet for us to explore and expand our knowledge. Knowing how to successfully work with people, and work with them well, is a skill we can bring with us."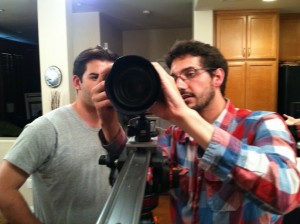 For Scarelli, finding the people who would comprise MOVIE NIGHT's fictionalized group of cinephiles proved to be the easy part of production.
"We were developing the show, and realized an overwhelming portion of our team was pursuing acting, and the characters were slightly exaggerated versions of ourselves, so why not?" he says.
"The other minor roles were cast by reaching out to fellow actor friends, who were excited to come in and play with us for a day or two, depending on the episode," Scarelli adds.
Bringing MOVIE NIGHT to the screen, however, was another story. With all 12 episodes shot over a 11 day period, (10 days of principal photography and an additional day of re-shoots and pickups), Scarelli knew that he and his cast had to make the most of a limited schedule.
"We also ended up marathon-filming two episodes in two twelve hour days. So that leaves with 10 full days of production," he recalls. "It was a crazy schedule, but how do you get six other people who all have other jobs together? You cram that schedule in as much as possible."
Although production ran smoothly on-set, post production proved to be much longer and much costlier than Scarelli anticipated. Thankfully, the dedication of MOVIE NIGHT's post production team made the complicated aspects of finishing each episode a lot easier.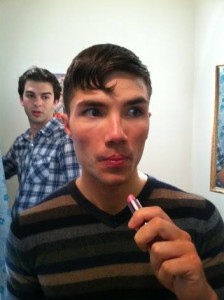 "Luckily, we worked with some talented people, from sound (Aaron Eberhardt, Curtis Fritsh, Derek Jablonski) to director of photography (Andrew Merrill) to composer (Joshua Hendricks)," Scarelli adds.
No matter how different MOVIE NIGHT's characters are, Scarelli says that the true strength of the series, and its true effectiveness, lies in how we relate to them – despite their idiosyncracies.
"I believe that our characters, however quirky or exaggerated, are relatable — and without relatable characters at the core, your story kind of limps along, instead of clipping at a reasonable and unexpected pace," Scarelli says.
A fan of another fast paced, witty, well written and well acted TV series in GILMORE GIRLS (one loaded with obscure and well known pop culture references), Scarelli feels that even though most people may not initially get the movie references, you don't need to be an expert on Hollywood's history to appreciate MOVIE NIGHT's humor.
"I feel like our own movie references are both general and obscure, but all in good fun of letting the audience in on a world, the film world, that we love so much," he says. "I also think that our homage to classic films and references really makes the viewer think, or perhaps do some more research on their own afterwards if they're interested."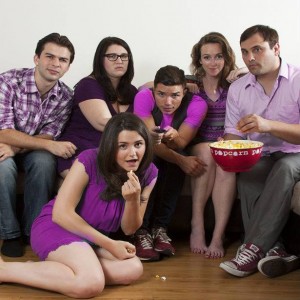 MOVIE NIGHT is a comedy web series that shows viewers that no matter how different we all are, and how quirky or odd we may be, the things that truly bring us together (like movies) have the power to transcend our differences. Scarelli feels that the show's characters exemplify that truth.
"In Esther, you have the world of classic film, a representative of a bygone era. In Jaynee, you have the new, fresh, and sellable prototype of the industry," he says.
"The two can coexist, but more often than not, they butt heads. It's appreciating the past, looking forward to the future, and finding time in the present to take stock of it all."
Adds Scarelli: "The overall message (of MOVIE NIGHT) is one of friendship and appreciation of one's differences. Not everything has to be addressed solemnly in life. Sometimes a little comedy goes a long way in learning about oneself, and our place in the world."
(Note: Regarding closed-captioning of MOVIE NIGHT, Scarelli says: "The show is not closed-captioned, and I'm not sure of any immediate plans to do so at this time.")
ON THE WEB: www.movienightseries.com
YOUTUBE: http://www.youtube.com/user/movienightwebseries
FACEBOOK: www.facebook.com/movienightweb
TWITTER: @MovieNightWeb
INSTAGRAM: @MovieNightWeb
Episode 1 of MOVIE NIGHT can be viewed here: