Red Shirt Film is back on #WebSeriesWednesday this week with their new series 'The Away Mission' about a pair of space explorers stranded on a planet – naked. Well, they actually do get their clothes back and I don't remember if that was ever really explained but I felt it needed to be mentioned in the opening paragraph.
Now, you may remember Red Shirt films from their previous well reviewed shows, 'Nights At The Round Table' and 'I Am Tim.' At this stage it might be fun to look at creator Jamie McKeller's shows as a whole rather than individually.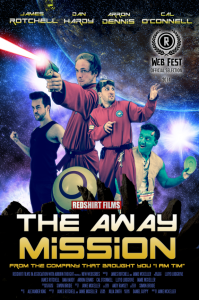 With the third and I believe final season of 'I Am Tim' slated for a late 2015 release, the channel has moved to fill the gaps with some easier to produce content. Some examples include the up coming 'I Am Tim' spin off tutorial show, a mini second season of 'Nights At The Round Table' and some assorted shorts and sketches.
'The Away Mission' fits in nicely, at least in terms of shooting. I'm not sure it's 100% true but all seven series episodes appear to be filmed in the exact same spot, which left me slightly surprise to learn that it took four days to shoot.
The real time sink here came in post production, where the fancy spaceship, large flying balls, laser beams, extraterrestrial sky, and other vfx-y things were created. Also sound related things that make all the vfx-y things more believable.
Of course while the simplicity has it's merits and drawbacks the real draw, as with most of the Red Shirt Films videos is the writing.
It's all basic stuff, fighting over hamburgers, interstellar racism, Star Trek references, an episode called 'Chilly Willy' followed by an episode titled 'Balls' and let's not forget the green screened nudity. Well done. The banter between the two main characters is consistently on the mark. It lends a lot of energy to a story that isn't propelled by too much else.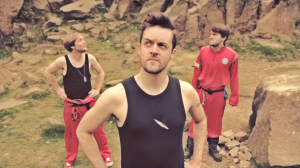 The 'space comedy web series' genre is kind of taking off of late, with some really exceptional efforts in 'Red Shirts' and "Voyage Trekkers' leading the way. With the production values of those series it's kind of hard to keep up on the quality of writing and the performances alone. That said 'The Away Mission' proves you don't have to build your own starship bridge set to make something fun and enjoyable to watch.
For Red Shirt Films, 'The Away Mission' along with 'Nights At The Round Table' gives the channel the opportunity to consistently release quality content on a meager budget of tea and crisps while fans wait for the bit more 'epic' return of 'I Am Tim.'
On it's own, if 'The Away Mission' and it's two, as of now unfilmed follow up seasons, are to become the flagship show of the channel, then I'd like to see a bit more 'in camera magic.' For now, these seven episodes feel like a pretty good pilot for something that could become something more.
To check out 'The Away Mission' and all things Red Shirt Films related, check in with their YouTube channel: https://www.youtube.com/user/iamtimhelsing