There are some jobs that are just so humiliating, it's hard to believe they haven't already sucked the life out of those who perform them. One of those embarrassing jobs is of the birthday party clown.
Having the perception of the usually jolly character forever warped by Stephen King's unforgettably diabolical "Pennywise" character in IT, clowns have gotten an undeserved bad rap since then. In actuality, many people work as clowns just to make a decent living.
With four of its first five episodes now airing on Youtube, season 1 of the new dark comedy web series BOZOS follows the ups and downs (mostly downs) of two guys who perform as birthday party clowns just to pay the bills: newcomer Blimpy (Jay Gerig) and hard drinking, hard-nosed old-timer Giggles (Art Hsu). Unfortunately, they don't do a very good job of it, and their bad reputation precedes them as a result of every disastrous party they appear at.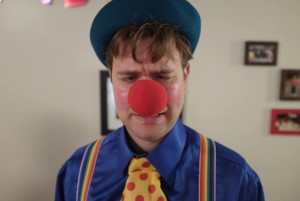 The final episode will air next Friday (Feb. 27th). In addition to the show's episodes, viewers can take a behind the scenes look at BOZOS' production on its Tumblr blog.
That page features exclusive photos, interviews with its cast, and a production diary documenting the shoot for BOZOS' season finale.
Created by Ivory Floyd, BOZOS began its life as a successful stage comedy at North Hollywood's 3ofAKind Theatre Company, where the characters of Blimpy and Giggles first appeared. Before that, though, Floyd created what would become the hilarious story of a rookie clown and a grizzled veteran struggling to make a living during a casual conversation with his girlfriend.
"Back in 2012, me and my girlfriend were joking about the worst movie titles we could think of and I thought up 'Big Fat Clown: A Love Story'," he says. "At the time, I was a member of the 3ofaKind Theatre Company, so I put together a story that revolved around Blimpy, an overweight birthday clown reunited with his high school crush while performing at a party alongside his surly partner Giggles."
As a result of the show's success, Floyd began to fully develop the concept as a web series. "The company liked it. We had a successful run and afterwards, we received feedback from audience members saying that they wanted to see more of the characters," he recalls. "So I did a little tweaking with the characters and story format, pitched it to my buddy, director Noboru Ito and boom! We were in pre-production!"
While Art Hsu reprised his role as Giggles for the web series version of BOZOS, Floyd decided to go in a new direction when casting Giggles' young partner.
"The original actor who played Blimpy, Randy Marquis was hilarious, but we wanted someone a bit younger to portray Blimpy for the web series," Floyd recalls. "Our producer, Leila Ciszewski, sent out a casting call for the additional roles. We held auditions and slowly started building our cast team."
Thanks to that search, Gerig would take over the role of Blimpy in BOZOS. From there, production began on the show's 5 episodes. As Floyd explains, he and show director Ito sought to make the sometimes stressful and highly unpredictable process of shooting each episode as fun and as free wheeling as possible for his actors. "We try to keep a loose set and our director (Ito) is very keen on letting the actors play around with takes. Improv is highly encouraged."
Floyd feels that the show's trademark dark humor is what really sets BOZOS apart from other comedies. "The show is what happens when the bright and sunny world of being a birthday clown is mashed-up with dark comedy," he says. "Over the course of the season, you'll see homicidal mimes, fight clubs, anti-Semitic ventriloquist dummies, human hunting and the occasional clown bromance."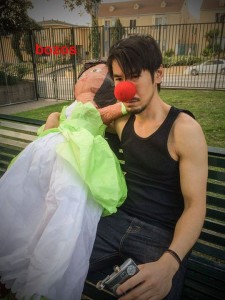 Throughout the series, BOZOS' two main protagonists find themselves at opposite ends of both their respective careers and their lives. For Floyd, the parallel between both characters' experiences and the real life situations that working people face on a daily basis is the primary factor that inspired him to create the series.
"Blimpy and Giggles represent working at your career versus working at your job. Imagine you've been hired for your dream position at a company, but you're so excited/nervous that you keep messing up and getting in your own way," Floyd says. "This is Blimpy's life right now. Being a clown is all he's ever wanted to do and maybe one day he'll be a pro, but right now he's a mess. He's the most optimistic screw up you know."
For Floyd, Giggles' character and story represents an all too common situation that every working stiff has encountered at one time or another. In fact, it's a situation he's experienced himself. "Giggles, on the other hand, is what I've seen happen to many people (including myself) when they work a job for too long. Not something that helps you achieve any type of goal, but something that strictly pays the bills," he says.
Those differences proved to further enhance Floyd's characters in BOZOS. "You told yourself you'd only be there a few months, then years pass and you're still around, hating the grind, but too comfortable to leave. Chris Rock's 'Career vs. Job' bit says it best, and the difference between the two was what really formed Blimpy and Giggles' characters."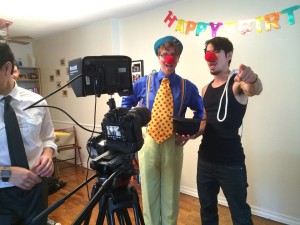 While Floyd and his team take tremendous pride in BOZOS, and in the work they put in to each episode, he knows that many people who hope to succeed in the entertainment industry see filmmaking as nothing but an easy pathway to fame and fortune.
"A lot of people out there have great ideas, but they never get off the ground for a multitude of reasons," he adds. For them, he has this important message: "If you're looking to become rich and famous through writing, acting, directing or producing, then you might as well stop right now. We (his cast and crew) do the work because we love to do the work," Floyd says.
Regardless of how successful BOZOS becomes, Floyd believes that he, along with his talented cast and crew, have already achieved their primary goal – to finish what they started, and to create a quality product that all involved can be proud of.
"If BOZOS becomes a world-famous critical success, awesome! If it doesn't, that's okay," he says. "We still have a product we can proudly show to friends, family, peers and other professionals who want to see our work. We just wanted to make a show that was (hopefully) funny."
Thanks to the interesting dynamic between its characters, and the wacky situations they find themselves in, BOZOS is not your typical workplace comedy. While the workplace depicted in each episode is more unpredictable than most, and the careers of its two main characters aren't exactly what you'd expect to see in a workplace comedy, Floyd believes that viewers who like edgy, adult humor will love his series.
Who knows? It may just make you appreciate your crappy job a little bit more. "At its creamy center, BOZOS is a buddy comedy. It's about hope and enthusiasm versus cynicism and apathy," Floyd says. "It's about your expectations meeting reality and the friends you make at the job you hate. But mostly, it's about two clowns who suck at their jobs."
(Note: Regarding closed-captioning, Floyd says: "Currently there isn't any closed-captioning, but it is something we may implement in the future.")
YOUTUBE: https://www.youtube.com/channel/UCRRdrXBePVFqSZM02KKwnzw/feed
FACEBOOK: https://www.facebook.com/BozosTheSeries
TUMBLR: http://bozostheseries.tumblr.com/
Episode 1 of BOZOS can be viewed here: