Editor's Rating
WHAT'S YOUR EMERGENCY was highly entertaining and amusing! This series takes a stressful occupation and successfully combines it with comedic elements resulting in a series that will captivate viewers until the credits begin to roll. A real treat for viewers.
Are you in need of a good laugh? Are you stranded somewhere in the middle of a winter storm? Has Netflix failed you? Well, I've got a solution for you!  If you're in need of a highly entertaining show that's laugh out loud funny with ridiculously random scenarios, then WHAT'S YOUR EMERGENCY is a good fit. This hilarious show will help you pass the time as you wait for someone to rescue you from endless layers of snow. I'm talking to you, Boston.
WHAT'S YOUR EMERGENCY, a comedy produced by Stage17 in association with Soffer/Namoff Entertainment and Urmee Entertainment, was created by Ryan Spahn and Halley Feiffer. It was directed by Michael Urie. The series chronicles the wacky adventures of the terribly inept rescue workers of Hell, Michigan as they attempt to run the town's 911 Call Center and fail miserably at it. The rescue workers are a unique cast of characters to say the least. The office is managed by full-time drunk Walter Halpern (Reed Birney) while his depressed son, Sammy Halpern (Ryan Spahn), is a rescue worker at the office.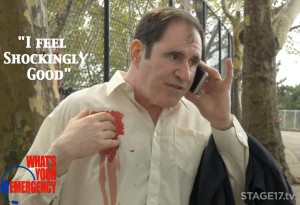 Sammy starts to fill the void in his heart left by his father when he meets the soft-spoken and awkward Janice Featherstone (Halley Feiffer). The other members of the dysfunctional crew include: the seductive Chrissy Freese (Sierra Boggess), the elderly Betty Waterman (René Houtrides), the narcissistic Bart Kavitz (Mckean Rand) and alien imitator Shanna Horton (Erin McCarson). You have Akram Kahn (Daoud Heidami), a man that mixes up his words in a sentence. You also have Kent Gustaferson (Kevin Covert), a man that struggles with his image. The only employee that seems close to competent in this sort of career would be film school graduate, Tim Smith (Sekou Laidlow).
Walter calls a meeting to inform the workers that they have received awful ratings on their emergency calls. Not much of a surprise there. The group comes up with several plans in order to improve their ratings, including a commercial for the office. Another example would be a "Create Your Own Emergency" plan. They are eventually surprised by a member of the corporate office who is appalled at the service given by the rescue workers and their manager.
The crazy scenarios featured in this series are some of the most hilarious scripted moments you will find online. The victims calling in to the 911 Call Center are played by wonderful guest stars such as America Ferrera, Lynn Cohen, Michael Sorrentino, David Krumholtz with his daughter Pemma Krumholtz, Richard Kind, Alan Cumming and Debra Monk (as an administrator who appears in episode 6). These celebrities are found in random emergency situations awaiting help from the inept rescue workers. When I say random, I mean randomly insane situations. For example, Richard Kind has fallen out of a building and has been impaled by a fence – something we expect actors to do more frequently with age. The special guest stars being revealed in emergency situations in the episodes give the viewers a nice, unexpected surprise. I found myself waiting in anticipation of who would be on the other end of the phone call.
WHAT'S YOUR EMERGENCY was truly entertaining from the beginning. It will grab your face. Yes, your face. It will grab your face through your computer screen and hold your attention until the credits roll – forcing you to call 911! The constant and bizarre humor will keep viewers engaged. It's not all about the humor though. Humor is an important component, but with using humor only, you run the danger of it getting old. This series didn't focus on just one source of humor. It felt balanced between this mix of people interacting with each other in an office setting and the emergency situations that clearly weren't solved.
Each inept employee at the office is fascinating in some way which helps keep the viewer's attention. The actors' performances were solid in making those quirky personalities real. The costumes chosen for each character definitely informed their personality. This is especially true for Janice, Chrissy, Betty and Kent. It was believable. Every technical element worked effectively as a whole with the strong performances by the actors to create this fictional world of Hell, Michigan.
The writers did a remarkable job telling a compelling story with some surprising twists among the outrageous situations. That's a strong and successful combination. There was definitely a twist I wasn't expecting. I'm curious about the future of the 911 Call Center with all of the questions posed to the viewers in the last episode. No spoilers. No worries.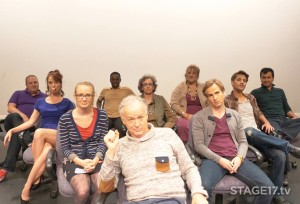 The opening credits of this series were so much fun to watch as well. It was lighthearted with all of the dancing and rolling around in office chairs. It also served an important purpose. It hinted at relationships between characters. Sammy and Janice were dancing alone together in the opening credits at the beginning of an episode. The music was very effective in supporting this lighthearted atmosphere for the entire series when the realistic atmosphere for the career would be stressful, serious and dark. The scoring in certain scenes was perfectly placed for the right moments.
WHAT'S YOUR EMERGENCY currently has six episodes out in its first season on Stage 17. This series will make you laugh out loud hysterically at the dysfunctional group of rescue workers. Viewers will enjoy this series especially if they have a dark sense of humor and enjoy random situations. WHAT'S YOUR EMERGENCY will also make you hope when you're in an emergency, these kinds of people aren't the ones at the end of that 911 call. If so, you're screwed. Just sayin'.
To check out the series visit STAGE17: www.stage17.tv/series/whats-your-emergency-0