Everybody's got issues, no matter how big or small they may be. Sometimes, though, there are those people who seem to constantly sweat the small stuff. In fact, they even vent their seemingly inconsequential concerns to anyone and everyone they can talk to – including their shrinks.
In the new comedy series KIRBY IN THERAPY, one man (played by series creator Tino Demitro) manages to vent about the most random topics; topics that are of little to no consequence for most people, but literally are of great importance to him. The ongoing series debuted on its official Youtube page with 5 episodes (or therapy sessions), and more episodes are already planned.
For any actor, the monotony of waiting for that big break can be unbearable. Demitro knew that if he wanted to succeed, he would have to create his own opportunities. "I've spent close to 15 years playing bit parts on TV and waiting for my agent to call, and constantly thinking of something I can do. Some type of vehicle and calling card I can create for myself," Demitro recalls.
Having prided himself on playing serious roles throughout his career, Demitro wasn't necessarily keen on doing comedy. That was, until he began watching several of today's most acclaimed comedic performers.
"I started paying attention to these comedian actors (Chris Rock, Adam Sandler, Louis C.K., Ricky Gervais). I've always been a dramatic actor. I always said, 'I'm not funny, I don't do funny', but through certain things, I was inspired to do that," he adds.
Inspired by the formidable comedic talents of those actors, plus their determination to chart their own path as filmmakers without merely waiting for the next opportunity to arise, Demitro decided to create an opportunity of his own through KIRBY IN THERAPY.
"I find myself watching these guys a lot more, because this is the same direction I want to go in. I'm very much inspired by the fact that these guys are out there, creating their own way, as opposed to waiting for the phone to ring," says Demitro, who adds that while many other artists do have the ability to take whatever opportunity comes along, his pursuit of creating his own breaks is what drove him to create KIRBY IN THERAPY.
"Of course, there are a lot of artists, a lot of actors, writers, producers, directors who do very well. The phone does ring, agents and managers call for opportunities for them, and that's great," he says. "Then you've got the other side of the coin. Guys like all the names I mentioned, and myself who have to get out there and do it, so that's what I choose to do now. That is 100% the reason for KIRBY IN THERAPY being available for people to watch."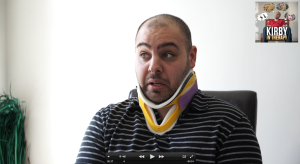 Encouraged by his former agent, as well as his acting coach, to develop his range as an actor, Demitro decided to apply his dramatic skills to the wacky world of comedy.
It all began when Demitro taped himself portraying a seemingly neurotic character who spends his time obsessing and complaining about the most ridiculous people and events in his life. Working from a previously written script (not by Demitro), the actor put his own distinctive spin on the material.
"In the original scene, it was a guy just going on and on about how much he hates his daughter's friend, who comes over all the time talking about these strange dates that she always goes on with these random men," says Demitro. "So I took from there, and I decided that I was going to create this character in therapy. He's ranting on and on. Maybe It's therapeutic. He needs to talk to someone."
As Demitro explains, his approach to that character was inspired by the comedic roles of one of Hollywood's esteemed actors. "So, I got the idea of like Robert De Niro. He does comedy, but he's never trying to be funny. He's being serious about stupid things. So I did the piece and took it to my agent. My agent thought it was hilarious, and she loved it," Demitro recalls.
After that successful taping, Demitro's confidence in his abilities as a comedic actor received a major boost. It was then that Demitro began working on what would eventually become KIRBY IN THERAPY. "I took that character, and I started taking bits and pieces from that scene that I did for my agent, and I started writing."
Through his emphasis on producing an unlimited amount of episodes, Demitro says that KIRBY IN THERAPY's storytelling approach doesn't necessarily fit the typical sitcom mold.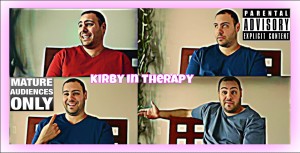 "I didn't want to take it in the usual kind of sitcom direction, or just storyline direction, where we're leading to something. Like, perhaps, maybe he gets cured or something like that, because eventually that would put a cap on it like that. It's finished," he says. "So I've left it open to where he can still be going into talking about these types of things 5 years from now."
KIRBY IN THERAPY's humor lies heavily in both the absolutely ridiculous nature of Demitro's character, and in the distinctively edgy brand of comedy found in each episode.
"In the first episode, we have him talking about things not working out with his unattractive, heavy set female roommate," Demitro says. "At the end of the episode, we find out that they found each other based on a Craigslist ad that he posted for getting a roommate. There were sexual favors connected, but that things did not work out."
Because the show is produced on a relatively limited budget, KIRBY IN THERAPY's episodes are shot in single camera style. However, there's one thing that truly sets the show apart from other single camera comedies – each episode is shot in a single take. With the show's production crew consisting only of Demitro and his director of photography (who also voices Kirby's therapist in each episode), getting it right in one shot is crucial.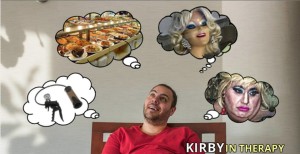 For Demitro, the show's editing and writing factor heavily into the one take filming style.
"These clips are done in one take. If there's any screw-ups or bloopers, of course we cut and we'll just keep shooting until I get it right," Demitro says. "I don't think there's a lot of sitcoms or comedies out there, whether they be on the Internet or even television, that are doing work beginning, middle, and end being one continuous take, without patching and editing."
Regardless of any difficulties presented by getting each scene done in a single take, KIRBY IN THERAPY takes a more simplistic, easygoing approach to its production. "It's very simple and laid back. There is only two of us shooting so the shoot days are very easy and quiet days," adds Demitro. "However, it is lots of fun because of the writing. We have to get past laughing to get through a scene."
As Demitro prepares to continue production of KIRBY IN THERAPY, he hopes that his series will create even more opportunities for him to succeed as both an actor and a filmmaker. Through KIRBY IN THERAPY, he proves that while some people really do tend to make the smallest things a lot bigger than they really are, the most inconsequential issues can sometimes be the funniest.
(Note: Regarding closed-captioning, Demitro says the show is not currently closed-captioned, but will be in the future.)
YOUTUBE: http://www.youtube.com/KirbyInTherapy
FACEBOOK: https://www.facebook.com/kirbyintherapy
TWITTER: https://twitter.com/kirbyintherapy