Sometimes, a single, life defining moment can propel us to act out of total desperation, even if it means doing the unthinkable. In the new Polish/American/French-produced action drama DIVERSION END, a group of young people find themselves experiencing such a moment, and the actions they take lead them down a dangerous path of crime, sex and danger.
From there, they will do whatever it takes to survive the temptations and challenges of the big city, consequences be damned. The 7 episode first season, set to premiere sometime in 2016 (on platforms to be announced), will do much more than bring viewers thrilling drama.
It takes them on a journey that will explore many of our world's most important problems, while compelling them to consider what really defines good and evil in our society, and if the distinction between those two extremes is as easily defined as we often think. (The show's official trailer can be viewed at the link below.)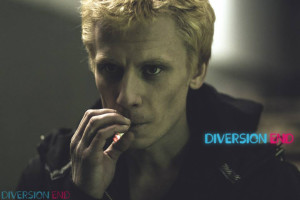 DIVERSION END stars Michal Krzywicki (who also co-created the series with co-star Dagmara Brodziak and director of photography Łukasz Suchocki) as Oleg, a wayward young man turned drug dealer whose life is changed forever after he ends up accidentally killing his girlfriend Rita (Sylwia Madejska). As a result, his longtime friendship with corrupt policeman Blaz (Kevin Oestenstad) is also dramatically affected by the incident.
As time goes on, Blaz and Oleg fall deep into the unsavory and violent world of the mob, and into the clutches of reputed mafia don/brothel operator Al (Andres Faucher), who also serves as the primary pimp for two beautiful, yet vengeful prostitutes: Klara (played by Brodziak) and Vera, (played by Ida Jabłońska).
United by the frightening circumstances they find themselves in, Klara, Vera, Blaz and Oleg fight to break free – even if it means embracing the darker side of their humanity.
Both talented actors, Krzywicki and Brodziak created and developed DIVERSION END for a variety of purposes, not the least of which was to show viewers and potential collaborators what they were truly capable of as performers and filmmakers.
Having moved to London in late 2013 to expand their careers on a larger scale, Krzywicki and Brodziak soon found themselves discouraged when faced with the realities of the situation they faced back then.
In something of a parallel to the characters they would later write, Krzywicki and Brodziak's quest to bring DIVERSION END to the web was borne out of both personal and professional desperation.
"As much as our acting career plan was going well, we were very unhappy as human beings. We found it hard to accommodate in this tough city, we couldn't make any relationships, and on top of that, we were broke," they say.
"And so, on the saddest Christmas Eve of our lives, we decided to do something about what we feel. and that we just have to create something to survive. So we opened a bottle of wine and started writing," recall Krzywicki and Brodziak. "And at 6 AM the next day, we had a very basic draft of the first episode. Back then, we didn't know what it was going to be: a short, a series or a feature. We just fell into creation."
The end result is a powerful crime drama inspired by many of Krzywicki and Brodziak's personal filmmaking inspirations, especially the works of directors Quentin Tarantino, Alfred Hitchcock, and Christopher Nolan, and the hit AMC series BREAKING BAD.
Combined with a dazzling visual aesthetic that's heavily influenced by such films as BLADE RUNNER, OLDBOY and THE MATRIX, DIVERSION END promises to be a feast for both the eyes and the mind alike.
However, DIVERSION END's greatest strengths lay in both the gritty, unadulterated storytelling style it employs throughout each episode, and in its probing examination of society as a whole. For Krzywicki and Brodziak, those elements, combined with its unique production style and story world, are what truly make their series stand out.
"The story we tell is bold, raw and truthful although it's set in a comic, neon non-existent city of sin. There's a lot of Eastern touch in locations, emotions, etc. because we wanted to underline our origin instead of trying to do a spectacular, American-like movie," they say. "So you have kind of an Eastern grindhouse pulpy thriller in a result which is something interesting and surprising. The rest is to be judged by our viewers."
DIVERSION END will also feature a strong social media element through Facebook, Twitter, and Instagram. (see links below). The show's Snapchat page, soon to be launched, will also feature an additional series geared towards younger viewers, and it will also link to a special web site filled with behind-the-scenes content.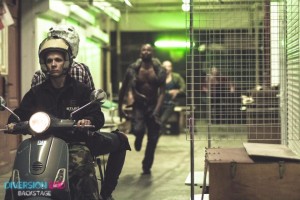 In fact, the show's co-creators say, social media factors heavily into their efforts to engage DIVERSION END's fans during all stages of the production period.
"Whenever something is going on, we post it on social media, especially during shooting time, but not only. We want our viewers to meet our cast & crew, and we also want them to be able to see how we do what we do," Krzywicki and Brodziak respond.
"To make sure they see it, every now and then we post our making-of materials, and behind the scenes photos, so they can support us, be with us and be a part of our creation."
With the decision to create, produce and distribute DIVERSION END as a web series, Krzywicki and Brodziak next focused on another common task that many new and current creators face: finding the money to produce their show.
Unfortunately, after 3 unsuccessful Kickstarter campaigns, it seemed that DIVERSION END would remain stuck on the page. That was, until Krzywicki and Brodziak decided to translate the series from Polish to English.
After initial production of the pilot episode, the show's co-creators would continue to gauge interest from producers all over the world. It was a chance email from one that would fully accelerate DIVERSION END's development, while providing Krzywicki and Brodziak with both a major confidence boost, and the resources needed to get the project off the ground.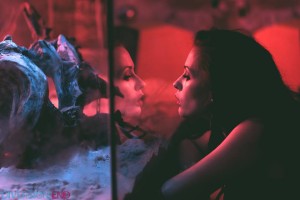 "Finally, after we shot our pilot scenes, the producer Antoine Disle from Paris found us somewhere online. He saw our teaser, and he called us offering investment and cooperation," they say.
"Then, he provided us with extremely talented script doctor John Cabrera (creator/writer of H+: THE DIGITAL SERIES), who is a very close co-worker to Bryan Singer. John did excellent work on our English American dialogue, and also sorted out the script structurally."
With Cabrera providing assistance to Krzywicki and Brodziak on DIVERSION END's scripts, the show's co-creators met on a regular basis with their closest friends to discuss plans for each episode before they were filmed.
Working from meticulously drawn storyboards, and from the final production versions of the scripts, Krzywicki and Brodziak did their best to ensure a smooth shoot throughout.
DIVERSION END's multi-national ensemble cast (3 Americans, 1 from Belgium and several hailing from Poland) was assembled after an extensive search, with several actors auditioning for up to a year in advance of the series' filming. In fact, Krzywicki and Brodziak wrote many of the roles with actors already in mind; performers they both knew personally.
Overall, Krzywicki and Brodziak's talent and experience as actors would prove to be pivotal throughout the casting process. "We as creators, and most of all actors, played a part in this project too," they add. "This was the main reason to start the project – we wanted to create an opportunity for ourselves as actors to finally play in something we have always wanted to play."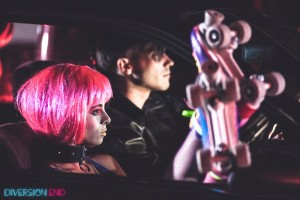 Yet, as any filmmaker knows, business is the other critical part of "show business", and the task of making sure DIVERSION END's financing, production expenses and budget were well managed also fell on its co-creators. In fact, as Krzywicki and Brodziak explain, the job of keeping a tight rein on the purse strings was something they learned solely by experience.
"The 'step by step' pattern was the best to cope with company startup, financing, currencies, agreements, contracts, taxes, etc. Suddenly, we were doing something that was out of our awareness our whole life – business, but the 'learning by doing' mode was very successful for us. Right now, we are at the post-production stage, another Mount Everest to climb on, but we just can't wait for the final effect."
Through their experience as both filmmakers and actors, and thanks to the lessons they learned on just what it really takes to make a well-produced original web series project, Krzywicki and Brodziak seek to inspire future web series creators with their work on DIVERSION END, while having their show be their gateway towards successful careers on both sides of the camera.
"We would like to show to all the creators that impossible is nothing. Artistically, it was important to us to create the world from scratch, and find ourselves there as actors and our characters," they say. "Financial success of this production would be great for us, but our main purpose was to open new doors and opportunities In the international film industry for us as actors and creators."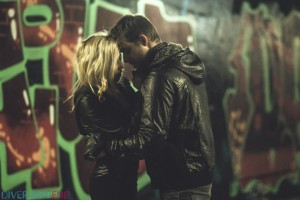 In short, DIVERSION END is a series that exhibits just what lengths some people are willing to go to in order to survive, even if it means surviving by often dangerous and immoral means.
Furthermore, as Krzywicki and Brodziak sum up the show's concept, DIVERSION END also serves as a chance for viewers to look at themselves, and society in general, by asking: what would you do, and how far would you go, when the odds are stacked against you?
"DIVERSION END is about vengeance, human passions and lusts. This show hopefully will make viewers look at the world and themselves differently, in that despite how we try so hard to deny it, we as human beings are not above it all," they say. "We are animals, and there's no point in running away from our own nature."
Note: Regarding closed-captioning for DIVERSION END, Krzywicki and Brodziak say: "The show should be closed captioned for as many territories as possible."
The series' trailer can be viewed here:
ON THE WEB: http://diversionend.pl
FACEBOOK: www.facebook.com/diversionendtv
TWITTER: @DiversionEnd
INSTAGRAM: @DiversionEndTV