No matter how unpredictable life can get at times, the best of friendships always find a way to endure, even during the wackiest of experiences.
Season 1 of the hilarious comedy series HAPPY GUYS (now streaming on Youtube and Funny Or Die, see links below) demonstrated that fact through the often absurd yet memorable moments shared by two roommates who couldn't be more different from each other: best friends Tim (played by series writer/creator Jivan Najarian) and Mark (played by writer/director Arthur Oganesyan).
Produced in the popular 'mockumentary' style for its first season of 6 episodes, plus a 3 part prequel called "The Lost Episodes", HAPPY GUYS focused on Tim and Mark's quest to make their way towards the sun, fun and girls in Atlanta for spring break. Along the way, they find themselves caught up in some very sticky situations, while their efforts to get out of them are complicated by their contrasting personalities.
"I think everyone is either a Mark or Tim in some capacity. These are just two guys who have set these ridiculous standards they think they need to live by, but fail all the time," explains Najarian, who plays Tim. "Mark (Oganesyan) is eccentric, outspoken, and honest – kind of like Larry David but with a heart. Tim, on the other hand, tries so hard to be something he's not, and often times commits borderline inexcusable acts."
Mark and Tim's hijinks are made even more comical thanks to some memorable personalities, such as Tim's wannabe actor dad (played by Mark Solz), Mark's loving yet way too domineering girlfriend Jessie (Sarah Asaly), laser expert Barry (Zorob Shnoravorian), and a plumber (played by Flemming Erik Carlson) who's got his own unorthodox ways of unclogging household drains.
For Najarian and Oganesyan, whose own friendship dates back to their high school years, HAPPY GUYS isn't just another project. Given the Internet's instant advantages of direct distribution for filmmakers, and the opportunity it provided them to create content on their own terms, HAPPY GUYS  represents the realization of a longtime dream for both men.
"Arthur and I have been close friends since high school. I spent the first couple of years out of college pursuing a few business ventures, but when that ended I wanted to go back to my original passion: filmmaking," Najarian says. "The digital world has given people like us this incredible opportunity to make original content that we can share with people and that opportunity was too hard to pass up. We just wanted to create something that was our own."
Having thoroughly written and refined each of HAPPY GUYS' first season episodes over the course of 6 months, Najarian and Oganesyan worked side by side to make each of their characters and situations funny and relatable to viewers. Both actors feel that when it comes to their talents as writers and producers, there's still plenty of room for growth.
"We're still trying to figure it out and that's the beauty of it. These characters are evolving as we're evolving as filmmakers," Najarian adds. "Nobody has the power to tell us to stop, so we get the opportunity to continue this story and explore the dynamic of these characters. I'm really excited about Season 2. We originally filmed 9 episodes over the course of 4 days."
With season 1 of HAPPY GUYS filmed and produced on an incredibly small budget, Najarian and Oganesyan took a decidedly unique approach to each episode; one that seemed to fit more to a traditional half hour sitcom but within the constraints of a typical webisode. However, as Oganesyan discusses, this manner of production came with its own set of creative compromises.
"HAPPY GUYS is written and approached like an actual show. Our focus first and foremost is story. We aren't doing topical videos, or trying to go viral with our content," explains Oganesyan. "The episodes are structured like 22 minute series, except they're condensed to roughly 5-6 minutes. It's a little difficult to work with this model, because there are a lot of story lines and plot points we would like to develop further, but the time constraint starts to limit a lot of what we would like to do."
Even though working within a small time frame has its challenges, Oganesyan believes that the advantages provided by such limitations have only served to boost his and Najarian's creativity. "While it can be difficult to work this way, it also challenges us to be more creative with our material and make every word count, because you have to make sure you're within your time limit."
Behind the scenes, Oganesyan and Najarian's efforts to operate within those boundaries were made easier thanks to director of photography Stephen Branagan, first assistant camera operators Yatin Parkhani and Nicholas Gooden, plus editor Jonathan Shnoravorian, and production coordinator Jennise Higuera.
In addition to being handy with equipment on the set, Kyle Thor and Aro Kevorkian were in charge of making each episode sound as good as it looked.
While Tim and Mark's hijinks will continue in season 2, viewers can expect a far more traditional style of comedy as HAPPY GUYS' production methods continue to evolve.
"We really felt like the mockumentary style really fit our first season, but we've decided to not continue with that style of filming for the second season – at least not as aggressive," Najarian says. "I'm not sure what the reception is going to be with such a drastic change, but we just feel like the direction we're moving forward in doesn't fit to that style of filming anymore."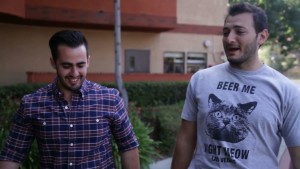 Though Najarian and Oganesyan say that HAPPY GUYS will appeal to fans of comedies like FX's long-running IT'S ALWAYS SUNNY IN PHILADELPHIA, plus Comedy Central's WORKAHOLICS and BROAD CITY, and the classic mockumentary THE OFFICE, they both say that HAPPY GUYS isn't your typical male-centric comedy.
"This is not a 'guys' show. We never wanted this show to be a 'bro" or 'bromance' type show where we're constantly partying, doing drugs, and getting girls all the time," Najarian says. "Although women and sex are talked about in the show, we try to look at it from a different perspective."
Comparisons aside, Najarian and Oganesyan take pride in the fact that HAPPY GUYS is a comedy that truly bears their own distinct signature. "We made this show for ourselves. All the things we would want to see in a show, things that we felt we couldn't find in the things we were seeing on TV, Netflix, etc.," Oganesyan says.
Best of all, HAPPY GUYS has won audiences and fans precisely because of its trademark brand of humor. "Along the way, we found out that there were in fact a lot of people who really embraced and understood what we were trying to do, and everyone is really excited to see what we come up with in the next batch of episodes," adds Oganesyan.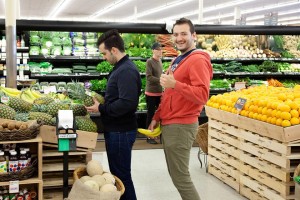 While production on season 2 has yet to begin, Najarian and Oganesyan hope to continue HAPPY GUYS' enormous progress, as well as the adventures (and misadventures) of their two on-screen personas. Regardless of how successful their series becomes in the future, they both feel that creating and producing a project they can be proud of is perhaps the biggest achievement.
"I just want to tell stories. I love it. I love everything about scripted television or programing or whatever it's called nowadays," says Najarian. "Like I mentioned earlier, the digital world continues to create opportunities for guys like us. We get to have an audience. It's awesome. But at the end of the day, I just love this show. This show is one of the most fulfilling things I've ever done. I'm really proud of what we accomplished with very little resources."
Season 2 of HAPPY GUYS promises to give viewers even more of the unique kind of comedy they've come to expect from Najarian and Oganesyan; humor that Oganesyan feels will only succeed if it makes an impact on those who watch.
"Whether happiness, sadness, confusion, whatever the case may be, there simply needs to be something in order to truly connect with someone. In season 2, we hope to make people laugh, cry, question their friendships, and wonder 'what the hell is wrong with these guys?'
(Note: Najarian and Oganesyan say that HAPPY GUYS is not yet closed-captioned.)
YOUTUBE: http://www.youtube.com/c/happyguysshow
FUNNY OR DIE: http://www.funnyordie.com/topic/happy-guys
FACEBOOK: www.facebook.com/HappyGuysShow