When life becomes hard to bear, when all you do is screw up every major and minor decision, and when things seem way too tough to handle, there's just one thing to do: run away from it all! In the new comedy series TRAVEL BOOBS, a group of young women do just that as they attempt to escape both a growing set of unavoidable problems (not the least of which is the untimely death of one of their boyfriends) and the long arm of the law.
Created by and co-starring Jaime Slater (from the hit Marvel Comics/Netflix series DAREDEVIL), and now streaming its 6 episode first season via its official web site and Youtube pages (see additional links below), TRAVEL BOOBS follows the adventures and misadventures of three best friends: Lily (played by Slater), Mel (Louise Bond) and Kai (Megan Heyn). who try their best to get away from their own personal drama, only to find that their already existing issues haven't really been left behind, and that the long arm of the law is hot on their trail.
Despite having experienced plenty of misfortune in her own life, most notably the untimely death of her boyfriend Mark (played by Dan Feuerriegel, SPARTACUS: WAR OF THE DAMNED), Lily has also been affected by some very bad decisions made by Mel and Kai. Nonetheless, Lily does her very best to stick by her two close friends – no matter what.
Hailing from Great Britain, Mel somehow manages to keep a cool head amid all the chaos surrounding her, in addition to her impending deportation. Meanwhile, Kai constantly tries to look on the bright side of every situation, even though she's got a potentially devastating secret that could upend all of their lives.
Along the way, Lily, Kai and Mel experience a wacky set of mishaps and encounters in their attempts to get away from everything that's weighing them down in their lives.
From a way too awkward night in a hot tub with two overly sexed up German lovers, to being followed by a creepily obnoxious man named Elvis Hendrix (Matt Pittenger, of the NBC sitcom MR. ROBINSON), the three close friends quickly learn that the road to hell is always paved with good intentions.
Special guest appearances include TRAVEL BOOBS' creative consultant/screenwriter/producer Steven S. DeKnight (Starz's SPARTACUS: GODS OF THE ARENA, and its spinoff WAR OF THE DAMNED, DAREDEVIL, plus the hit feature film PACIFIC RIM), and actor/TV personality/Royal expert Prince Mario-Max Schaumburg-Lippe as one half of that incredibly aroused German hot tub couple.
Just as the series' main characters undergo what could best be described as a Murphy's Law road trip (where everything that can go wrong does go wrong) in every episode of TRAVEL BOOBS, Slater experienced an equally disastrous, yet incredibly memorable excursion while on the way to a friend's wedding in Northern California.
From misjudging the weather conditions, to booking a hotel room that provided Slater and her friend with some rather interesting features (including some free "entertainment" courtesy of some sexually enhanced occupants next door), to an even longer journey back home due to the dual culprits of traffic and GPS technology, the moments that Slater experienced during that weekend would provide the perfect inspiration for what would become TRAVEL BOOBS.
"While driving through God-knows-where, and being assailed by the pungent aroma of horse manure, I was thinking to myself about the events that had transpired over the last 48 hours," remembers Slater. "I started laughing to myself, thinking, you really couldn't make this up! But then, I thought, well, what if I did? What if a couple friends decided to go on a last minute, unplanned road trip that just went from bad to worse? And so TRAVEL BOOBS, or some earlier version of it, was born."
With the memories of her disastrous road trip still fresh, Slater decided to transform them into a hilarious comedy series following three women whose efforts to take a vacation from their problems end up leading to even more awkward predicaments. Having developed TRAVEL BOOBS' characters and storylines, Slater then began considering just what kind of sticky situations her newly created protagonists would find themselves in during each episode.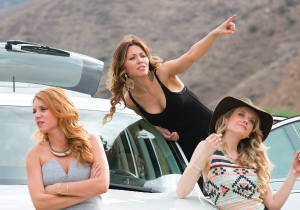 "Since the concept was in place, I started to play around with who these characters were, and why they would go on an unplanned/last minute road trip," Slater adds. "I also started coming up with the various scenarios that they would find themselves in. Some were pretty realistic, and some were really out there."
Working alongside the series' creative consultants, veteran screenwriters/TV producers DeKnight and David Fury (executive producer of Fox's acclaimed post-9/11 thriller 24 and its spinoff 24: LIVE ANOTHER DAY, along with being co-writer/EP of the Fox sci-fi drama series FRINGE and of the FX drama TYRANT), Slater would take a vastly different approach to how each of its story elements would come together.
"The major idea that evolved out of these brainstorming sessions was that this show would be driven by the characters' behavior and personalities, and not plot," explains Slater. "So, rather than stuff happening to them, they were creating their own very messed up reality. I loved this, because there was so much comedic inspiration from these women who now lived in my head."
For writers, creating the individual backstories of their characters is generally considered to be one of the primary elements of the scripting process. However, Slater says, that aspect of the characters she created for TRAVEL BOOBS did not necessarily factor into the development of its overall story universe. Rather, their own personal chemistry, their mannerisms, their own actions, and the way they deal with the consequences of their decisions, would play a bigger role during pre-production.
"Regarding the girls' jobs, where they live and details like when their birthdays are, for example, wasn't relevant to me when writing these storylines," she says. "Each episode is really about the immediate present, and how they deal with their circumstances, based on their personalities and group dynamics," explains Slater.
While working on the scripts for TRAVEL BOOBS' six first season episodes, Slater kept in mind the collective histories of her characters, including the good and bad times they shared together,  and how they were able to maintain their friendship through those experiences. Taking that approach towards the series' narrative arc would make a major difference, and it shows in each episode.
"What was important was figuring out their history and relationships with each other, creating backstories of how they met and certain situations that they had weathered together," Slater says. "These were things I had to know as the writer to give their friendship realness and depth, as well as (for) how they would handle other problems together."
Another important aspect of TRAVEL BOOBS' production can be found not just in front of the camera, but also behind it.
"It's created by a woman, starring women, and a lot of the behind the scenes crew and producing elements were women, for starters," says Slater, who takes tremendous pride in the opportunities it has given female actors, filmmakers and technical crew members to work and thrive in their own careers.
"One of the reasons I'm really proud of this show is because of how female-centric it is. Not only are there women carrying the show on screen, but there was also an amazing team of women behind the camera as well," she adds. "I had female directors, a female DP (director of photography), AD (assistant director), editor and crew. As I have plans for several more seasons, I'm aiming for women to come on board in all aspects of production again."
With the issue of gender inequality continuing to affect the entertainment industry, and with greater efforts underway to address the absurdly wide pay and employment opportunity gaps between male and female talent in Hollywood, Slater realizes that shows like hers are giving women like her a powerful platform for professional, as well as personal, success and growth within film and TV production.
"Maintaining a female-centric show is hugely important to me, not just in terms of job opportunities, but also because the energy and sense of community is so amazing," she says. "Ultimately, I hope that this show and how it was produced will serve as an example for other women, showing that you can create all kinds of opportunities for yourself. It would definitely be amazing if other women were inspired to create their own content and find their creative voice, or start their own business, or do something they've always wanted to try."
With its six episodes filmed during a period of eight weekends, the production of TRAVEL BOOBS gave Slater a first hand education in just what it really took to put together a web series. Of course, such projects don't come without their own share of setbacks, struggles and stumbles. Such was the case for TRAVEL BOOBS, which, due to its limited budget, Slater describes as being "like a slow, controlled, six week car crash."
"Everyone from cast to crew was amazing to work with, but problems seemed to come up every five seconds. Some were minor headaches, and some I thought were going to be the end of my production," she says. "I was literally going from shooting on the weekends (so I wouldn't have to compete with pilot season for my cast), to location scouting, holding rehearsals, planning wardrobe, assembling props, and handling all kinds of paperwork during the work week in between. Then, I'd also have to grocery shop for craft the night before our shoots."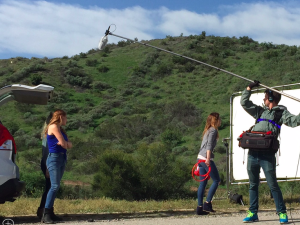 In addition to taking on a multitude of different tasks behind the scenes, Slater took into full consideration the importance of finding and securing filming locations when it came time to produce each episode of TRAVEL BOOBS – even if it meant making major changes to the already prepared scripts.
"Speaking of writing, it was great going into production with solid, locked scripts, but based on the locations we could find and afford, I found myself furiously rewriting scripts to accommodate what was available to us," says Slater. "So, yeah, no downtime whatsoever, and (there was) a lot of white knuckling through the week to make sure we would have a shoot the following weekend."
Despite the hectic nature of producing TRAVEL BOOBS within a limited time frame, and the difficulties that often came with it, Slater feels that accomplishing the task of bringing her series to online viewers provided her with equal parts pride, satisfaction and personal liberation. That hard work is fully evident just by watching every episode of the series.
"I had provided a sense of purpose for myself. It was one of the most intense work experiences I've ever head, solely because I was doing so much on my own, but it was also the most freeing," recalls Slater. "I had total control in every aspect. I wasn't trying to please anyone or vying for approval. I was just free to create, explore and learn. It (producing TRAVEL BOOBS) truly showed me what I was made of, and that I could overcome any obstacle in my path."
In fact, the entire experience also gave Slater a greater realization of her own capabilities as an actor/filmmaker. "Nothing can give you a sense of confidence and accomplishment like setting out to do something and seeing it through to the very end no matter what happens. I also learned that I'm really good at bunch of different jobs that I had no idea I could even do a year ago. My learning curve was completely vertical during the process of making this show. It was definitely one of the best learning experiences."
As a result, Slater says that current and aspiring web series creators can learn so much from the lessons she learned about every part of the filmmaking process while working on TRAVEL BOOBS. It's that knowledge that she shares here as a way to encourage and advise those actors, writers, producers, directors and artisans who've yet to follow in her footsteps.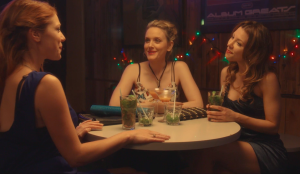 "Making/creating anything is inherently tough. Even if it doesn't turn out to be what you wanted (it to be), in the end, at least you'll have a sense of accomplishment and a wealth of knowledge from all of the experience you gained, whether that's as a writer and you learn what's producible vs. what isn't, or discovering an area in your acting range that needs some more focus and training," explains Slater.
"Or, you could release that you got exactly what you wanted, and now you know how to take things to the next level on the following project. But you won't know unless you follow through," adds Slater, who also explains that being receptive to feedback and ideas from those you work with on-set and off can only serve to benefit those who create, act in and produce web series.
"Don't lock into an idea of what the finished product should be. I think a lot of people tend to be results oriented," she says. "During the writing process, I saw things so differently in my head, but fortunately, I wasn't striving for just that one thought or idea. There are so many things that can surprise you along the way and really improve upon your initial idea. I found that keeping an open mind and being flexible also inspires your team to be playful, and brings about a really great collaboration."
Thanks to its characters and the incredibly funny moments they experience in each episode of TRAVEL BOOBS, Slater says that her series will make a wide variety of audiences laugh at each predicament that Lily, Mel and Kai find themselves in. In fact, she adds, its unique brand of comedy has already made a significant impression on a wide range of audiences, spanning equally diverse demographics.
"I think anyone with a sense of humor would enjoy this show," says Slater. "I know that sounds vague, but I've gotten feedback from men and women in their fifties and sixties, as well as people in their mid twenties and everyone in between that they really love the show. Maybe there are different elements in it that appeal to a bunch of different people."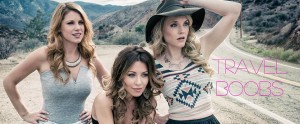 TRAVEL BOOBS shows that no matter where you are, or where you're headed in life, how you deal with the challenges and difficulties that can arise in any part of your personal journey can make a big difference.
"Things could always be worse! It's important not to take life or yourself too seriously," says Slater, who says that it's a lesson that its three main characters try to learn throughout all the crazy adventures and misadventures they experience together.
"There are a lot of situations in this season that go from bad to worse, and in most cases, after the initial shock, the girls find a way to laugh about it. As each episode comes, Lily, Kai and Mel have survived another weird day and have another funny story to tell," Slater adds, describing the storyline of TRAVEL BOOBS' first season. "Especially by the end of the season, they have done some crazy sh*t and (have) seen some even crazier things, but it doesn't change who they are at heart."
ON THE WEB: www.travelboobs.com
YOUTUBE: https://www.youtube.com/channel/UCjHLoKZuwII5eq7CLDbUd5g
FACEBOOK: www.facebook.com/TravelBoobs
TWITTER: @travelboobs
INSTAGRAM: @travelboobs