All over the world, doctors dedicate their lives to helping people whose lives have been disrupted by a wide range of physical and mental illnesses. Given the nobility of the profession, along with the personal and professional struggles that doctors face every day, movies and TV shows like M*A*S*H, SCRUBS, GREY'S ANATOMY, ER and others have portrayed these aspects of the medical world with equal amounts of humor, suspense and heartfelt drama.
Yet, while those shows take place within the parameters of what most people would normally expect to see when getting care for whatever ails them (a big city hospital, a small town private practice, or the tent-based headquarters of a wartime medical unit), the hilarious new adult animated comedy series FANTASY HOSPITAL gives viewers a look inside an emergency room that is truly the stuff of fairy tales.
Created by and co-starring Justin Marchert, and streaming its 10 episode first season via its official web site and Youtube page (see additional links below), FANTASY HOSPITAL follows a group of magical medical specialists who treat some of the most formidable maladies known to man and beast alike. All of these characters are memorably brought to life by a star studded voice cast hailing from TV, movies and the Web.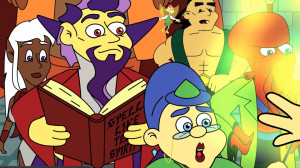 At the center of these hijinks is Dr. Max Tuduski (voiced by Marchert), a young man who's recently bailed from medical school and is now pretty much treading water in his life.
Suddenly, he finds himself thrust from the familiarity of Earth into an upside down universe where anything is possible – even when it comes to something as decidedly real world-based as health care. It's a universe run by High Wizard Abra Cadabra (voiced by Wil Wheaton, STAR TREK: THE NEXT GENERATION, plus dozens of other roles), who's all powerful – or, at least he thinks he is.
Dr. Tuduski ends up working with a highly unusual, but no less dedicated team of doctors, led by dwarf/hospital Chief of Staff Kuckles (voiced by Robin Dearden), who oversees the duties of the hospital's crew with an iron fist – or, to be more accurate, a glass flask. Keeping track of the hospital's comings and goings is Kuckles' loyal assistant and "secre-fairy" Nickleby (voiced by Pauley Perrette, NCIS).
Chief Kuckles' charges include the malevolent wizard turned physician Dr. Drexel Bonaventure (voiced by actor/comedian Pete Holmes, host of the popular Nerdist podcast YOU MADE IT WEIRD, in addition to countless other movie/TV roles), the kind but dimwitted elf Nurse Windham (Emma Caulfield, BUFFY THE VAMPIRE SLAYER, ONCE UPON A TIME), the giant "Ogre G.Y.N." Dr. Pakij (Kunal Nayyar, THE BIG BANG THEORY), and the constantly on-the-go "quadramedic" (four legged paramedic) Hunter (voiced by Jonah Ray).
Having long been a fan of sitcoms and other hilarious depictions of life in the medical world, plus popular sci-fi/fantasy/comedy hybrids such as FUTURAMA, THE HITCHHIKER'S GUIDE TO THE GALAXY and DISCWORLD, Marchert set about putting his own unique stamp on those genres and hospital-set laugh fests through his creation of FANTASY HOSPITAL.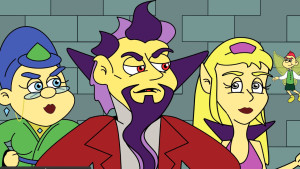 Yet, it was a personal tragedy that led him not just to consider what it would be like if doctors had seemingly fantastic, yet realistically unattainable healing powers, but also if there was a hospital whose staff dedicated themselves to doing the impossible. Such was the inspiration for FANTASY HOSPITAL.
"I lost my Mom to cancer some years ago and spent a lot of time in the hospital," remembers Marchert, "There's a lot of waiting time in hospitals, and your mind wanders. Sometimes it wanders into places like, why can't this place be magic?" With those memories fresh in his mind, Marchert spent several years working on many facets of what would soon become FANTASY HOSPITAL.
While it shares many characteristics with other popular animated sitcoms, the key difference between FANTASY HOSPITAL and the rest is quite simple: location, location, location. "FANTASY HOSPITAL attempts to have a similar feel to THE SIMPSONS, BOB'S BURGERS and other adult animated shows — especially workplace comedies," explains Marchert. "It differs in that it is set in a hospital. Life and death are regular occurrences, so there's a little more at stake than, say, the events at Bob's or Moe's Tavern."
Nevertheless, Marchert adds, FANTASY HOSPITAL is one of several comedies that blend elements of fantasy and humor. "One web series that I love is called DORALEOUS AND ASSOCIATES. It's an animated show about a band of warriors out to make the world a better place, for a small price. I'm also a fan of a very recent podcast called HELLO FROM THE MAGIC TAVERN. The host, from Earth, interviews wizards and pixies and an assortment of fantastical characters. And there's a talking badger named Chuntttttt (spelled correctly)."
The series' promotional trailer first hit computer screens as a way to help Marchert get FANTASY HOSPITAL off and running, all in an effort to attract producers to his project. With an impressive assemblage of talent lending their voices to the fairy tale medical staff depicted in each episode of the show, Marchert accomplished the arduous task of bringing together actors who would transform his story's protagonists from mere drawings into fully formed characters.
However, successfully achieving that goal did not come without a several years-long period of trial and error.
"First, I created the trailer, so I'd have something to pitch with. Living in L.A. makes celebrity casting a lot more possible (though not easy). I tried (and often failed at) a lot of methods. I've attended stand-up shows and pitched comedians," explains Marchert. "I've pitched actors at book signings or Comic-Con autograph opportunities. I've pitched actors via social media. It helps to get someone on board; then the cast can slowly snowball."
As mentioned earlier, Marchert spent several years producing and developing each element of FANTASY HOSPITAL's casting, writing, voice recording sessions and animation. All of it was due to several factors, including his daily work commitments outside the project, and the steep learning curve he encountered while working on the visual part of his series.
"Production was slow," he recalls. "It (production)'s been years in the making, because I have bills to pay and day jobs to keep. I'm the sole animator on the project, so there's always more work to do. I'm also not a trained animator. I sort of discovered it while acting. So I've been learning the art while making it."
Working with such top flight talent like Holmes, Wheaton, Caulfield, Perrette, Nayyar and the rest has been a highlight for Marchert, who acted and directed his cast during the recording sessions. "Voiceover production has been one of the most exciting parts," he adds. "Having names on board is great because they really know their stuff. Many of them had more animation experience than I did — so that was intimidating."
Given their own busy schedules, especially on shoots for other movies, TV and even web series, as well as obligatory media appearances for such projects, Marchert also had to deal with managing their time and scheduling their availability during production of FANTASY HOSPITAL.
Each of FANTASY HOSPITAL's 10 first season episodes are animated through a specially designed 2D software called ToonBoom, a system that helps animators (including Marchert, who also served as the series' sole animator) better correspond the lip movements of characters to recorded vocal tracks.
Despite the initial difficulties Marchert had with ToonBoom, and despite the fact that he was a relative newcomer to the art of animation, his use of the software would make the complicated process of refining FANTASY HOSPITAL's on-screen look would save him time, money and trouble.
"Programs like ToonBoom make it possible to be a one-man studio. Some animators can get Disney-esque results in ToonBoom," says Marchert. "I cannot, but I'm happy with their 'cut-out-character' tools, which save the animator a lot of time by allowing him to draw characters and move them around like paper dolls. This isn't quite as easy as it sounds — you wouldn't believe how much people move."
ToonBoom's production elements contain a wide range of tools that give animators like Marchert the opportunity to streamline the process of drawing characters and backgrounds, while also directing, connecting and manipulating the physical and vocal movements of those characters. Here, Marchert details how he was able to get the best results for each episode while using the program.
"One great feature of the program is 'pegging.' That is, attaching one set of movements to another. For example, if you peg a hand to a forearm to an upper arm, then when you move the upper arm, everything else follows," describes Marchert. "This is helpful for any character animation, but especially to FANTASY HOSPITAL. We have characters like fairies and seaple (people made of water). Their respective wings and fish must move continuously while their heads and hands are doing other things."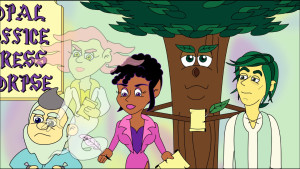 When it comes to adding the voices of his cast and other audio elements to the animation, Marchert cites another standout feature found in ToonBoom's software.
"Another great feature is lip-syncing. Rather than animating lips to voices from scratch, ToonBoom will detect sounds and link them to the many mouth positions you've already drawn. The animator still needs to do a lot of mouth adjusting, but it provides a very helpful start."
Even though Marchert's lack of animation design experience held him back, the rewards that came with doing an animated series outweighed the inevitable problems that come with live action-based productions.
"The biggest advantage (that came during production of FANTASY HOSPITAL) is probably the ability to adjust things right up to the end. In live-action filmmaking, if you don't get the shot you want, or the weather is uncooperative, or any number of other problems occur, you may need to cut scenes or do expensive reshoots," says Marchert. "In animation, it's just more days at the computer. Another great thing is that it doesn't cost any more to draw a castle than it does to draw a shack. So there's no need for expensive sets, costumes, locations, etc."
With his experience producing and starring in FANTASY HOSPITAL as a guide, Marchert encourages future show creators, and animators, to take a chance at making content of their own. Yet, he adds, they should also be aware of the knowledge it takes to understand all critical parts of filmmaking, animation and acting, plus the talent and dedication required of each.
"Do it, but be aware that you need to do it yourself, or it will get very expensive very quickly," cautions Marchert. "You don't need to be a brilliant artist — I'm certainly not. But I have always liked "doodling," so that's a starting point. Learn via tutorials. Or, if you have the cash, there are any number of animation schools, including highly respected online schools, where you can learn. It really just depends how you want the final product to look — it can be anything from HOMESTAR RUNNER to ZOOTOPIA."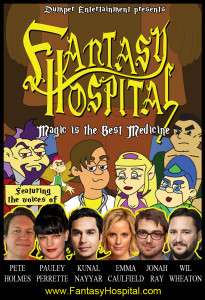 One way devoted fans of FANTASY HOSPITAL can exhibit their animation and writing skills is by submitting artwork and fan fiction to the show's web site. Although production has been the main focus of Marchert and his team, they hope to grow their efforts in attracting viewer produced content; material that could possibly be utilized in later episodes and seasons.
"We'd love to host fan art on the site," adds Marchert. "We've been so busy getting episodes completed that we haven't made a big push to get the fans to send in their work. But we'd definitely like to do more with that. As far as using it in future episodes — who knows?"
While Marchert hopes for continued success and viewership for FANTASY HOSPITAL, he  considers the possibilities for expanding its story, characters and level of production if it were picked up on broadcast platforms. Yet, with web series giving Marchert the freedom to produce his series on his own terms, he also understands the importance of staying committed to fulfilling his long-term mission for FANTASY HOSPITAL as a whole.
"I'd love FANTASY HOSPITAL to develop into a network or cable show," Marchert says. "There would be so much world to explore in 10-22 episode seasons, but keeping it on the internet guarantees creative control. I promised these characters direction in life, and I owe it to them to see it out. So, there are advantages and disadvantages either way."
No matter what condition your condition's in, FANTASY HOSPITAL is an adult animated comedy that anyone who appreciates intelligent, yet hysterically funny humor mixed with a side of fairy tale fantasy will gravitate towards.
Featuring a cast that's already familiar to geeks, podcast listeners, TV fans and moviegoers alike, it's a series that also demonstrates an especially important truth. Explains Marchert: "The message of FANTASY HOSPITAL is a simple one. Do what's right — no matter what the world (or worlds) throw at you."
NOTE: Regarding closed captioning/subtitling of FANTASY HOSPITAL, Marchert says that even though season 1 is not yet closed-captioned, he is working on adding subtitles to the episodes currently streaming.
ON THE WEB: http://www.fantasyhospital.com
YOUTUBE: https://www.youtube.com/channel/UCkSxe18sdTvHMnAipuINS1Q
FACEBOOK: https://www.facebook.com/FantasyHospital/
TWITTER: https://twitter.com/FantasyHospital