For many young adults, life comes with both major advantages and significant complications. That's how it is for a fun loving artist named Susan (played by Alex Spieth), the main character at the center of some humorous, yet incredibly memorable moments in the new comedy series (BLANK) MY LIFE. Created by Spieth, the series' first season is now available via its official website and YouTube pages (see additional links below).
Each hilarious episode of (BLANK) MY LIFE follows Susan's quest to find career and romantic fulfillment amid the ever hectic atmosphere of New York City. It's a journey she experiences with her boyfriend, actor Ryan (played by David Spadora), fellow thespian and best pal Brendan (Benjamin Viertel), and roommate Cody (played by Trevor McQueen). Throughout the season, Susan meets a wide variety of offbeat characters, while finding herself in equally awkward situations.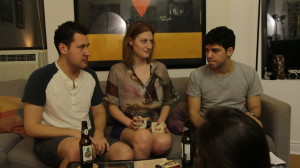 While making the series gave Spieth the chance to make a name for herself in the entertainment industry, its entire concept came together for her during one of the most disappointing moments that any actor can face.
"I began writing the prologue (9 episodes appearing before the show's first season) after being dropped by my acting agency, and my primary influence was the desire to get back on my feet," recalls Spieth. "I just started writing half page segments and filming them very rudimentarily."
Even though the career setback she experienced gave her the impetus to start making the series, Spieth says it was her desire to create opportunities for herself to succeed that really drove her to create (BLANK) MY LIFE. "What inspired me to create the series was the need to prove to myself that I was capable and strong outside of career validation, and it totally f*cking gave me that," she responds.
Spieth also says that playing Susan in (BLANK) MY LIFE has made a major personal impact on her. "In the middle of filming this season, someone asked me, 'do you think Susan is any different from you?' At the time, I answered, 'no. Susan and I are the exact same.' However, retrospectively, Susan is me when I feel like I can't say anything and things are moving too fast, explains Spieth. "She was a version of me of two years ago, but is not necessarily the me I am now."
Using a Canon 60-D digital camera on loan from a co-worker, Spieth began production on those first 9 skits, which document the personal and professional highs and lows of Susan, her boyfriend Ryan, roommate Cody and best friend Brendan. Despite the many challenges and difficulties that came with shooting every episode, the experience of leading and working with a group of talented actors and crew was incredibly fulfilling for Spieth.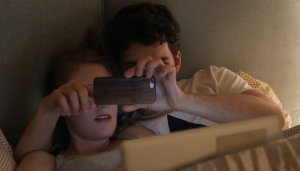 In fact, she says, watching how each scene unfolded proved to be equally beneficial for her as an actor. "When I first watched the takes, I was surprised because I was like, 'whoa, I'm actually buyable? Like, I'm pretty good!' And it was such a relief. The hardest thing to me about stage acting was that I could never see myself and know I was good," Spieth says. "Obviously, I have new hopes for where my acting goes the next season, but being able to watch myself has been a great gift."
Spieth adds that analyzing her own performances also gave her a greater appreciation for every aspect of filmmaking. "Being involved with the acting and the editing process allowed me a huge amount of freedom in knowing that choosing takes allows for a different kind of freedom on film," she says. "You aren't the technician building the scene the way the way you are on stage. Your only job is to supply material. There's a lot of mysticism about acting on film because most actors grow from stage to film, but the biggest thing is to not be afraid of it."
With the knowledge and experience Spieth gained while producing and starring in her own series in mind, she encourages aspiring filmmakers to follow their own passion and determination as they embark on their projects – no matter how messy or disorganized their early efforts may appear to be.
"Just. Do. It. Do it badly, do it wrong, do it right, do it short, do it fast, just finish it so you can head on to making the work you really care about," she remarks. "Bravery inspires bravery, and if you are brave enough to put out something kinda bad, you are certainly gonna be brave enough to put out something f*cking awesome."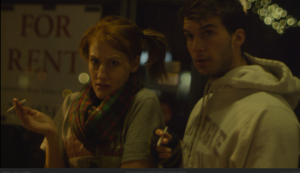 (BLANK) MY LIFE is more than just a comedy that's filled with great humor and memorable characters. It also has a lesson for anyone who's still trying to make sense of life itself, and how best to reach out to the people we come in contact with every day. As Spieth explains, she wants viewers to not only be entertained, but also to live life with openness, honesty and integrity.
"I hope watching the show people are able to feel more comfortable on the other side of the bed or on the other side of the desk. I hope people with anxiety feel comfortable getting on meds or living without them. I hope people feel okay to talk about making the wrong decision," she says. "I want the show to highlight what it's like to not say the right thing, and what it's like to not be a hero, because we all need heroes, and we all know what it's like to not be one.
(Note: Regarding closed captioning/subtitling of the series, Spieth says: "As of yet, there aren't plans to add CC, although we flirted many times with using them for certain segments in 'Mr. Owl' (episode 3) and 'Not Pleased' (episode 8).")
ON THE WEB: www.blankmylifetheseries.com
YOUTUBE: https://www.youtube.com/channel/UCONL892DhmWrcJGOWtrFuaQ
FACEBOOK: https://www.facebook.com/blankmylifewebseries/
TWITTER: www.twitter.com/BlankMyLife