Even in supposedly polite conversations, people are quite willing to talk about things that others find uncomfortable to discuss openly (like, for instance, past sexual exploits). On the other hand, those who typically keep their true feelings to themselves can land in equally awkward situations.
Both extremes are hilariously examined in season 3 of the comedy series INTROVERTS, created by and co-starring Rachel Tucker, and co-executive produced by Tucker and Nick Lawrence. While its first two seasons are now available for your streaming pleasure on its main Youtube page (see link below), INTROVERTS' six episode third season will soon go into production thanks to its recently concluded IndieGoGo crowd funding campaign.
Each season of INTROVERTS takes an eye-opening look at the adventures of three women who try to overcome the challenges of life in a world filled with weird love interests, highly outspoken friends and petty disagreements on minor subjects. The show's cast is centered around Tucker, who plays the blunt yet creative Amy, plus Abby Dillion as the overachieving Susan, and Aina Dumlao as the outwardly silent but innerly conflicted Waltra.
Tucker describes how INTROVERTS' three characters interact with each other, and how their inward-looking behavior drives the comedy in every episode.
"The series consists mostly of small stories from the everyday lives of our three introverts. In one episode, one of the girls gets a kitchen appliance (that) her introverted roommate is too polite to say she doesn't like. In another, the girls decide to hold a disastrous birthday party. We try to take stories that might seem small, but then (we) blow them up to reveal all the tensions bubbling beneath the surface."
Season 3 explores the newest developments in the eventful lives of Amy, Susan and Waltra. "Susan gets a love interest. The girls go to yet another party, and we even have an entire episode dedicated to the extrovert Marissa (Lindsey Newell) about how it's not always easy to be an extrovert either. We do finally get to meet the girlfriend of Waltra's love interest," Tucker says. However, the same key components that made INTROVERTS so great to begin with remain intact. "We'll mostly stick with our three leads and their friends," she responds.
With her creative influences including Lena Dunham, Judd Apatow, Larry David and others, Tucker saw INTROVERTS as a chance to add a unique new take on ensemble-based comedies. "(I) first came up with the idea (for the series) as a reaction to women-centered shows like SEX AND THE CITY," she says. "Groups of women were finally being depicted on television, but they were nothing like the type of people she hung out with. Only later on did (I) realize that introversion was what tied them all together."
Speaking of tying people together, Tucker and co-executive producer Lawrence would achieve that important goal thanks to the experience of INTROVERTS' cast. "We (Tucker and Lawrence) have been fortunate enough to work with the same cast," Tucker remarks. "We shot a lot more material for the second season, but we were also able to work faster because the actors really understood their characters and how they interact by the second season."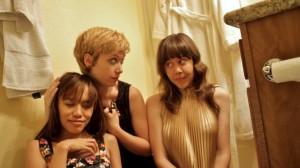 Using the same primary group of actors, plus new additions to its guest cast, Tucker and Lawrence expanded INTROVERTS' previously limited level of production during its previous season.
"We tried to tell bigger stories with the second season," Tucker recalls. "With the money we raised from crowd funding, we were able to make longer episodes and get the girls out of the house more."
With season 3 of INTROVERTS also made possible through crowd funding, Tucker and Lawrence look forward to building upon the successes of its past 2 seasons. "We'd like to keep growing as a series and gaining new viewers," says Tucker. "Mostly though, we just want to keep telling more stories. We've got so many stories about these girls that we're dying to bring to life."
While entertaining people is what producers of any great web series hope to accomplish, Tucker and Lawrence's aspirations for INTROVERTS are more profound than just getting more eyeballs to the screen. "…If an introvert watches it and feels a little less alone in this world, we're happy with that," Tucker replies. "Far too many shows get introverts wrong, and we're hoping to play a small role in fixing that."
Note: Regarding closed-captioning of INTROVERTS, Tucker says: "We would love to be able to provide closed-captioning (of the series) in the future, but unfortunately, it is not currently available."
YOUTUBE: https://www.youtube.com/channel/UCMoMf4Wgq07nWynY9y5fTSg