Back in the '90s, Dave Benson Phillips gave kids a platform to dish out messy payback on grown-ups on the popular British TV kids' game show GET YOUR OWN BACK! In the 2000's, Phillips inexplicably reentered the public's consciousness when a hoaxer spread false reports of the veteran TV presenter's demise.
Several years after that incident, Phillips would again be at the center of some peculiar "slow news day" headlines perpetrated by the news media.
While online-based death hoaxes are all too prevalent, social media influencers like Jake Paul and PewDiePie have literally made an art out of perpetrating dangerous pranks on the Web. Meanwhile, a countless number of nameless trolls and scammers gleefully do their dirty work on the most unsuspecting targets, and the fallout is always devastating.
Those realities are sobering, but that doesn't mean they can't be humorously explored. That's what the new mockumentary series GETTING BACK WITH DAVE BENSON PHILLIPS does over its initial set of five episodes. (Links to the series, and its season finale episode, are located at the end of this article.)
Created and written by Andrew River, GETTING BACK features Phillips (playing himself) as he tries to help a notorious vlogger (Ryan "Ryano" Marten, played by James Podmore) rebuild his tattered reputation.
Fact and fiction would converge when Phillips invited Podmore (appearing as his vlogger character) to be a contestant on a live presentation of GET YOUR OWN BACK! during the 2015 Edinburgh Fringe Festival.
Podmore was already the leading man in River's social media-themed stage drama FOLLOW/UNFOLLOW. As Phillips held court with Podmore on stage, River was quickly plotting a way to bring them together on his latest project.
"Jay participated in character throughout my show, and after doing so, I think a little lightbulb went off in Andrew's head, and (so did) the idea of having me and Ryan (Jay) involved in one of his works."
Later, River would approach Phillips about participating in GETTING BACK. "When Andrew pitched his idea to me, I gave it a ludicrous amount of thinking time. "After a long period of deliberation on Phillips' part, GETTING BACK was officially born. "I'm so glad I said yes to it."
GETTING BACK also pokes good-natured fun at Phillips' own brushes with unscrupulous media con artists. Though those incidents were painful for the longtime TV personality, Phillips was soon won over by River's ability to parody them.
"There is not much humor with having to live with the fact that your entire career was stopped because a hoaxer announces to the British TV world that you are dead, but Andrew managed to find humor in it – and not in a way that made me look bad," remembers Phillips.
Initially reluctant to allow others to spoof his real life experiences, Phillips especially praises River's empathetic approach. "He (poked fun at those experiences) with a kind of care that made me think that he was not out to make me look like a fool," Phillips explains.
"Before I met Andrew, I had been approached by several scriptwriters and documentary makers wanting to record something about my situation (Google it), but many of the scripts and premises were not very nice – downright negative in some cases, so I said no to them."
Knowing Phillips' history and background was critical to structuring his role in GETTING BACK, and River worked overtime with the show's titular star to separate reality from ruse . "Andrew did a lot of online research, and would often ask me if some of the situations published online were real or fake," Phillips says.
"Also, once I realized what Andrew was doing and how he was doing it, I volunteered heaps of information about myself, my life and my work. An drew used some of it. With a life like mine, funny and interesting stuff worth writing (about) happens!"
Like much of the older generation, Phillips struggled to figure out the do's and dont's of sites such as Facebook and Twitter. "Although I'm not as dimwitted as Ryano, like Ryano, I was certainly very naïve as to how social media works, and the things you have to do to set your back on an even keel," Phillips responds. "In my case, I hadn't said anything wrong online."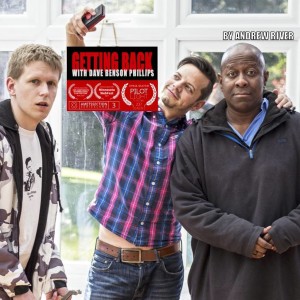 Having been victimized by the cruelty of anonymous online miscreants, Phillips would ultimately find something in common with the vlogger he tries to help in GETTING BACK.
"For some reason, my life and career became the punching bag of some very unscrupulous types with mischief in their hearts and a laptop," he adds. "Like the Ryano character, I too sought help for trying to tame what is still an uncharted concept used by most of the world's population."
Unlike Podmore's obnoxious vlogger, Phillips uses social media far more responsibly. "I use Twitter to let people know about my show business and non-show business works. I also use it (to) ask people for their help," he says.
"Once, I asked my tweeps if they could help me find an inflatable banana that I needed for a musical number in a show. I've even got jobs offered to me via Twitter! Twitter was primarily the first platform I used to let people know that I was not dead, and (where I told them) not to believe the rumors. I also have a Facebook profile."
Though GETTING BACK is Phillips' first acting effort, he is overwhelmingly proud of the work that he and his collaborators have already accomplished. "Like the best television and films that we all love to watch, it's all about working with the right people," explains Phillips. "(I like) the fact that I get to 'act', albeit (as) a heightened version of myself, and in a comedy, too, with an actual company of actors!"
The season 1 finale of GETTING BACK WITH DAVE BENSON PHILLIPS can be viewed here:
ON THE WEB: https://www.gettingbackdbp.com
YOUTUBE: https://www.youtube.com/channel/UCt9voOrsW7fiSutVRtYaXdA
FACEBOOK: https://www.facebook.com/GettingBackDBP/
TWITTER: https://twitter.com/gettingbackDBP
INSTAGRAM: https://www.instagram.com/gettingbackdbp/