Multiplex 10: The Web Series has launched today on Kickstarter. The project's $20,000 goal will fund a minimum of five episodes of the web series plus five animated movie reviews—but only if it's met or exceeded by the deadline on July 17th. The animated comedy revolves around the movie-loving and customer-weary staff of the Multiplex 10 Cinemas, particularly a schlock-loving theater usher named Kurt and a snobbish cinephile named Jason who have formed a combative odd-couple friendship based on their shared—but very different—love of film.
Multiplex 10 has been praised as "simply awesome. Such a great slice of movie culture," by Michael Moreci (Black Star Renegades, Detective Comics). The Daily Fandom called it "a must-watch for any film buff."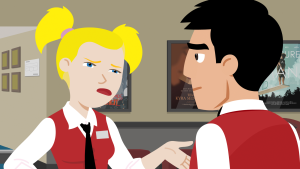 The series debuted on January 29, the same day as Multiplex 10: The Animated Short, which relaunched the characters from the long-running webcomic Multiplex into a whole new medium. The award-winning short continues its run on the film festival circuit, in addition to being available to stream, rent, or buy on various digital platforms, including Amazon Video and Seed & Spark.
Nine videos have been produced for the official Multiplex 10 site and the Multiplex 10 Cinemas YouTube Channel to date, including six episodes of the web series and three installments of a companion series, Multiplex 10 Movie Minutes, featuring spoiler-free, animated movie reviews by the staff of the Multiplex 10.

Multiplex 10 is directed, animated, and edited by Multiplex creator Gordon McAlpin. He is joined in the writers' room by producers and fellow movie-themed webcartoonists, Joe Dunn (Joe Loves Crappy Movies) and Tom Brazelton (Theater Hopper). The voice cast for Multiplex 10 includes McAlpin, Brazelton, Dunn, Dana Luery Shaw (Echo Chamber), Aiyanna Wade (Nostalgia Critic), and Javier Prusky (Halt and Catch Fire).
McAlpin has previously run five crowdfunding campaigns (all of them successful)—three for print collections of the Multiplex comic strip and two for the production and distribution of the Multiplex 10 animated short, respectively.
Ready to back Multiplex 10: The Web Series yet? No? Well, then watch THIS video of Multiplex 10 creator Gordon McAlpin getting into a little more detail: