In any business enterprise, a quality organization attracts quality talent. In the entertainment world, the high quality of a script leads actors and filmmakers to turn that script into a potentially successful venture. Writer/producer/director Cameron Watson's critically acclaimed comedy series Break A Hip has definitively proven how great storytelling can unite some of Hollywood's best performers and craftspeople to create one of the web's most buzz-worthy sitcoms. Co-written and co-produced by Steve Cubine, Break A Hip can be watched online at breakahip.com.
Praise and media coverage aside, Break A Hip has reached perhaps the most consequential milestone of its existence: its co-star and producer, legendary actor Christina Pickles (St. Elsewhere, Friends) is now in the running for Outstanding Actress In A Short Form Comedy or Drama Series at the 70th Annual Creative Arts Emmys.
That category and others will be awarded on Saturday, September 8th, and the complete ceremonies will be telecast the following Saturday (September 15th) on FXX at 8:00 PM/7:00 PM Central.
Following 5 Emmy nominations for her role as Nurse Helen Rosenthal on the classic '80s medical drama St. Elsewhere, Pickles earned her sixth for playing Judy Geller (mom to Ross and Monica) on the long-running sitcom Friends. Break A Hip is now Pickles' seventh Emmy nomination for a acting role, this coming for her unforgettable portrayal of the cantankerous yet courageous former actor Biz Brantley.
During the first 2 hilarious seasons of Break A Hip, Biz and her young caretaker Wincy (Britt Hennemuth) begin a remarkable friendship that gets challenged every which way by insensitive nursing home owners, vain social media influencers, amorous millionaires and a banjo-strumming landlady (Nibblett, played by Oscar winner Allison Janney – I, Tonya, The West Wing and CBS' Mom) who'll pick and grin her way towards booting Biz out of her apartment.
While Break A Hip features outstanding guest stars like Janney, Octavia Spencer (Best Supporting Actress Oscar winner, The Help), Peri Gilpin (Frasier) and Priscilla Barnes (Three's Company), the resilient bond between Biz and Wincy makes the series a heartwarming watch for generations of comedy lovers.
As Pickles actively makes the media rounds to chat about her latest Emmy nomination for Break A Hip, the actor spoke to Snobby Robot about the incredible attention that she – and the series – has received following its first 2 seasons.
When did you first find out that you were nominated for an Emmy for Break A Hip, and how did you feel when you found out the news?
Christina Pickles (actor, "Biz", producer, Break A Hip): Cameron Watson, our creator/director/writer and my best friend, called me from his vacation in Tennessee and told me (I had been nominated) and I was absolutely stunned. I was really very grateful, because I've been at this a long time, and I'm still trying after all this years. Here it goes again. It's my seventh nomination, and it's lovely to be recognized.
Describe how this accomplishment reflects on how rapidly the TV industry – in your opinion – is changing, and how the phrase "TV series" itself is being redefined thanks to web series like Break A Hip.
CP: I think the thing that's so wonderful is that we go into the life of an actor to be creative. We train when we're young and hopeful. I did a lot of work in the theatre and honed my talent, as it were. Then I came to Los Angeles and started in film and television.
It was all about being cast in something, and it never occurred to me that one could do something oneself; that one could be as creative as oneself when (one was) sixteen or seventeen years old. You put on a play and your family came. Suddenly, you are able to do that because of web series, and this new category that the Academy calls "short form". It's thrilling that you can gather all your talented friends and make a web series. It's astonishing to me.
What has it been like working on Break A Hip, including with Cameron and the show's terrific cast?
CP: Cameron knows all these people. He's a very social guy, very kind and charming. He knows a lot of people. He asked them if they would like to do something, and they did. I was very happy to participate because the script is so good. Every actor looks for a good script.
By the way, it seems that everybody does because we had a crew who wanted to be part of Break A Hip. Our cinematographer in the first season (of Break a Hip) is Seth Saint Vincent, an Emmy award-winning cinematographer (Dancing With The Stars, American Idol, American Ninja Warrior, TBS' Conan).
He wanted to come and work with us for a few weeks to produce this unknown thing, but it was a good script and he wanted to be part of it. It was so exciting to be with people who just wanted to be there.
Working with Allison Janney was a trip. She's beyond funny and wonderful. Working with Octavia Spencer (Biz's doctor in Break A Hip's first season) was amazing, because she got into my Biz person and she changed the way Biz thinks. She's an extraordinary actress. Her being there, and her whole persona was so strong and fair and reasonable as this wonderful doctor, that she made Biz open up a little bit and think just a tiny bit differently. It's very rare that an actor can do that to another actor, and it's thrilling.
What attracted you to the role of Biz, and how – if at all – did your experiences in the business inform the portrayal of that character?
CP: I've never played a diva. There's nothing that I've done on stage that's like this, because they don't write parts like this in plays. I haven't come across any. She's an amalgamation of everything I've ever done. She has a lot to do with my mother, who was bossy and difficult and frightened and lonely. Underneath the kind of pushy, bossy person that Biz is is a scared, frightened person, which I think is very true about those kind of people. You think, "God! I don't want to be around that person," and then you realize that that person is probably isolated, lonely and suffering.
What's beautiful about the story that Cameron wrote is that this young man comes into her life to be her assistant. The two of them change each other. I help him with his career. I'm tough on him because I want him to be good at what he does, and he shows me real friendship, attention, care and – dare I say it – love. It's a wonderful story, in my opinion, of how even when you're old, you can open up and change a little bit. Not too much, or we wouldn't have a story. Her heart does open a little bit.
The storyline I really love is about Allison Janney, who plays the landlady of the building.  The storyline is (that) her father left her the building. The thing that's really interesting to me about this story is that it's all based on reality. This woman, Biz, lives alone and has for many years in a rent-controlled studio apartment in Hollywood. The landlady is trying to get her out so she can raise the rent.
The thing about this story that touches me is that so many people, especially older people, are being thrown out of their rent-controlled apartments so the landlords can raise the rent. Sometimes you feel that people have no heart. It's sad and touching, and the thing about Biz is that she's a survivor. She will survive, even though she's sent to a home to live in. She gets out of it. She finds a way to survive. Not everybody has that survival gene. There are a lot of sad people, and that makes me feel sad.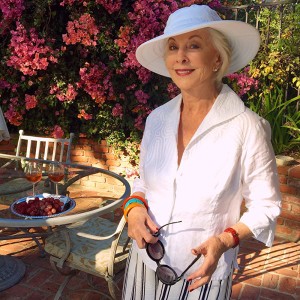 What, in your opinion, sets Biz apart from all the other great characters you've played in the past?
CP: The survival aspect (of Biz) is very appealing to me. She's all alone, so she has an assistant to help her with things she can't do: to take her to the supermarket, to get things for her. That opens up her life to a lot of adventures. Laughter gets you through difficult circumstances, so the fact that I (as Biz) make people laugh is very important, especially now that the world is so crazy.
You're also a producer on Break A Hip. What has it been like having a hand in the behind-the-scenes aspect of the series?
CP: It's been very exciting to be able to work with, and not just for, the series. If I have a good idea and say it, my fellow producers, and particularly my director, Cameron, can say either "no, I don't think so," or "yeah, what a good idea!" So, I can have input and there can be discussion. It feels very good to have your creative juices flowing again, like they did when I was 14 and I directed A Midsummer Night's Dream for my school. I loved it. I thought it was a fabulous experience, and now I'm reliving that creative experience that I felt when I was a kid. Thank God that a web series allows actors to do that. We're very lucky.
Having had a long career in mainstream movies and TV series, how has acting on a short-form web series like Break A Hip challenged you as an actor? How did you work to meet those challenges?
CP: We had to raise the money (to make the series). There was very little money, and time was very important. I learned the lines thoroughly, and worked really hard alone. Then, I worked really hard with the actors as much as we could before we came in front of the camera. Once we were in front of the camera, and things were rolling, we couldn't do too many takes because there wasn't time. So, you had to be really prepared.
You've mentioned the differences in doing a low-budget, short-form web series as Break A Hip is. Are there any similarities that you find between doing a web series and doing studio-backed projects?
CP: I'm very lucky because my background in television has nearly always been with really good writers. St. Elsewhere was incredibly well-written, as was Friends. When you have really good writing, half the work is done. In my opinion, it all starts and ends with the writing. We have, in Cameron Watson, a really wonderful writer. So, we had a lot on our side.
How does this latest Emmy nomination validate not only Break A Hip, but also its profile in the industry?
CP: I'm so grateful that I'm able to continue (in the industry), and for this new form to be recognized. The fact that we got (Break A Hip) on at all, and the fact that it's good, well-shot, well-acted and well-written, is a sort of small miracle which we hope to continue into a third season. It's all just good.
In only 2 seasons, Break A Hip has achieved viewer and critical acclaim. How has this helped to make more people aware of the show?
CP: It's fantastic. The quote we use from you is very helpful, and we're very grateful for that. We did not know whether people would like this, other than us. We loved it, but you never know. When we had our screening of the first season, we were so relieved and happy to hear the laughter and delightful responses, because you don't know. The fact that the word of mouth was so good, and that people like you write nice things about us, is so helpful.
Since the industry has always been obsessed with youth when casting projects, what do you hope your nomination for Break A Hip will do for older actors who've been passed over for leading roles?
CP: It's the script. It's what's written. If they write funny, interesting, or at least compelling older people, then actors will be able to play them. You have to have the material, and I think funny is good in older people. There's a lot of room for a lot of laughs.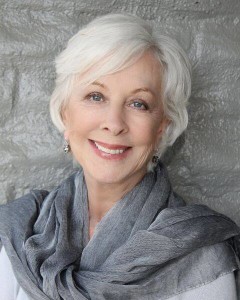 A few years ago, you did another short-form web series called Childrens Hospital. How did you bring your experience in working on that show to Break A Hip?
CP: That's what started it all. I saw they worked fast, and I got a sense of the creativity which comes out of doing something you love without a lot of money behind it, and just doing it, and getting it on. I found it so stimulating and so interesting, and I loved the show. It was very funny.
I was having lunch with Cameron one day, and I said, "we should do a web series." He said, "a what?" I said, "a web series." I explained that I had just done Childrens Hospital. Suddenly, his eyes lit up and he said, "I know what I should write about! I'm going home now to do it!" He did. He took a script that he'd rewritten for the movies, and he rewrote it in short form so there were 8 or 9 episodes of that story. We took off from there. So, Childrens Hospital was very important, because if I hadn't been on it, I probably wouldn't have known what a web series was!
What projects are you working on now?
CP: We're talking about season 3, which is taking up a lot of our time. There's so many ways to go with Biz and Wincy. We have so many choices. We've got to start settling down and getting serious. Right now, we're having meetings and talking about all the various storylines.
What do you hope your Emmy nomination – and possible win for Break A Hip – mean for the series?
CP: Of course, I hope that it will make the series even more popular, and maybe even turn it into something more substantial. Maybe a studio will take it up, open up and make it a bigger series. If they did, it would be wonderful. If they don't, we'll still have fun making our own.
What will it mean for you, as well as the show's cast and crew?
CP: If we were to sell Break A Hip, they'd all get paid. That would be so wonderful, because it's payment deferred. That would be a joyous thing to be able to thank everybody properly. It would bring us lots more work, fun, creativity and joy. The arts, in my opinion, are the most important thing in society. To see arts funding being cut back is so ridiculous. In times of trouble, which I think we're in, we need to look at beautiful paintings and go to great plays and hear symphonies. Creative people are to be helped and loved and encouraged, because that's what keeps us all going.
To watch all seasons (so far) of Break A Hip, visit: