Like television, the Internet is a technology that's made life both easy and complicated. While television is a source of good and bad material, the Internet's unparalleled tonnage of information is filled with reliable and untrustworthy content. The World Wide Web is also the top resource for young people who need easily find-able information for their education and/or careers.
However, after student loan debt and joblessness made these youngsters feel like their time in higher education was wasted, many of them decide to trust "gurus" and "experts" of suspect knowledge. Put together with personalized search engine algorithms and artificial intelligence technology, these sources can become a recipe for trouble – and humorous examination, as shown in the new satirical comedy/drama THE A TO Z OF CLUELESS EXPERTS.
A hilarious one-woman vlog series created by and performed entirely by actor/writer/producer Collene Webb, THE A TO Z OF CLUELESS EXPERTS presents what can ensue when "personalized" technology and questionable online "knowledge" make a weird brew. The series, which rolled out its first of 13 episodes on August 16th, will continue to release new stories each Thursday on its own YouTube site (additional links below). 2 additional seasons of the show will air later.
Webb's tour-de-force performance in THE A TO Z OF CLUELESS EXPERTS begins and ends with her top character on the series, wayward millennial Cadenza Lane. Living a purposeless life, Cadenza decides to search for emotional change – and knowledge – on the Internet of things. Concurrently, she opens up about her quest through another time-honored activity that's popular with the young folks these days: vlogging.
When Cadenza starts taking an algorithmic-based educational course called "Finding My Expert" to find her life's new direction, she's flabbergasted to find that its true purpose isn't to educate.
Instead, the "education" Cadenza gets is dispensed by a wacky network of bizarre personalities (all played by Webb, in alphabetical order) who only pontificate on camera about their iffy knowledge of many diverse subjects. As Cadenza's shock at the situation heightens, so do the questions that THE A TO Z OF CLUELESS EXPERTS raises about technology itself.
Experienced in both theatrical and on-camera performance, Webb created THE A TO Z OF CLUELESS EXPERTS as the first streaming video production developed by her studio, Redhead Reach. With its first being an acclaimed U.K. stage version of author Lucy Maud Montgomery's classic ANNE OF GREEN GABLES, Redhead Reach's second project also features Webb (herself a redhead). While the company's mission is to provide exposure for redheaded performers in all of its future productions, the stories that those actors present will span a kaleidoscope of experiences.
"The aim of Redhead Reach is to raise the profile of redheads on stage and screen," Webb says. "Every production will include at least one red-haired character. Other than this requirement, the stories told by Redhead Reach could have a variety of themes and appeal to a wide audience. Nevertheless, being a redhead is a lifestyle – from needing high factor sunscreen to dealing with an array of compliments and insults over the years!"
While THE A TO Z OF CLUELESS EXPERTS is Webb's web series debut, it's definitely not her first try at the production end of entertainment. "Anne of Green Gables is arguably the most iconic redhead in fiction and I had a very strong desire to play the character. It was my first go at adapting a novel (I usually write totally original scripts) and I knew I could create a really authentic stage version."
Webb's experience making productions both expansive and intimate was the perfect preparation for the later undertaking that was A TO Z. "I've learnt a lot from every show I've created and produced. They've all had unique challenges," she says. "Before Redhead Reach, I wrote a one-act play with music for the Edinburgh Festival Fringe and at 15 years old I created a full stage musical (book, music and lyrics). Through writing many scripts for stage and screen, I've discovered what my style is. I also think you just have to go for it and trust your instincts!"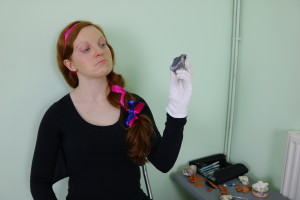 Where theatrical productions like Webb's acclaimed staging of ANNE OF GREEN GABLES live only in the fleeting memories of audiences, web series – including THE A TO Z OF CLUELESS EXPERTS – are made for repeat enjoyment.
That's why Webb has now zeroed in on filmmaking as her primary storytelling outlet. "I've been performing on stage for a long time, but creating work on-screen excites me more at the moment," she says. "I love the idea that recorded media could exist forever."
Before Webb could press the "record" button on her new series, the concept for THE A TO Z OF CLUELESS EXPERTS was born out of some remarkable circumstances. So too was the show's title. "The two words 'clueless experts' sprung into my head in 2015 when I was thinking of possible themes for a theatre festival I was acting in (14/48 Wolverhampton). Everyone was asked to submit themes to be pulled out of the hat. I liked these two words so much that I decided to keep them to myself and submitted my other themes instead!"
Those two words – "clueless experts" – would eventually be linked to an early incarnation of the less-than-qualified commentator type that Webb would expand on in A TO Z . "The idea kept recurring and evolving over time," remembers Webb. "In 2016, I worked on a collaborative feature film (Hello Au Revoir) and created a character for this which was a kind of 'clueless expert'. I realized that the idea could be developed into something bigger!"
THE LIZZIE BENNET DIARIES, CLASSIC ALICE and THE ADVENTURES OF PETER AND WENDY were pioneers in vlog-centered narrative web series, but another favorite adaptation of a literary stalwart sparked Webb's aspirations to make a vlog comedy herself. "I was really inspired by (the) Green Gables Fables web series, because it was the first vlog-style storytelling I'd seen. I wanted to do more screen acting and create something, but I'm not a trained filmmaker so watching Green Gables Fables made me think 'this is achievable. I could do this sort of thing on my own – without hiring a crew.'"
With it being a one-woman production, THE A TO Z OF CLUELESS EXPERTS' shows off Webb's talent and resourcefulness in acting and filmmaking. It's also a case study of how "writing what you know" can enhance any narrative story. "At the end of 2016, I also did an online course (which was good, by the way). I discovered that there were many other online courses and videos out there of people claiming to be experts in something," Webb recalls. "When I started writing the 'clueless experts', I watched loads of YouTube videos and these helped with creating the characters."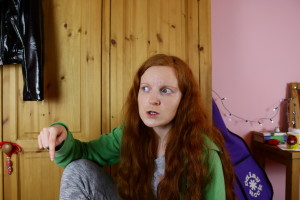 For Webb, researching the types of "experts" she would parody in THE A TO Z OF CLUELESS EXPERTS was just the first step in the show's protracted journey from script to vlog.
"I wrote the whole series first over several months, obtained a bit of feedback and then went into shooting. For each episode, I do a last edit of the script, memorize the lines, gather props/costume, film and edit the footage. I then move onto the next episode."
The consistency of Webb's lengthy yet productive preparations for every episode of A TO Z has helped her settle into a comfortable groove prior to production. "This routine has given me a sense of achievement and focus to complete each episode before filming the next," Webb explains. "I knew roughly how I was going to play all the characters when I wrote the script. I read out every episode as I was writing them – with the various accents and voices."
While many similar series use the vlog approach to reach audiences, THE A TO Z OF CLUELESS EXPERTS takes vlogging into a unique stratosphere with Webb at its heart. "The show is totally solo. I create everything and act a variety of characters. I don't think there can be many one-woman web series," she says.
Especially outstanding is the series' merging of varied storytelling genres, and its witty perspective on technology. "…Whilst there are various vlog-based series, mockumentaries, satires, character sketch shows and sci-fi dramas, I don't know of any productions which include all these elements. I believe THE A TO Z OF CLUELESS EXPERTS is unique in this way," adds Webb. "It even satirizes the platform it's being shown on: YouTube! I think the show is going to surprise people."
With echoes of other vlog web series, as well as the BBC's popular DOCTOR WHO and BLACK MIRROR, the comedy/sci-fi/social commentary blended in THE A TO Z OF CLUELESS EXPERTS may convert many viewers who want a little something unexpected with their entertainment. "It should appeal to millennials, redheads, fellow actors (or those who like to see an acting challenge) and people who enjoy satire, sarcasm and weird stuff. My target audience might be women in their 20's and 30's, but there are already men and women of all ages interested in the series."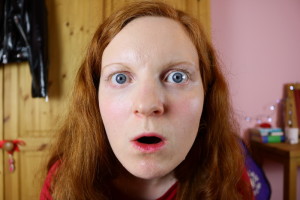 While Webb comments that the series can be experienced through the opposite prisms of one-off skits and character vlogs, she says that THE A TO Z OF CLUELESS EXPERTS can best be appreciated by consuming its episodes in totality.
"…To really understand the story, you need to collect the clues along the way and the series gets progressively weirder, with darker undertones. The 'clueless experts' are part of a weird online career advice course which the main vlogger character is taking. The Internet can be a strange place and, at what point does technology become a threat to human life?"
As Webb aspires for THE A TO Z OF CLUELESS EXPERTS to grow as many audiences as it could opportunities for her and Redhead Reach, she feels that the show might encourage people to consider how the potential of technology can be overshadowed by the danger it constantly poses. "I'd like the series to instigate thoughts about the impact of the internet and technology on education, careers and human identity."
Webb's one-woman production may also motivate aspiring web series creators to embrace their creativity by thinking large on a small scale. "I hope people will be surprised and inspired by how I've created a solo web series with big (probably ridiculous) ideas and limited resources," Webb replies. "It's possible to write a strange story involving some technological themes without action sequences, CGI or even a film crew."
For more information on THE A TO Z OF CLUELESS EXPERTS and Redhead Reach, visit:
YOUTUBE: https://www.youtube.com/channel/UCaQCUOodEf_NRVrs_EhFcaw/
FACEBOOK: https://www.facebook.com/redheadreach/
TWITTER: https://twitter.com/RedheadReach