Though they've planned thoroughly for an ideal future after college, many young adults find it almost impossible to deal with the challenges of growing up. While some of their peers experience the heights of success, others learn that their professional and romantic goals are quickly getting out of their reach. In desperation, they attempt to "self-medicate" themselves by getting high and inebriated.
After those false solutions lead to more problems for struggling millennials, they've got no choice but to cope with the consequences of their decisions. It's a responsibility that one fledgling 20-something begrudgingly attempts to fulfill in the first season of comedy/drama EASY V, produced and directed by Carly MacIsaac (who plays the show's title character) and Natalie Novak.
Filmed in Toronto, and accompanied by an eclectic soundtrack from up-and-coming Toronto music artists, EASY V is the first original web series streaming on new Youtube channel Then She Said (see additional links below). Four episodes were produced for EASY V's first season. More Canadian series – made by and for women – will premiere soon on Then She Said's channel. The series' full soundtrack playlist is streaming on Spotify (link also at the end of this article).
As played by MacIsaac, V (full name Vienna) is a young artist who must balance the passion of creativity with the necessities of financial stability. "To me, Vienna represents one very specific side of what living the artist lifestyle can look like," explains the actor. "…You could be living in some beautiful high-rise drinking $22 cocktails just as easily as you could be selling your paintings on Bunz and using your rent money to get drunk with your friends to forget about it."
While V's concerns about artistic success are unceasing, her fears of getting left behind in a fast-paced world move V to take harmful action.
"That feeling in your early 20's of everyone around you growing up at lighting speed while you continue to feel stagnant and full of angst about the direction of your life is the driving force behind most of Vienna's behavior," MacIsaac adds. "She (Vienna) is constantly looking for an escape – whether that be through drugs, drinking, sex – to avoid having to deal with the fact that she's now an adult."
V's risky decisions also illustrate a philosophical battle fought by two of her most treasured companions. One is V's strait-laced friend Corrine (Lora Burke), whose futile efforts to save V from endangering herself are frequently rebuffed. "Corinne constantly trying to be Vienna's moral compass and V refusing to follow eventually leads her to a boiling point," explains MacIsaac and Novak.
The other is Caitlin (Khadijah Roberts-Abdullah), a fun-loving yet increasingly destructive influence on V. "When the booze is gone, who knows if she'll still be around, but the excitement Caitlin brings moment-to-moment makes it easy for Vienna to escape and continue engaging in impulsive behavior," EASY V's creators say.
MacIsaac, who also wrote each episode of EASY V, approached her work on the series from a point of view that's true to the complex lives of millennials everywhere – including herself. "I definitely have experienced my fair share of 'party years' and I wanted Vienna's messiness to feel authentic," she says. "As the writer and as the actor I enjoyed playing with the vulnerabilities that were hidden within what Vienna used as protection in the world – right down to her thick black eyeliner."
In her scripts for EASY V, MacIsaac created a realistic dramatization of the frequently painful experience of leaving one's teenage years behind. "Writing about that sticky transitional period into adulthood while it was still fresh was really important to me. It was always meant to be a show for young people – made by young people," she adds.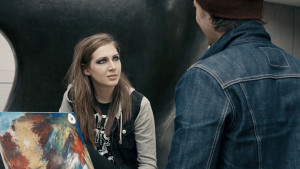 With the web as a powerful yet accessible distribution tool, more actors and filmmakers are taking the creative process into their own hands. MacIsaac did the same by creating EASY V.
"As an actor, I desired to have more of a say in the trajectory of my career and the roles I was exploring," she comments. "I wanted to have a voice in the overall filmmaking process and be involved in multiple aspects. This project has been one of the most satisfying experiences, and I have come out on the other side having such a better understanding of the industry as a whole."
Amid the typical difficulties of doing a low-budget web series, Novak passed down her expertise in independent filmmaking to MacIsaac. With EASY V marking MacIsaac's first filmmaking effort, the actor/writer praises her creative partner for helping to realize her show's production. "Meeting and collaborating with someone as talented and driven as Natalie has been the biggest blessing of my 20's."
While also celebrating MacIsaac's talents, Novak also honors MacIsaac's multi-faceted dedication to every detail of EASY V's on and off-camera needs. "One of the many things that attracted me to Carly as a creator was her willingness to be malleable in how her show would come to be," she says. "She didn't shy away from doing any of the heavy lifting and was very trusting and collaborative, especially as a first-time creator."
MacIsaac's profound commitment to her creative work is another quality that Novak admires. "She really puts her all in every aspect of her projects, especially as so much of what she was making was coming from her authentic experience, and yet she was such a generous collaborator in sharing this world with others."
In addition to MacIsaac, a corps of talented women filmmakers and craftspeople comprise EASY V's production crew. "EASY V is fully executive produced, directed, and written by women. We had many women in front of and behind the camera," the series' producers note. "Another key player was Erin Gulas, our editor. This wasn't on purpose; it was just what happened on this one."
The female representation in EASY V's cast and crew is critical to the success of new streaming channel Then She Said, and so is the series' association with that outlet. "We hope that since the platform's mandate is to support young women creators, we lead with an example that it's possible to make something with little to no resources available to you," MacIsaac and Novak explain. "We hope that women will feel compelled to create without someone's permission, i.e. before getting a broadcaster or a funding body behind them – not that there aren't systematic issues we still need to tackle, but in the meantime we should still be focusing on creating."
As part of that mandate, Then She Said launched its first annual Pay It Forward Emerging Canadian Female Filmmaker Grant on Tuesday, September 4th. More information about that grant is on its FilmFreeway page (link located below).
Like it did with EASY V, Then She Said will make all of its series with women in charge of at least 3 (out of 5) key production jobs. Those jobs include writing, directing, cinematography, editing and producing. The grant's winner will be required to meet that standard. (NOTE: Only Canadian filmmakers are eligible to enter.)
Novak also hopes other female filmmakers will be inspired to follow EASY V's creative path. "Without EASY V, I wouldn't be eligible to receive a Banff World Media pass from the IPF (Canada's Independent Production Fund). It's key to make things before you get people behind you to make more things. That first step is really challenging; of making something from scratch before you have a track record of creating good stuff. We hope that this will be a good way to get our show seen while bringing visibility to other works created by women."
Due to its small budget, almost all of EASY V's filming was done inside the first half of 2016. As the year closed, an extra day was required to tackle one of the show's more complicated scenes. "7 of the 8 days we shot in April/May of 2016 and then we had one shoot day in December 2016 which was the party scene in episode 2 because it involved some more preparation. Not all the days were full shoot days, but a lot of them were. With less infrastructure and budget, everything takes longer."
Using a limited number of interior settings, MacIsaac and Novak maximized the time they'd have to film much of EASY V's dramatic set pieces. "We mostly based the shoot around locations so we would have full days in either 'Vienna's house' or 'Corinne's parents' house' and we'd have to shoot everything for the season that took place there," they add.
For everyone on its team, filming EASY V was a matter of efficiency and timeliness. "We had mostly the same crew on all the days and it was 'all hands on deck' in a lot of the departments," MacIsaac and Novak recall. "Our crew was the best. Everyone had to be okay with doing their best despite the circumstances because we had to be so run and gun. The cast, as well, had to be extraordinarily patient and supportive as we did our best to figure things out as we went."
While EASY V's visible moments grip viewers, it's the show's music that adds an authentic layer to the experiences and emotions of its characters. EASY V's song soundtrack, which features cuts from emerging Toronto indie performers like Jane's Party, Boland and Brooklyn Doran, Lex Leosis and The Kents, was carefully compiled by Novak and MacIsaac with EASY V's storytelling needs in mind.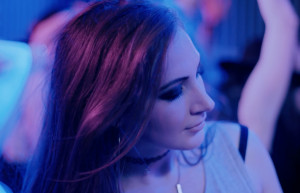 "We chose songs that imbued a feeling," Novak says. "It took a lot of time but it was so obvious when an artist was the right fit for both Carly and I. It was a really enjoyable process but also time consuming and complex, so we gained a ton of respect for music supervisors. Some of the artists we knew from the start; others we did some digging for."
MacIsaac was already prepared to cultivate EASY V's musical playlist, and both she and Novak would get a powerful assist in their search for the right tunes to place in their series. "Carly came in with a list of songs on Day 1. Natalie Maksym, who was our wardrobe stylist and media relations liaison, knew a lot of the artists personally, so it was easier to get through to them with those personal relationships. We feel it's a crime that the world doesn't yet know of so many artists featured that we know and love. It's wild because they are so good."
The show's creators also considered how each song reflects V's journey in every episode, "In terms of Vienna's arc, we feel that comes out in the writing and the music really supports the feelings Vienna has in each scene," MacIsaac and Novak explain. "Not everything is necessarily music Vienna herself would listen to, but it all definitely belongs in the world of the show."
With EASY V's soundtrack curated on Spotify, MacIsaac and Novak want the series' audiences to hear the potential of Toronto's under-the-radar musical talents for themselves. "…I hope our viewers check out our soundtrack and discover someone they didn't know before, both through the songs featured in our show and the artists' other music," responds Novak.
They also want others in search of new artists for TV and movie placement to give EASY V's songs a listen. "I hope that music supervisors and producers will see these artists and now recognize them as prospective artists for future licensing in television and digital content, because licensing is a huge way artists can make an income of any kind these days since music production is so expensive," Novak adds.
Another element of EASY V's realism is its visual setting: a grittier yet undiscovered side of Canada's most populous city. "EASY V shows a less glamorized Toronto than what is often portrayed in the media," MacIsaac and Novak say. "We wanted the authentic Toronto, the one we feel is hard to find as a tourist, to be represented on screen. Even still, I think there is so much more to mine in this city for what it feels like to live here. We hope the specificity of the soundtrack, Vienna's situations and locations comes through."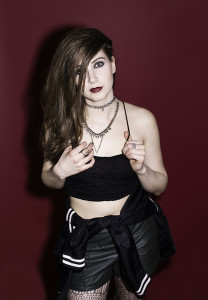 While EASY V is geared towards teenage and millennial viewers, Novak hopes that its female audiences will also take strongly to the series. "The more content with female representation, the better – and hopefully we'll connect with the young women out there that may not get the same content from what they're watching on their parents' cable channel subscriptions. I know as a younger person, I loved finding material that didn't feel overproduced, and I always loved feeling connected to the people telling the stories as much as I did the stories themselves."
With the completion of EASY V's first season in their rear view mirror, MacIsaac and Novak look forward to continuing their creative momentum.
"We hope that we garner a viewership to go on to make season 2 and season 3. We feel like we've just scratched the surface of where we can take Vienna and the other characters and have so much left to draw on. We hope that music continues to play a big part of the show. It would be a dream come true to produce a show featuring the artists from the soundtrack and tap into a whole new audience of listeners."
Millennials will have their successes and disappointments, but EASY V's producers are convinced that the show will prove to its viewers the importance of keeping a level head when life's problems seem too overwhelming. "Some people will see the humor in V's antics and be reminded of some of their own from that time in their life, whereas others will view it as a cautionary tale; using drugs and alcohol as temporary band-aids won't fix your problems."
(NOTE: Regarding the closed-captioning of EASY V, MacIsaac and Novak say this: "English subtitles are available for international festivals but they are not currently on YouTube. We are looking to have our all our content subtitled on the platform in time.")
To enter Then She Said's Pay It Forward Emerging Filmmaker Grant, visit:
https://filmfreeway.com/ThenSheSaid
EASY V's first season is available on Then, She Said's Youtube channel:
https://www.youtube.com/channel/UCrX8LtyHA2M6mVkzUhsYj1w
The complete season 1 soundtrack for EASY V is available via Spotify:
http://bit.ly/easyvsoundtrack
ON THE WEB: http://www.thenshesaid.tv/
INSTAGRAM: @thenshesaidcanada
TWITTER: https://twitter.com/shesaidtweetme
FACEBOOK: https://www.facebook.com/thenshesaid
and https://www.facebook.com/easyvtheseries/