To succeed in the cutthroat world of business, employees and entrepreneurs alike rely as much on the power of motivation as they do the power of determination. Motivation often requires the use of an effective and inspiring communicator; someone who can inspire people to reach their complete potential in corporate life.
Such a description does not apply to Benny, the titular wiseguy/questionable "business expert" in Pygmy TV's new comedy series BUSINESS MAN BENNY. Written and directed by Pablo Andreu (STRAY) and shot inside Andreu's actual work space, the series stars Nick McGuinness as a boisterous yet well-meaning figure who offers his audience tips and tricks that no self-respecting current or future CEO would ever use unless they want their business to be a successful failure.
While many entrepreneurs try to pass on their wisdom to those who want to follow in their footsteps, business people know that exhibiting a strong corporate image is just as important as having priceless expertise. When Andreu found such an image put forth online by one of his longtime friends, the concept for BUSINESS MAN BENNY instantly came to life.
"It (the character of Benny)'s sort of based on a childhood friend of mine, who created a similar persona for his Instagram account," recalls Andreu. "I hadn't talked to him for years, and then I see his new business Instagram account. Immediately, I thought, 'I have to do a parody of this."
Describing the character as "Tony Soprano (THE SOPRANOS) meets Michael Scott (THE OFFICE)", Andreu indicates that there's a degree of humanity that exists in Benny's otherwise gregarious personality; one that also adds comedic depth to McGuinness' role.
"In spite of the first impression he makes, Benny is not a bad guy," he says. "He's just woefully oblivious to how he comes across and how he might affect other people with his actions. That does make him selfish and insensitive, but he's not actively trying to hurt people. I try to find humor in that obliviousness."
Having previously worked with Andreu on season 2 of STRAY, McGuinness took advantage of another opportunity to play a character whose abrasive personality is diametrically opposed to the kind one the actor exhibits in real life. "I'm always drawn to characters who are the complete opposite of myself. Benny's confidence and indifference is really funny to me; he has no shame. Developing the character was a lot of fun as well. Pablo's a great writer/director, and allowing me to try different things while filming really helped me shape the role."
Like the wacky personality of its title character, the off-kilter style of BUSINESS MAN BENNY's humor and production is noticeable right off the bat. "The format (of the show) is kind of a cross between a vlog and one of those cheesy corporate videos from the '90s, but then it has these cinematic cutaways that act like mini-music videos, and the content of the 'advice' is absurdist," Andreu explains. "I don't think any one of those elements is new, but I'm not sure I've seen them put together in the way they have in BUSINESS MAN BENNY."
Given the alpha-male persona of Benny, it's a given that some of BUSINESS MAN BENNY's earliest demographic success comes courtesy of male viewers.
"The sample size may be a bit small to give you a definitive answer, but, anecdotally, we're getting some good feedback," Andreu comments. "It does seem that men are responding more to Benny, but I'm sure that surprises absolutely no one."
While BUSINESS MAN BENNY is still a short-form web series, Andreu and McGuinness  have bigger ambitions in store for their project. "We still have several episodes left in the vault in this format, but Nick and I have been talking about expanding. We're tossing around a few different ideas, but we haven't settled on anything yet. We'll roll out the remainder of these episodes this fall, but we'll probably have something different for the following year. Stay tuned!"
BUSINESS MAN BENNY's potential growth is also tied to that of Pygmy TV. "I want these shorter pieces to serve as a proof of concept for the character to then give us the opportunity to raise money so that we can build out the series a bit. That's pretty much the strategy for the whole channel right now. Proof of concept, see how it goes, and then build out based on the response," adds Andreu. "It's only been a few months that we've been trying this, and we're getting some decent initial traction, so I'm optimistic that 2020 will be a big year for BUSINESS MAN BENNY and Pygmy TV."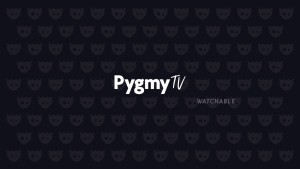 Although it's more offbeat than Pygmy TV's other offerings, Andreu feels that BUSINESS MAN BENNY's unconventional comedy will perfectly compliment the rest of the service's content.
"Business Man Benny is probably the most obnoxious character on the channel, so it may be that this show pushes buttons in ways that some of the other shows on the channel don't. We're not actively looking to push buttons, but it's nice to round out the humor with something a little different. I'm not trying to hit just one note with the humor on the channel. I like to try different things."
(NOTE: All episodes of BUSINESS MAN BENNY will be closed-captioned and subtitled.)
Watch BUSINESS MAN BENNY here:

https://www.youtube.com/playlist?list=PL5bFVGgRlaJ-WnsqyYQRA5vfV14uOyvxJ