Acting is a cutthroat business, but the support of family and friends can make a significant difference on every aspiring thespian. Putting that fact to a hilarious test is season 1 of the acclaimed comedy/drama Running On Empty, where one would-be star – Julia, played by series co-creator Heather Farace – goes to incredible lengths to prove her talents to the showbiz world.
Backing Julia's efforts are her loyal agent/full-time single mom Nicole (series co-creator Megan Morton) and her blind roommate Sawyer (played by Scott Cassinerio, who also co-created and wrote Running On Empty). With their help, Julia navigates the slings and arrows of outrageous showbiz fortune, but her unexpectedly earned success threatens the cherished friendship she shares with Nicole.
While Farace and Morton play their characters for laughs in Running On Empty, the actors' off-camera hopes and responsibilities are serious business. "In real life Heather is trying to become an actress, and Megan is a single mother," Cassinerio explains. 
Besides the similarities between what Farace and Morton do in real life and in Running On Empty, the show's co-creators share another significant commonality that helped them to launch their sitcom on the web.
"We're creative people and love to make people laugh, so we wanted to see if we could make this idea a reality," adds Cassinerio. "We were going for relatability, laughter, and a community project. We feel (and hope) that we succeeded."
Aside from having humorous situations and relatable characters, Running On Empty offers up a diverse buffet of comedic stylings in each episode.
"I think (what sets it apart from other web series comedies) is because we had all sorts of humor in it; physical, one-liners, off the wall, surprise, hidden, slapstick, 'gotta watch that again' type humor, and more. We combined that with making Nicole's character as relatable as possible," notes Cassinerio. "In some of the more dramatic scenes we add humor, as well, to lighten the mood."
Due to her being a stand-in on the set of the hit Netflix drama 13 Reasons Why, Farace easily gathered several of her actor co-workers to fill additional roles on Running On Empty. The remaining parts went to friends of the show's co-creators, but time was not on their side when production of the series commenced. 
"Finding free time and getting everyone together on the same day was very hard. Everyone has jobs and family and their own lives," recalls Cassinerio. "This is why it took nearly 3 years to finish including editing. We did take 5 months off, though. Editing took 6 months to do. We used Power Director 15 software and used multiple iPhones to film the whole show."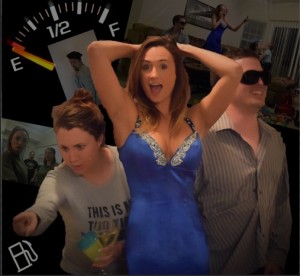 Though a second season of Running On Empty isn't yet a certainty, Cassinerio, Farace and Morton are enormously proud of making the series, and they want its audiences to appreciate how the fruits of their labor resulted in a show that's become a true fan favorite.
"I really hope people see how hard we worked," Cassinerio comments. "I hope they see that, although it was a goofy show, they were still able to enjoy the storyline. Most of all, we just wanted to do a project that was fun."
With every comedy's success defined by the laughter – or lack thereof – of its viewers, the co-creators of Running On Empty also hope that its most important mission has already been accomplished.
Says Cassinerio: "(We hope that) people (who) watched it had a moment to step away from the reality and stresses of life and just laugh! Laughter is a great medicine. If you didn't laugh, that's okay too. A small part of us hopes that maybe someone will see this and say 'hey, that Heather is a pretty good actress,' or 'Scott wrote a good script."
NOTE: The series is not currently closed-captioned or subtitled.
YOUTUBE: http://youtube.com/runningonemptywebseries 
TWITTER: @ROEwebseries