While the coronavirus pandemic continues to put the world's citizens at risk, the dangerous atmosphere that now exists due to the as yet un-contained supervirus has caused countless employers to redefine what a "workplace" is. When governments throughout the world imposed at-home lockdowns earlier this year to prevent the spread of the virus, the personal living spaces of employees and their overseers instantly became offices.
Internet video conferencing programs like Zoom have effectively linked these socially distanced work areas, though chaos is a given due to the inevitable glitches that Zoom has been infamous for. As the corporate world hunkered down at home during the first wave of COVID-19, however, external distractions – such as cranky kids – unfailingly dashed any hope for a "typical" work day.
Those pitfalls are on full display in Mersiha Musovic and Michael Deo's hilarious and relatable new comedy series Working From Home, a seven-episode look at one group of working stiffs who try – and frequently fail – to accomplish the daily needs of their company's business while their already wacky lives get even wackier during the lockdown. All seven episodes are streaming on YouTube (link to the show's playlist below).
Co-created by and co-starring Musovic and Deo, and filmed in their native Canada during the country's lengthy coronavirus shelter-in-place period via Zoom, Working From Home's cast includes the aforementioned actors/filmmakers as, respectively, frustrated employee Mersiha and her lackadaisical co-worker Michael.
Taking the restrictive nature of forced social distancing even harder is Michael and Mersiha's colleague Sara (Sara Bynoe), while their overwhelmed boss Daniel (Daniel Chai) struggles to hold his operation together as he's rapidly driven to his wit's end by his antagonistic teenage son.
Like every creative impacted by the now-lifted pandemic lockdown, Mersiha and Deo were forced to rethink the way they approached their work. With in-person shoots an impossibility, the series' team turned to a program they were already at ease with: Zoom. Though the popular service has its advantages and disadvantages, Zoom was the best way for Mersiha and Deo to begin production of Working From Home.
"(Using Zoom) has forced us to think outside of the box," they say. "With such tight restrictions during the lockdown, we knew we wanted to create content in any way possible, and Zoom suddenly became an excellent option, limited as it may be, to bring comedy to the world during such a strange time."
In fact, their familiarity with video conferencing via Zoom helped to spearhead the concept for Working From Home. "Having day jobs themselves that require a whole lot of Zoom meetings, it gave (us) an idea to create a fictional team that has to adapt to working from home during the pandemic, and to show how quickly their ability to be professional and focused would disappear as the lockdown dragged on," Mersiha and Deo comment.
Important to Working From Home's humorous quality is the connection that its characters have on the show's viewers; personalities that Musovic and Deo note are easily recognizable in real life workplaces. "All the characters were loosely based on office stereotypes and archetypes. We wanted the audience to be able to watch the show and say, that person reminds me of someone I work with."
The bandwidth-heavy Zoom video conferencing system's unavoidable technical mishaps occasionally interrupted production of Working From Home, a virtual filmmaking process that lived and died by the strength of a congested Internet connection. Says Mersiha and Deo: "Everybody is using wi-fi like never before, and when you have 4 to 5 actors filming a fast paced 3 minute sketch, you really need your wi-fi to be reliable more than ever so that no beat, joke, or frozen face gets in the way!"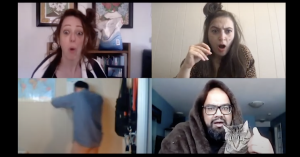 Despite those interruptions, Mersiha and Deo feel that the efficiency of Working From Home's overall production helped the series' collaborators accomplish their on and off-camera responsibilities on schedule. "…The production itself was very straightforward, the scripts were ready in under a week and then everyone met on Zoom, had a quick rehearsal, and then we filmed the episodes."
The cast's comedic experience also helped make filming Working From Home a successful endeavor, as did Mersiha and Deo's encouraging improvisation by their ensemble. "All of the actors are well-versed in comedy and improv, so the process for filming was given some extra leeway," add the show's co-stars. "While we used the scripts as the through-line for the story and jokes, we trusted the actors to bring other comedic moments during filming if they thought it would make the episodes funnier."
With Zoom already the production platform of choice for socially distanced actors and filmmakers like Mersiha and Deo on Working From Home, the duo hopes that their peers will see from their experience the benefits – and not the difficulties – of socially distanced filmmaking.
"We would say to reach out to your fellow writers, actors, and content creators – from a distance of course –  and see who's interested in creating something that could work either on Zoom or on your phone. You have an audience that's looking for fresh content and is, for the most part, forced to stay at home and find entertainment digitally."
Their production aims for the series aside, Mersiha and Deo want audiences to connect with Working From Home – even if they're not working from home, or anywhere else. "Our hope is to make comedy that is accessible to everyone. You don't need to be an office worker who has to telecommute though Zoom to watch and understand the series. Communication is universal, and everyone can relate to not being able to communicate or interact in ways that they're not necessarily used to or adept at doing."
In a greater sense, Mersiha and Deo aspire for Working From Home to equally benefit both their creative careers and the lives of the show's viewers. "The most important thing to us is that the audience laughs. If we can do something funny that helps you escape or find joy then we've done our job. With content being constantly created and shared, we hope our little show can find a place in someone's day and that they share our work with others to spread the comedy. We would also like for Working From Home to help promote other work that we've produced so people can see our sense of humor and enjoy what we've created."
NOTE: Musovic and Deo say that Working From Home is not currently closed-captioned or subtitled.
Watch all seven episodes of Working From Home on YouTube:
https://www.youtube.com/playlist?list=PL4dErT2JKMqmYPLZtEpoJ-oDBBblUXocD