While independent streaming video sites like Seeka and Stream Now TV are successfully acquiring quality web series from talented filmmakers, YouTube remains the default platform of choice for many producers who work in the episodic field. Some show creators, meanwhile, have opted to build upon their successful YouTube audience following by submitting their content to the home of hits like the Emmy-winning THE MARVELOUS MRS. MAISEL, THE MAN IN THE HIGH CASTLE, CATASTROPHE and FLEABAG. Of course, it's Amazon Prime.
One filmmaker who's jumped on the Amazon Prime distribution bandwagon is Lisa Ebersole, the star/creator/writer of 37 PROBLEMS. Inspired by her own efforts to cultivate a filmmaking career while attempting to have a thriving personal life, 37 PROBLEMS stars Ebersole as Amanda, a 37 year old single woman who aims to finish the web series of her dreams. However, some interesting obstacles stand in Amanda's way as she tries to get her project completed.
For one, Amanda's editor/ex-debt collector Gunnar (Joseph D. Reitman) refuses to finish post-production on her series unless she can cough up ten grand. Amanda's obnoxious mom Diane (Catherine Carlen) offers to help her do that…but only if she tries to have a baby by freezing the last egg she has left. While Amanda is infatuated by fertility doctor Indira Drimi (Pej Vahdat)  Diane wants her daughter to finally "settle down" and get hitched to any random "Genius" (specifically aged 37) who works at the local Apple Computer service store.
Besides its presence on Amazon, 37 PROBLEMS is also part of XFinity Comcast Video on Demand's content lineup, plus that of actor/director Elizabeth Banks' female targeted YouTube comedy platform WhoHaHa.
37 PROBLEMS' distribution deals with WhoHaHa and Xfinity Comcast VOD came as the series earned acceptance into the 2016 Austin Film Festival. Via those deals, Ebersole monetized 37 PROBLEMS while also using her social media posts to increase awareness of that show and her future projects.
Profiting from 37 PROBLEMS was not an easy accomplishment for its creator. Among many challenges – the steep learning curve for web series creators exploring monetization strategies, pay decreases for Ebersole and other Amazon Prime indie show producers, worries over if her series would find viewers – Ebersole found multiple paths for success by continuously engaging with her audience. Since 37 PROBLEMS isn't restricted to any single platform, Ebersole also got more bang for her buck in monetizing the series.
Snobby Robot recently talked to Ebersole about the ways she used monetization to profit from 37 PROBLEMS, and about how her frequent social media posts translated into more eyeballs for present and future creative work. Citing her experiences, Ebersole also presents valuable suggestions on how other web series creators can replicate her approach to making money through content.
37 PROBLEMS is now available on Amazon Prime and XFinity Comcast Video on Demand. How did you get involved with them? How and when did they discover your show, and how are you monetizing 37 PROBLEMS through those distribution partnerships?
Originally, I had no idea what I was doing with distribution. I launched it on Vimeo, and never was it seen or heard. I knew it wasn't a YouTube show. It's not (for) a YouTube audience. Then I found out from a female filmmaker friend that Amazon had a way for indie filmmakers to submit their shows to be on their platform. The shows I love – FLEABAG, CATASTROPHE, THE MARVELOUS MRS. MAISEL – all of those are Amazon. So why don't I put my show where the ones I admire are? So I relaunched 37 PROBLEMS five months later on Amazon Prime. That was the only place it was available.
The first few months it was on Amazon Prime I was making money. Not big money. But I was making $1500 a month on Amazon just from people watching it – not through me doing anything, but through it getting recommended.
People would take pictures of their home screens, and send them to me: "If you liked FLEABAG or CATASTROPHE, watch 37 PROBLEMS." So the branding was amazing, and it got viewership from that.
Then, Amazon cut their rates that they were paying independent filmmakers from 15 cents an hour to 6 cents an hour. The revenue dropped dramatically, so I was looking for other ways to get more visibility on the project. Through another female filmmaker friend, I heard that Elizabeth Banks (actress/director) had a production company to support female comedians.
So I submitted the series to her production company, WhoHaha. They selected it, and it's one of their series on their channel. They do have a YouTube channel, and in some other places too, but it's a curated selection of female-driven comedy series, of which mine is one.
I also submitted it to film festivals. I didn't think (submitting the show) had led to anything, but then I got an email over the summer from the Austin Film Festival, in which 37 PROBLEMS was a finalist. They said, "Gravitas Ventures is building a film festival channel on XFinity Comcast VOD. If you're interested, you can submit your series for their consideration."
37 PROBLEMS was accepted, and I got an advance, which was nice. In terms of long-term money, that's to be determined. That deal is non-exclusive, so what it made me realize as an indie filmmaker distributing my work was that XFinity is one provider. There are 20 others in the U.S., at least, so why don't I try to see if any of them are interested in distributing my series?
My process, at this moment, as we're speaking, (is literally) contacting other providers, and seeing if they would be interested in distribution, and then also finding an international sales agent, because short form comedy does not travel very well, but there are markets – London, the U.K. Australia, and probably a few others – where U.S. comedy travels without having to be dubbed. So I'm looking into that, as well.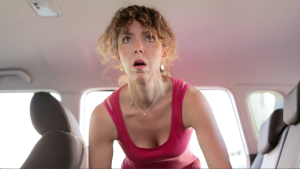 In terms of getting people to watch 37 PROBLEMS, what strategies did you employ to make the show stand out amid the many content offerings on Amazon Prime?
Honestly, I didn't do much. I feel like it did get recommended for people who watched those similarly R-rated comedy shows (FLEABAG, CATASTROPHE, etc.). In terms of my own stuff, since (37 PROBLEMS) launched, more recently I've been thinking of the follow-up project.
I started doing my own audience building on social media. I'm posting 9 times a week. That's a lot of work, but I do think that audience building is the answer in terms of independent content creation. It gives you leverage and a way to directly interact with viewers and supporters. I think the reason why so many stand-up comics get their own TV show is that those stand-up comics have audiences.
You used your own built-in audience from 37 PROBLEMS to support you for the other projects, right?
I coach screenwriters, and one thing I hear from (them) is that people don't really understand what they can put on social media if they don't have a show yet. What can they be doing that's daily? My next project, which is called THE BABY PACT, (has) the same character from 37 PROBLEMS, but she's decided she wants a baby, and she goes to her ex-boyfriend from 15 years ago, and asks him to platonically create a baby with her and co-parent the child.
And it doesn't exist as a filmed show yet, but I'm talking about that stuff (on social media). I'm talking about indecision about babies, and about being at the end of my biological fertility window. I'm linking to articles about it. I'm trying to engage people in this conversation that's going to be about what this show is about, but right now it's just a life conversation.
How does your social media posts (primarily on Instagram) tie back to 37 PROBLEMS and the other projects you're working on?
They tie back not even to specific projects, some days. Some deal with the subject matter. It ties back to my life as a single 42-year old woman in Los Angeles, trying to be a filmmaker while coaching screenwriters, raising my crazy 1-year old puppy, and thinking about having a baby. It's literally about what's on my mind from day-to-day.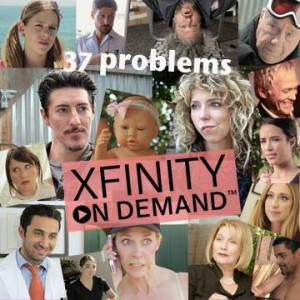 Based on your experience making 37 PROBLEMS, what advice/suggestions do you have for any web series creator that wants to do what you did with your show – including getting their content monetized, and getting it discovered by major streaming platforms (Amazon Prime, XFinity Comcast VOD, etc.)?
First, what's right for you is going to depend on the target you're trying to hit. What's the vision? I was trying to create a comedy that could play on premium cable or streaming.
So at the concept stage, I was asking, "is this new enough? Am I telling the story through my authentic lens – giving a point of view on the world that doesn't exist anywhere else, because it's through my experience?"
Then I spent 9 months on the script, writing and honing it. I shot the first 3 episodes with money from savings, then crowdfunded $37,000 to pay for the rest. It was important to me that everyone on set get paid minimum wage, so I raised enough money to do that.
There are web series shot for way less money and for more money. You can make a series on your iPhone that's incredible. For me, it's all in the lens. Why does this series need to exist? And then, how can you tell the story most effectively with the resources you have? The fast/cheap/good conundrum definitely applies in production — you get 2 out of 3.
ON THE WEB: https://www.37problems.com/
AMAZON VIDEO: https://www.amazon.com/37-Problems/dp/B076HT8ZJQ
WhoHaHa: https://whohaha.com/series/37-problems/
Lisa Ebersole's Instagram page: https://www.instagram.com/lisaebersole/