NOTE: The following article was previously published on this author's Medium blog, and has been reprinted herein.
Actor Che Holloway may not yet be a household name in the entertainment world, but with his outstanding work in web series like the acclaimed web series satire Dark Justice and short films such as the unsettling crime drama PRESSURE, he's already making a strong impression on audiences and the industry writ large. Now as a proud member of SAG-AFTRA (the combined Screen Actors Guild/American Federation of Television and Radio Artists union), Holloway remains an amazing talent in the indie film community, with his incredible versatility in comedy and drama on display in two new projects: the darkly funny Baloney Boys and the romantic tearjerker Walls.
Slated for further festival showings and already available on YouTube is Baloney Boys, directed by Dark Justice creator Mike Gerbino, featuring Holloway's co-star from that series, Tim O'Connor, as a "professional biter" on the brink of losing his career and his mind when his mouth's frozen jaw makes him unable to eat sandwiches on camera for TV ads. Holloway appears in a brief cameo in the film as a director for one of those commercials.
On the wistful side is his portrayal of a heartbroken lover facing life alone after a bitter breakup in director James Abrams' Walls, filmed prior to the pandemic, and also streaming online. (A link to the film appears at the end of this article.) Both Baloney Boys and Walls came after Holloway's widely honored performance in Dark Justice as Officer Amir Johnson, a community beat cop dealing with a racist White partner (O'Connor) and entrenched racism in his entire department.
Once the COVID-19 lockdown temporarily stalled all movie and TV productions in March 2020, though, the months-long period of isolation prompted Holloway to reflect on how his success in show business brought him professional satisfaction, only for that to come at the expense of both his personal life and his emotional grounding.
Yet even though he was temporarily deprived of his ability to perform, Holloway learned that there was much more to himself and his life than just the career he enjoyed. Moreover, Holloway understood that happiness is both a state of mind and an act of being, and as he recently explained to me, that lesson now guides every decision he makes – both in acting and in life.
Chris Hadley: What have you been working on, acting-wise, since Dark Justice concluded its third season?
Che Holloway (actor – Dark Justice, Baloney Boys, Walls): I have sort of slowed down in auditioning and appearing in projects in order to tie up some loose ends that I had been neglecting in my life. Due to the pursuit of my dreams I had really neglected a lot of relationships and even my own stability. I've been working more at going with the flow of life and reflecting on every experience inwardly before taking any action.
More recently, however, I was able to finally join the Screen Actors Guild and I'm excited to see where this takes me in the future although I have been taking a more slow, steady and thought-out approach to where I'd like things to go. My need to be in control through all the chaos has also been a recurring theme in my life that I have been working on.
Hadley: In what ways did working on Dark Justice, and playing the character you portrayed in it (Amir Johnson, the only Black cop on an otherwise all-White community police force), help you to grow as an actor?
Holloway: As an actor and as a person, the role of Amir in Dark Justice really helped me to make strong choices and to stand in it. I also feel it's helped me to take more risks and to just "jump in". The role also helped to fortify the theme of "teamwork makes the dream work"; something that pops up in my life every now and then, reminding me I don't have to be such a lone wolf all the time.
Hadley: The onset of the COVID-19 pandemic disrupted not just the film and TV production industry as a whole, but also the careers of everyone who works in it – including actors like yourself. How did you manage to keep focused on your craft, given the tremendous amount of downtime you had?
Holloway: To be honest, once the pandemic hit and everything around me had changed, I felt as if I lost all control and I felt lost and was really hard on myself. I am constantly living in my head and am often reminding myself to be kind, patient, and encouraging with myself. I put so much of my identity into my craft that the pandemic forced me to learn about myself all over again.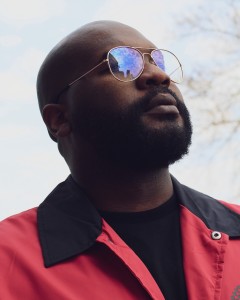 Hadley: Besides the fact that you and everyone on set had to adhere to strict safety protocols, in what ways were you able to adjust to that situation and to keep working at a high level under such extraordinary circumstances?
Holloway: Honestly, it wasn't all that hard. Everyone at the time was either vaccinated or wore a mask to prevent the spread of COVID and overall (they were) doing their part to make sure that everyone collectively was safe.
Hadley: With your post-lockdown work experience as a guide, what advice do you have for actors to help them and their colleagues work safely?
Holloway: Follow protocol! It's not to control you. It's for your safety and everyone else's. We are all going through the motions and trying our best to understand and live with our new norm. Why set things back?
Hadley: How can actors manage to sustain successful careers amid the ongoing pandemic, and how have you managed to do the same in yours?
Holloway: All the same rules apply: work hard, be open, be teachable, be a team player and never take no as your only answer.
Hadley: You recently reunited with Dark Justice creator Mike Gerbino and your co-star on that series, Tim O'Connor (who played the racist cop Amir has to put up with on the beat) when you played a cameo role in Mike's short film comedy Baloney Boys as the director of a TV fast food commercial. 
Holloway: Yes, I did and it was very nostalgic. We are all doing our own things in our own lives, but there's a strong sense of family there that I will never take for granted. I mean, we are forever linked and I'm just glad it's with folks who I enjoy and respect. Those are the best types of connections.
Hadley: What projects have you recently worked on/completed, when and where can we see them, and what can you tell us about them?
Holloway: Pre-COVID, I worked on a project with an old friend of mine, James Abrams of Caramelhippo Studios. He directed a short break-up film called Walls which was written by Noah Broch and co-starred the super talented and absolutely lovely Victoria Meade. As for Baloney Boys, it's been moving around in the film festival circuit and I hear that in the future it may be on streaming platforms, so keep an eye out!
Watch Walls at this link:
https://www.caramelhippostudios.com/walls-2020
Watch Baloney Boys here:
https://www.youtube.com/watch?v=moCjabeq4yc
Watch Dark Justice here:
https://www.youtube.com/channel/UCTcQjhpLpxkKFYzJZDXIEuw/
Connect with Che on social media:
Facebook: www.facebook.com/cheholloway1990

Instagram: www.instagram.com/cheholloway5 and 
www.instagram.com/che_holloway
Twitter: www.twitter.com/cheholloway