Over two weeks ago in Los Angeles, American audiences and worldwide media focused their collective lenses on the TV industry's annual celebration of the year's greatest shows and the incredible talent behind them – the Emmy Awards. While that ceremony honors content that's been enjoyed by viewers across the country, the Emmys also pay tribute to outstanding programming made by and for local audiences in ceremonies held by the National Academy of Television Arts and Sciences (NATAS)' various regional chapters.
This Saturday, October 1st in Phoenix, Arizona, the Rocky Mountain Emmy Awards will distribute those famous golden statuettes to the people who've made some of the best news, sports, entertainment and public service TV programs for broadcast stations and cable networks in Arizona, Utah, New Mexico and Southeastern California. The ceremony will be held at the Chateau Luxe in Phoenix, with red carpet festivities beginning at 5 PM Pacific, and the awards program taking place at 6:15 PM Pacific.
One of those programs is the Arizona-produced horror/sci-fi anthology series Strange Places, whose chilling second episode "An Improper Use of Shading" has been nominated for two trophies: Best Director – Long Form Content for executive producer/writer/director/narrator Andy Rodriguez McCradic, and Best Graphics for 3-D animator Arlinka Viljoen's eerie visual design.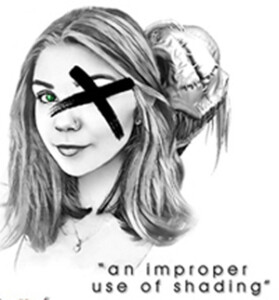 The episode, which originally aired last Halloween on Phoenix-based cable channel AZTV and can be seen on the show's web site (linked to below), illustrates how a mercilessly bullied teen (Marie, played by Nakos Neiffer) gets vivid revenge on her worst enemy (Madison, portrayed by Sophie Schneider) when her imaginary yet darkly imaginative friend Cassandra (Nakai Neiffer) turns Marie's ghoulish pencil-drawn fantasies into frightening real life monsters that terrorize Madison while causing greater chaos in Marie's already painful adolescence.
A veteran filmmaker who spent decades in print and broadcast journalism before turning his creative attention to narrative and documentary projects, McCradic is no stranger to Emmy success, having won his first award (so far) for producing the local Phoenix teen TV series Video High in 1992. A little over thirty years after that win, McCradic now hopes to repeat that achievement with Strange Places, and with a work that came together in record time despite unbelievable challenges.
"The script (for "An Improper Use of Shading") came to me in an early morning idea," McCradic remembers. "I wrote it in two weeks. We were scheduled to do a different story, 'The Quiet Hours' (one of two episodes now in pre-production for Strange Places), but I had to make a change at director and take over myself. We were scheduled for a Halloween broadcast and had only 5 weeks to produce and post the new script." In the end, its entire production-to-broadcast journey took only three weeks.
Along with its intense performances and haunting story, the episode's most powerful element – the ghastly beasts that come to life during Cassandra's drawing scenes – comes courtesy of designer and fellow nominee Viljoen, who built from McCradic's rough sketches of the ghouls that Madison confronts in "Improper" and made them even more horrifying during a comprehensive yet time-limited animation process. As proud as he is of the final product that aired, McCradic is even more amazed by Viljoen's extraordinary work on the show's sophomore entry.
"She (Viljoen) is a true artist and despite a very tight timetable and a 9 hour time difference (she lives in South Africa), was able to create and animate the creatures to interact with the live characters/actors seamlessly," McCradic adds. "(That's) really amazing work for a 21-year old. If she doesn't win the Emmy, I would be shocked, frankly."
While McCradic celebrates the progress that Strange Places has made as a series, the audience following it's gained and the honors it's achieved from the Rocky Mountain Emmys, he still feels that the show dubbed "Arizona's Twilight Zone" has a lot of room for improvement – in more ways than one.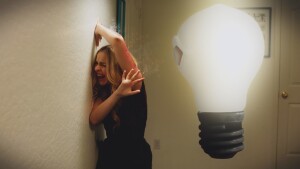 "It's nice to be recognized for excellence, but we need to step up our game with talent and financial resources to compete with modern, large-scale television production. That said, I wanted to (do) a Twilight Zone-esque series that has scares and creatures…but also has nuance and doesn't underestimate its audience. The episode is subtle, but I hope it's perceived as 'clever'. It's close, but we're not there yet."
McCradic also aims to get Strange Places to more viewers through national and international syndication (primarily in South Africa), and though he hopes to build the series into a network-quality product that meets or even exceeds the production values its Hollywood peers have long been blessed with, he knows that when it comes to filmmaking, it's those who work on both sides of the camera that make our favorite TV shows and movies so memorable.
"It (Strange Places) is a tribute to quality that can still happen, despite (the show being produced on) a micro budget," says McCradic. "There (are) obviously talented people I've surrounded myself with. I hope to have the team remain intact as I try to get us to the next level in both production quality and increased budgets."
No matter how Strange Places does at this weekend's Rocky Mountain Emmys ceremony, though, McCradic believes that his acclaimed supernatural anthology is destined for more than just accolades. "I hope that as we return to broadcast, people will know that this is a quality production, and worth a look. The stories planned are more complex, higher production value and more action planned; spookier and stranger stories that I hope people will enjoy. I have so many more stories, I've considered writing an eBook to continue to brand Strange Places."
ON THE WEB: www.strangeplacestv.com
Full details on the 2022 Rocky Mountain Emmys are available here: