Making a web series without the support of a well-funded studio or TV network comes with many adversities that filmmakers attempt to overcome through their unadulterated creativity. Despite working with few resources and fewer dollars, though, web series creators endeavor to produce entertaining content for audiences who haven't been catered to or represented authentically by Hollywood. Most of all, the advantage of doing an independent web series is clear for anyone who attempts to produce one: creative freedom.
That said, it's not necessarily a slam dunk to get networks sold on a web series that tackles controversial social issues in a "too hot for TV" fashion. Yet filmmakers Michael Barnett and Kevin Davis are hoping to do that with their acclaimed satirical spotlight on religion in suburbia, The Shades. Self-produced and self-financed for its only season as a web series, all eight episodes of the show can be seen on its web site.
Created by Barnett and Davis, the series introduces a lovable yet naive family who restart their lives in a deceptively friendly neighborhood where religious freedom – and religious intolerance – runs amok. Bombarded by the unorthodox customs and creepy behavior of their new neighbors, Hailey (Rebecca Spiro) and John (James Aiello, Jr.) fight to keep their marriage, their family and themselves alive in a place where the comforts of home are anything but comfortable.
Running on the momentum of The Shades' successful performance with fans and critics, Barnett and Davis now attempt to turn their series into another web-to-broadcast triumph by developing its concept for TV. If The Shades is acquired by any major over-the-air, cable or streaming service, Barnett and Davis will take full advantage of perks they never got to enjoy while making the show independently: a larger budget, increased production support, and the ability to focus on overseeing the series' writing, direction and day-to-day operations.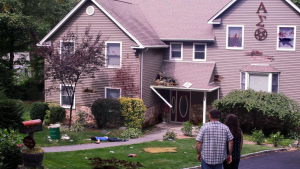 While The Shades' risque tone and subject matter may turn off some potential decision makers in the broader entertainment industry, Barnett and Davis are committed to getting the series to audiences regardless of where it reaches them.
In a time where Americans are increasingly split apart by political and religious differences, Barnett and Davis feel all the more convinced that The Shades' socially aware humor is needed now more than ever before.
Earlier this year, Barnett and Davis entered their half hour-long Shades pilot episode script into the Slamdance Film Festival's annual Screenwriting Competition. The positive reaction the script received from the contest's reviewers further boosted Barnett and Davis' feelings of validation for their project, and of their conviction that a web series-to TV adaptation of The Shades could reach – and possibly, exceed – its existing potential if the show is acquired for wider distribution.
Barnett and Davis recently chatted with Snobby Robot about the risks and benefits of transitioning such a provocative series like The Shades to mainstream television, their current efforts in improving the quality of their creative work and of the show itself, and their hopes for winning over possible future partners who may feel hesitant to bring The Shades to network-level audiences. Barnett and Davis also offer some important advice for filmmakers who are facing, or will face, the many obstacles of putting together a DIY web series project.
Now that season 1 of The Shades has concluded, what steps are you taking to adapt the series to a traditional broadcast format?
Michael Barnett (co-creator, The Shades): As of right now, there are no immediate plans to create a season 2 of the web series. We have always thought of the web series as a long form proof-of-concept for something that could be done bigger and better. Looking back on the legacy of The Shades web series, I consider it a proving ground for both our ideas and our technical prowess as emerging filmmakers finding our voices. Each episode we took more risks, and got better at the craft.
In creating pitch materials for The Shades TV series, we have done the initial brainstorming  for what (storylines for) seasons 2 and 3 would look like. So, should something else fall in line outside of a traditional development situation – for example, a financial or brand partnership that would offer us a chance us to continue the story ourselves – we may very well consider doing it. I love the world, the characters, and the team of people we pulled together to make this web series, I just dislike the toll it took on our bank accounts! The long and short (of it) is: we told the story we wanted to tell for that medium. Now we've got our sights set on telling it in a much bigger way.
Kevin Davis (co-creator, The Shades): This series, from inception to completion, has been a labor of love and probably the best form of film school Mike and I could have ever had.
We have learned so much about not only ourselves as artists and creators, but about the business as well. And one of the big things we have learned is that the creation of a web series will always function as a proof of concept, not a product that will be broadcast or picked up.
As Mike mentioned, we always viewed the web series realistically as a proof of concept, knowing no one will broadcast anything resembling DSLR content. But we have always been looking ahead, crafting potential storylines and season arcs for this community, so if this concept gets green-lit, or if someone who needs to launder serious money dumps some in our laps, we will continue to explore this world and these stories. There is so much to mine that it would be a shame if these ideas never saw the light of day. But as of right now, there won't be any further season of The Shades as a web series.
As of now, what's the status of your efforts to find a streaming service or network to acquire The Shades as a half hour sitcom?
Barnett: We created a full pitch deck, series bible, sizzle (reel), and a plethora of other materials. Our manager Andrew Levy lives and works in Los Angeles, and has been reaching out with our materials for feedback and advice, talking at length with agents/their assistants/whoever's been willing to give our stuff a glance. It's a long, slow-going process that's not very straightforward, and there's no perfect road map to TV development. We've received a lot of positive feedback on our materials and a bit of interest, but these conversations take time to build momentum.
So far, I'm taking solace in the little victories – knowing that several people we've talked to on the development side love our ideas and what we've been doing, even if they're not in a position to directly greenlight anything. It is a nice little bit of validation that keeps us pushing forward. Maybe this f*cked-up little show of ours might actually have some legs. We've even been reaching out directly to production companies whose work we admire with a link to our sizzle reel and a quick elevator pitch; anything to get the word out.
Kevin and I also wrote a pilot script that we're very proud of. We got some great feedback from Slamdance (the film festival's annual screenplay competition), and a lot of good tips from established writers we know.
So in addition to our efforts to get this made by-the-book, we've been submitting our pilot to some of the major episodic development lab programs across the country. Not to jinx our chances, but there may be some promise on that front as well.
Davis: We are exploring every option we can to get in the room to pitch this concept. There is no one way to get in the room though, nor are there directions about how to do it. You basically have to cover all of your bases. Even with our manager reaching out, we still have to explore every option and create materials and content that we feel shows the best aspects of our abilities and this concept.
How will you work to stay true to the show's brand of comedy and social issues commentary while refining The Shades for TV audiences?
Barnett: I think people are longing for some catharsis in the form of recognizing and admitting just how messed up this country and world currently is. The Shades is a microcosm of humanity acting as a mirror for our absolute worst selves. So no matter how the show looks in its final form – whether it needs to be toned down for broadcast, or is free to be its grossest, weirdest self on a streaming platform – I think we'll be able to keep the messaging and tone intact. Also rather than simply selling the concept and moving on, Kevin and I would fight at the negotiating table to remain creatively involved with the project, to ensure our voices don't fall to the wayside when the TV development machine takes over.
Given the subject matter of the series, and its fearless satirical look at religion in American society, do you feel concerned that such comedy may have to be compromised if The Shades transitions to TV/streaming via partnering with a brand name network or streaming service?
Barnett: Part of my previous answer could apply here, but I'll embellish a bit more: I think pitching a concept like The Shades is an uphill battle from the start. In the broader terms of what is getting picked up these days, we're definitely an outlier. As a satirical indictment of rich white suburbia, The Shades is – for better or worse – not going to be very diverse in its casting. This is by design. The show's primary person of color is used as a foil to expose a lot of middle class white liberal hypocrisy towards race.
There is an LGBTQ undertone that could be read into the sexually-fluid lifestyles of the pagan characters, and in our newly re-written Robin character's struggle to admit her truth (a closeted, devoutly Christian lesbian). But to try to shoehorn it into the world of LGBTQ-centric content would be disingenuous.
The show does feature a strong, complicated female lead which we could certainly spin in our favor, but it doesn't really lean on any female empowerment narrative, even if you could read it that way. To sum it up, we'd definitely be reaching if we said we're on the pulse of what's hip or trendy right now.
We've never been shy about what this show is, so if people approach us in a serious way then they already know what they're in for. We've cut our chances in half from the get-go just by being this raunchy, graphic, and not easy to categorize.
It definitely affected our web series' festival run, being a total curveball for a lot of programming blocks. And we're certainly not naive to the fact that a lot of networks and platforms won't want something like what we're offering.
But that will hopefully wean out anyone seeking to tone down the concept, or sterilize it into something they think they can package for more mass appeal. We know we're niche, so we want to attract people who want to make something original that will turn heads and get people talking, even if it's not necessarily for everybody.
Davis: I think that was the biggest thing we learned with the web series. We are niche, we are a curveball, and we don't hit on popular filmmaking trends that are "of the moment." Obviously this has been by design, but we didn't fully expect it to make us such a curveball in regards to the festival circuit. That said, as Mike touched on, that works to our advantage when it comes to finding the right partner for us. Anyone who would want to be a part of this would know what they are getting into, and compromising the show's tone wouldn't be an issue.
With your experience making season 1 of The Shades as a guide, how will you use that to work creatively with any suggestions/notes given from whichever network or streaming video service you partner with?
Barnett: I think a lot of the main story points of season 1 of The Shades you would see revisited in the initial run of the TV show. A supposedly happy couple moves into (a) suburb full of religious extremists, (and) chaos ensues. That's really the catalyst for everything, and regardless of where a television version (of the series) takes our characters, it'll all stem from this fundamental disconnect between this couple, their wants and needs, and their surroundings.
What challenges have you encountered in transitioning The Shades to a half hour sitcom, and in shopping it to potential over-the-air/streaming platforms?
Barnett: The challenges in self-financing a web series are never ending. It's not something I would recommend to anyone who isn't fully committed to realizing their vision. Seriously, I think anybody crazy enough to do it has to fully understand the time and money commitments up front. DIY (do-it-yourself) filmmaking is stressful enough, (but) creating an entire series on your own is beyond the scope of what most people are prepared to do.
After we scooped up an Indie Series Award (for best special and visual effects), I often joked that it only cost me years off my life, a few relationships, and thousands of dollars. We scraped together the first few shoots just by convincing friends to help us out. We borrowed whatever little bits of gear we could get our hands on. I even convinced a DP (director of photography) friend to lend me his Steadicam for our pilot episode, then had to teach myself how to balance it the night before!
Everything that can go wrong absolutely will, and without money to grease the wheels or powerful connections, you really need learn how to be resourceful. When you don't have the funds in place to push forward, you have to learn how to win over people's confidence on the fly.
We were able to keep costs down early on, but as we got more ambitious and deliberate in our vision, the costs just kept rising. Not just any old camera or lights or microphones would do anymore; we needed proper gear. We started bringing on more experienced crew who had their own set of preferences in terms of equipment, and as producers it was our job to do our best to accommodate (them).
Our lead actors had to dedicate more and more of their own time, which led to us naturally having to start compensating them per shoot. But we couldn't stop short of seeing the season through, so at that point we simply had to throw whatever money we could at our problems and hope for the best. This started to include things like location fees, van rentals, lodging, and production insurance.
Oh, and to anyone reading this: get production insurance! When we first started, we maxed out credit cards in order to secure deposits on rental equipment, since we couldn't afford the additional cost of insurance! It ended up working out for us, but I would not advise anyone to do the same, (because) the risks aren't worth it. As for transitioning the series and shopping it out, I think we'll let you know the answer to this when we actually get it picked up!
In your opinion, what will having The Shades be picked up by a broadcast/streaming platform do to improve the show's production quality and audience reach?
Barnett: Production quality is pretty obvious, considering we could only afford to spend so much on any given episode. We also ran ourselves ragged handling a lot of the post-production ourselves, and begging for favors for the work (we) didn't have the skills to handle. Thankfully we both work in the industry and had the connections to make that happen, although the costs were still high. This led to (us) having to shelve episodes for a long time as we waited for free time or extra money to finance them. Our final episode was in a state of near-completion for over 2 years!
A proper television pipeline would work light years faster, and pump out something of a higher caliber, than anything we could wrestle together on our own dime. Also, and I'll preface this by saying I like to think Kevin and I are decent writers, but having a whole writers' room full of diverse perspectives built around telling this story would inevitably lead to tighter, more nuanced material.
Since I am primarily interested in directing, writing, and showrunning, the prospect of having to wear less hats myself in order to get something made also just makes me breathe a lot easier. On the web series I was a writer, co-showrunner, producer, director, editor, VFX supervisor, compositor, colorist, etc. Hell, I even acted in it and DP'd 4 of the episodes! The process was quite honestly exhausting. It's too much. You really do need an army to get anything made properly.
Davis: We wore every hat on this production you can think of. Every. One. We have skills in a lot of areas, but we are not masters of everything.
Allowing us to be in our true elements (directing, writing, showrunning) would allow us to oversee the big picture, but (also to) bring on people who are way more skilled than ourselves to handle things they are experts in.
When you can bring in the very best people who aren't working for favors or very little, you can raise the production bar exponentially. And we believe this concept deserves that.
Again it is worth stressing that the concept itself would get picked up, but not the web series. It would be in some way starting from scratch, building off of the proof of concept we made with the web series, and expanding it. In some ways it would be hitting the reset button, and the final product compared to the web series we created will feel of another level.
How will The Shades' acquisition by a larger network and/or streaming service benefit the show's cast and crew?
Barnett: That's something we can't definitively answer. When you option something for development as a young creator without a lot of notoriety or pull, you are inevitably giving away a lot of creative control. A network or production company will want to work with name actors, a showrunner with a proven track record, and won't budge on a lot of the decisions that they think will be best for the show.
I've learned from several friends with projects in development that you really only get maybe one hill to die on at the negotiating table, and for me that would be to stay on as an (executive producer) in some creative capacity, and to be given the opportunity to direct at least one episode. We worked with a lot of talented individuals on the web series, but ultimately we were the ones putting in all the sleepless nights making it a reality. In setting our sights on TV, we really just want to do justice to the concept we created. If we can somehow elevate the careers of our collaborators along with it, all the better.
Davis: We are so indebted to our cast and crew for all they have done, and I say that because a) it's true, and b) to make my next point sound way less selfish. Like Mike mentioned, we get one hill, and maybe one hill, to die on as non-established creators. For all we know they could take the concept and run with it, throw us some change, and wedge us out. We have to pick our one battle wisely.
While our cast and crew did an amazing job bringing the web series to life, the show wouldn't exist without Mike and I. The main goal will be doing justice to this idea, (and) to keep its spirit, message, and humor intact. And that doesn't happen without us at the table. If we can bring others up with us, of course we would gladly do it, but the concept is the top priority.
How will that benefit you as creators?
Davis: The era of getting a web series picked up to air is done. That's the unfortunate reality of it these days. People should obviously make a web series, as it's a great format to grow, experiment, and develop as filmmakers without the fear of spectacular failure. But nothing that is ever self-financed in the series world is picked up by a network or streaming service for public viewing anymore.
Like Mike said, of course, getting to development is a great foot in the door. Even if it doesn't make it to production you now have a path to the decision makers to get the next idea going. We love this idea to pieces, but we also aren't putting our (semen) eggs in this one basket. All creators always have ideas bubbling. This is one we want to explore of course, but it won't be our last idea or concept we ever come up with. Every project you do helps you with the next idea you have, so getting this one up the ladder some bit will help the next one, and the one after.
How will viewers – both those familiar with the web series and new audiences who haven't seen it – benefit if The Shades gets to expand its viewership?
Barnett: I think one of the things we never considered early on when making The Shades web series was just how important marketing is.
We're far from social media experts, and so we found out pretty quickly after we started rolling out episodes (at very inconsistent intervals, I'll add) that building an audience is a lot of work! We briefly worked with a social media manager who ultimately didn't understand the tone of our brand. And with post-production falling squarely on our shoulders, and New York rent being what it is, we simply couldn't pump out the episodes fast enough to even hope to maintain people's attention or build a buzz.
Television networks have all sorts of PR (public relations) and marketing resources at their fingertips. While we got some decent press with the web series (shout out to Snobby Robot, of course) and were well received in certain festivals and competitions, I think in many ways we failed to grow a grassroots audience on our own, which is unfortunate, because I think an audience does absolutely exist for this show. But much like other indie creators, we're just fumbling in the dark trying to find it on our own in the vast content sea that is the Internet.
Davis: Our goal with The Shades has always been to make some sort of statement or reflect how currently f*cked things are in the world. We have taken the time to craft stories with the right mix of humor, pathos, and commentary and those who have seen the web series have tended to really enjoy it.
Whether they just took the humor with it at face value and laughed, or if it caused them to think a little bit, we aren't sure but they did seem to enjoy it. With expanding viewership, we hope to be able to bring that mix of laughter and message to more people. Whether they just laugh or look at it deeper is up to them, but giving them something positive can only benefit people.
If The Shades is acquired by an over-the-air/streaming platform, what are your objectives, goals and hopes for the success of that partnership, and for how that partnership will make the series profitable?
Barnett: I would hope for a successful first season that would ultimately lead to a renewal. In an ideal world, we would get 3 seasons out of this idea. I think that would be enough time to tell the story we want to tell, and then maybe (we could make) a spinoff mini-series about the Satanist bros and their lives on campus, which would just be an absolute blast to make. I can't comment about what makes anything profitable. I just feel incredibly grateful to be carving a path and making a living in this nonsensical industry, and seeing where each new opportunity takes me.
Davis: Obviously being able to get a first season or more would be ideal, but even getting this out there in some way, (or) to be able to use it to form new partnerships, would be amazing. You are only as good as the last thing you did, and every job or project builds to the next one. So we are putting our all into this, knowing it could lead us to the next concept we want to explore.
Like Mike, I have no idea what makes anything profitable, because it sometimes feels like there is no through-line between profitable entities. But if we were concerned about profitability, we wouldn't have put ourselves so deeply into creating this world. It has set us on an interesting, blood and cum soaked path, and I'm excited to see where it takes us.
Watch all 8 episodes of The Shades at:
www.theshades.tv