Visionary storytellers like Twilight Zone creator/host Rod Serling, Star Trek creator Gene Roddenberry and others knew that great stories are created to entertain, to teach, to inspire, and to portray how our complicated society can either improve or devolve. So does Andy McCradic, the brilliant creator of a new anthology series described as "Arizona's Twilight Zone": Strange Places, airing locally in Phoenix on AZTV channel 7, and streaming its first two episodes (out of 8 for its first season) on the show's official website. The series also aired on Plex-owned platform Popsy, with further episodes possibly coming to Amazon Prime at some point in the future.
Basing its concept and individual episodes on the most integral part of any unforgettable story – ordinary people enveloped in extraordinary circumstances – the supernatural-tinged Strange Places blends suspense, high quality visual effects and occasionally dark humor with captivating human drama and invaluable moral lessons in tales that illustrate how a fateful moment can reveal as much about ourselves as it does the way we respond to those moments.
With its first two episodes shot in Phoenix and featuring a superb cast of local acting talent, Strange Places' debut episode, "In The Moment", thrusts two different women into an unceasing replay of a frightening incident where their opposite lives suddenly cross paths. Just as one of them (Andrea Stockton, played by Breagh Watson) sees her now-deceased soldier fiance Michael (Paul Bukoskey) for the last time, the other – Sandra, played by Krysten Jackson – witnesses her wandering son Benjamin (Ronin Feldman) crashed into by a negligent driver. As both total strangers discover, the only way they can prevent their greatest tragedy is for one of them to finally let go of someone they love.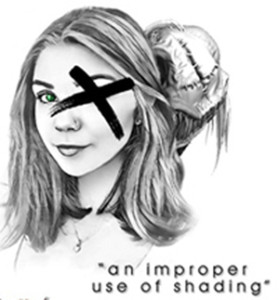 Its follow-up is "An Improper Use Of Shading", a chilling yet visually dazzling story of a misunderstood high schooler/budding artist (Marie, played by Nakos Neiffer) who exacts vivid revenge on a bully (Madison, played by Sophie Schneider) by bringing the darker side of her imagination to life in every drawing that she – or to be more accurate, her secret alter ego Cassandra (Nakai Neiffer) – creates.
In addition to its outstanding young cast, the second episode of Strange Places also features impressive VFX – such as a burning, floating light bulb and a monstrous creature that attacks Madison in her home – making for both a terrifying tale of teen angst and a warning about how creativity can sometimes be used for diabolical purposes.
Rodriguez McCradic talked to Snobby Robot about the wide variety of tales that will be part of Strange Places, how the concept for its aforementioned first episode came from his own heartbreaking loss, the many complications that came with producing its effects-stocked second entry, and the unique alternative his series offers audiences who've tired of superheroes, sequels, prequels and remakes.
Chris Hadley: Discuss what viewers can expect in each episode, as it relates to the overall tone of the series (supernatural/sci-fi/drama a la The Twilight Zone and other similar anthologies with a strong moral center).
Andy Rodriguez McCradic (executive producer/key writer, Strange Places): First, (there will be) stories the audience will find original, clever and compelling. (We) will be switching back and forth from more thoughtful stories where metaphor and allegory will be liberally used. Others will be more horror, some of those co-written with my writing colleague Brice Matte, himself a produced writer in his own right. Other Strange Places stories will be straight up comedy with all the dark trimmings. (3 seasons are planned for the series, though McCradic says there are enough stories for 7 seasons – 56 total, all 30 minutes long.)
CH: What (and/or who) inspired you to create Strange Places, and the stories that are seen in each episode (especially the first, which you dedicated to your late wife)?
McCradic: I came up with the idea and title for Strange Places in the fall of 2000. (It) took me a while to get here. Like any artist, I just felt I had stories that were compelling and worth producing. I would like to think some of the stories planned are just that, and (that they're) not a rehash of work we've seen before. The pilot episode, "In The Moment", is the story of a woman who is able to relive a last moment with her late fiance at will, but as she experiences it, she unknowingly drags another person nearby, who has to relive a nightmare over and over.
The initial idea of living a moment over at will was influenced by the passing of my late wife, Sheryl. It's been two and a half years since her passing, and like anyone experiencing grief, I relive great memories with her. She was the kindest, wisest person I've ever known, and my life is so much less without her. Who wouldn't want to be back with their deceased loved one, at will. The story was easy to write because I live it every day.
CH: What was the production process like for Strange Places, and what were some of the biggest thrills/challenges you experienced during that process?
McCradic: I drove my assistant producer Kim Arries nuts, and luckily, she kept all of us on point. I'm blessed with a great group of filmmakers, led by director of photography Dean E. Johnson. The biggest challenge was producing our second production, "An Improper Use of Shading" in three weeks. We had another production, "The Quiet Hours", scheduled, (and) the director I hired didn't work out, but I was committed to having our next production ready in time for Halloween 2021 (which was) five weeks away. (The episode aired in Phoenix on Halloween night.)
We began, but the school district we were working with for locations sat on critical information for two weeks, leaving us with three. We put our heads down, concentrated, and got it done in six days, shooting a 3 to 1 ratio, (while) editing and color grading and delivering in that space of time. Composer Nuno Cruz, against all odds, put together our haunting score in the same amount of time, (which was) nothing short of incredible. I'm proud of our team meeting the call, but never want to do that again.
CH: There are some impressive visual effects featured in this series, especially in the show's second episode ("An Improper Use Of Shading", which revolves around a bullied teen who uses her artistic talents to wreak havoc on the girl who torments her). How did those elements come together as they tied into the episode's story?
McCradic: I did the original design for the two creatures, which were fully developed in a 3-D environment by the amazing Arlinka Viljoen of South Africa and animated by the talented Azeem Ahkbar of Pakistan. So we have a fully 3-D animated creature that interacts with live talent; commonplace in Hollywood, but a first for Arizona filmmaking.
"Ilean Baloun" was the original creature based on what a kid might draw that comes to life. My stick figure original doesn't compare at all to the work Arlinka did, who added her own interpretation with 'horrifically' effective results. (We used) the name "Ilean" because one character "leaned" on another in the script and that Ilean leans since one leg is a blade, and (we used) 'Baloun' because she has a hand that's a balloon. I created "Iris Kilowatt", a light bulb that gives off enough light to burn someone, as something completely different. (I) just wanted to do something that was more unique in the annals of monstrous creatures.
CH: What makes Strange Places similar to/unique from other anthology series?
McCradic: (Strange Places) is similar in tone to the original and 1985 versions of The Twilight Zone and The Outer Limits, but unique enough with all new, original stories never seen before anywhere that I know of. The greatest compliment I've received several times is (that) the scripts are quite layered, and just when you think you know what's going on, the rug is pulled out from under you.
CH: In terms of audiences, who do you think would like to watch Strange Places?
McCradic: The easy answer is: anyone who loves horror and irony, and metaphor for social commentary. Anyone who loves The Twilight Zone and The Outer Limits will (hopefully) tune into us as (we) go on the national stage this year.
CH: What have you taken away from the experience of making Strange Places?
McCradic: No matter how many years of experience (I have), there's always something new to learn, whether it's (about) technology or people. The same is true with Strange Places and (that) keeps it all interesting. I couldn't imagine doing anything else but this. I'm one of the lucky ones.
CH: What do you want viewers to take away from watching Strange Places?
McCradic: (I) certainly (want them) to like the series, to – hopefully – love the original stories, and to wonder how the heck are they shooting in 118 degree temperatures in Phoenix.
NOTE: Strange Places is closed-captioned.
ON THE WEB: www.strangeplacestv.com