Imagine if William Shakespeare, arguably the greatest dramatist in recorded history, still walked among us today. What would he think of our incredibly advanced yet still immeasurably flawed world? How would he react to our remarkable technology – the Internet, phones, television, radio – and how those innovations have both advanced and wrecked humanity? What kind of conversations would he have with people whose everyday vocabularies can go from benign one moment to obscene the next?
Though we will never really know how the Bard would react to life in the 21st century, the entertaining "odd couple" comedy series My Friend Will presents one possible answer to that query when a quintessentially modern yet struggling playwright (Jake, played by show creator/writer/producer Elijah Guo) suddenly gets an in-the-flesh visit from his biggest literary influence: the legendary but still culturally frozen-in-time Shakespeare (William John Austin).
To the amazement of himself, his friends – big-time Broadway producer Oscar (Osh Ghanimah) and brilliant yet no-nonsense multi-hyphenate creative Marcelle (Kate Vos) – as well as the egotistical director he hopes will make his fledgling would-be masterpiece into an actual masterpiece (Christof, played by Peter O'Connor), Jake – with the invaluable mentoring and encouragement of his centuries-old new companion – discovers that he's got the chance to be as successful a person as he wants to be an artist, and that life does not have to be defined by whatever slings and arrows he suffers along the way.
Meanwhile, Jake carefully guides the temperamental Will through the fascinating yet overwhelming metropolis of the Big Apple and a painfully unfamiliar culture that baffles him to no end. Especially astonished by how present-day dramatists, actors, educators and performing arts aficionados have studied and enjoyed his plays, and with his taste buds aroused by burritos at the nearest bodega he can spot, Will slowly finds that there's much to like about both his unusual surroundings and the young man who's made his extraordinary acquaintance.
An official selection of the 2018 Tribeca TV Festival and the 2021 Stareable Fest (where it was nominated for the event's Best in Writing award), the show's first episode will stream on The Roku Channel (date to be announced) with nine more episodes to be produced soon for its initial season.
A longtime devotee and student of the Bard and his illustrious bibliography – his favorite of Shakespeare's plays being The Tempest – Guo saw My Friend Will as a remarkable opportunity to mix his admiration for the world's most celebrated storyteller with the talent and knowledge he's gained from years of performing and producing in a project that serves as a funny, heartwarming tribute to his greatest creative influence.
"I've always been a fan of literature and history, in addition to coming from a performing arts background having been trained in theatre. So my passion to write about literary and historical characters has always been front and center for me," states Guo. "Plus, as an actor, I've been working on writing more roles for myself to take my career into my own hands, and this was my first foray into trying to blend those two goals!"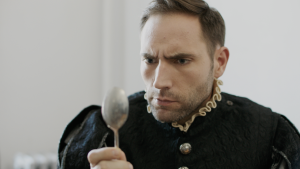 Guo's exploration into Shakespeare took him beyond the great comedies and tragedies that he penned over his lifetime. Upon reading one of the many biographies written about the iconic author since his passing, Guo developed the cantankerous yet curious persona that Austin embodied in his performance as Shakespeare in My Friend Will.
"(Author and historian) Stephen Greenblatt's book Will in the World also directly influenced much of my desire to portray Shakespeare as a kind of renegade asshole, as opposed to some enshrined untouchable genius," Guo adds. "He's got enough of the latter in his legacy, anyhow."
With Guo's depiction of Jake established as both a comedically heightened take on his real life manner and of the well-worn "struggling artist" trope seen in other works based around the creative world, the other players who make their entrances and temporary exits in Jake's latest age are also inspired by some of Guo's closest friends and cherished collaborators.
"The characters of Oscar and Marcelle are based on the friends of mine who play them – Osh Ashruf and Kate Vos – two wonderful humans who happen to have direct, exciting and positive personalities. Christoff…was inspired by the idea (and experience) of insane theatre directors. I worked with Peter O'Connor, the amazing actor who plays him, in a Netflix film once (2017's Frat Star), where his role was a domineering, manipulative frat leader – same energy here, really."
Austin proved to be a natural for the show's title role, and the actor's own past teaming with Guo on – of all plays, Shakespeare's Measure For Measure – made Guo's decision to cast him as the beloved Bard a masterstroke. "He was a senior in college at UC Berkeley and was one of the 'veteran actors' playing the leading role of the Duke in Measure for Measure, while I played his loyal servant," Guo remembers.
While seeing Austin bring Shakespeare to life on stage was an enlightening masterclass in performance for Guo, his eventual co-star in My Friend Will became both a friend and a mentor to the then-upstart thespian. "He had hundreds of monologues and I had a few lines, so it was the perfect opportunity to just hang around him and observe his amazing work as a Shakespearean character," Guo recalls. "He was incredibly kind and generous to me, a young, less experienced actor, and I always remembered that years later. So, all things considered, it was a no-brainer to offer him the role of William Shakespeare."
In a more complex sense, making the pilot episode of My Friend Will – originally produced in 2018 – was also an up-close education for Guo. At the time a rookie filmmaker producing his very first web series, Guo had to do much more than play the modern sidekick to a confused 17th century dramatist in front of the camera. Behind it, his responsibilities were as overwhelming as they were varied (Guo also wrote the episode in addition to co-starring in and producing it).
"I did find a director (the super-talented Esteban Uribe) as well as a stellar crew (including the Emmy-nominated cinematographer Alejandro Mejía), but as a producer, I went over-budget and didn't organize things as well as I should have. It all worked out perfectly in the end, of course, and I learned a lot of important lessons about managing workflow, dealing with a large cast and crew, and fulfilling several functions at once. Overall, we shot the 20-minute episode in four days. They were four stressful but fulfilling days!"
As much an admirer of acclaimed Hollywood multi-hyphenates and fellow actor/writer/producers Phoebe Waller-Bridge (Fleabag) and Donald Glover (Atlanta, Community) as he is of Shakespeare, Guo aims to have My Friend Will become a project that best demonstrates his range of talents and his genuine creative voice to audiences and the broader entertainment industry.
"I've never been able to select either acting or writing as a primary focus – because I love the worlds that can be created when I blend my passions for performance with my love for writing," he says. "It's the first of many indie productions I hope to create as a means to gain more agency in my career in the entertainment industry as an actor and writer."
His next production, the sitcom Stand-Ins, is part of Guo's search for that agency. Its first three episodes will screen at the upcoming Catalyst Story Institute Festival in Duluth, Minnesota on September 29th, and it's a show filled with wacky situations that practically every performer – Guo and his creative cohorts included – has lived through at one point or another.
"Stand-Ins follows the journey of a couple stand-in actors at the bottom of the Hollywood ladder, as they try to climb their way to the top by befriending their celebrity counterparts. Of course, things don't go the way they planned, and it's a total madcap series of misadventures inspired by my and my friends' experiences in the entertainment industry." (More on that series in a future article.)
As for My Friend Will, Shakespeare is not the only larger-than-life presence in this series. Its New York City setting, which also happens to be Guo's residence, plays a major role in establishing the show's hilarious culture clash-based storyline, and the interesting bond between two generation-ally mismatched yet tremendously loyal friends who, like everyone else, are just trying to make their lives better.
"(New York is) a place where people have to band together amidst the chaos and craziness, and it's arguably *the* place where people go to 'find themselves' and grow as artists. So from a human perspective, as well as an artistic one, it was the right setting," Guo comments. "It also provided the perfect comedic backdrop to an out-of-towner/out-of-timer from early 17th century England, because modern-day New York City sometimes just feels like a smash cut, you know?"
While My Friend Will is still in the development phase, and while Guo has greater goals in mind for its future as a series, he feels that the show's success is predicated not just on how well it will encourage audiences to read and perform Shakespeare's most famous and obscure plays themselves, but on how effectively it will help viewers – and creators like himself – to have a more positive and less uptight view of life in general.
"In addition to connecting people to Shakespeare's works – from die-hard fans to those who've never read or seen him – I think the idea of irreverence is key," Guo replies. "We canonize and worship certain figures without remembering that they were humans, and therefore imperfect. This is a lesson any of us can take. I know for sure that I take things too seriously sometimes, and it's all through good-spirited silly comedy and literary puns, so who would complain about that?"
NOTE: Guo says that all ten episodes of the series will be closed-captioned. In addition, Guo continues to search for potential production/distribution partners for My Friend Will. For further details on that, plus screeners of the show's pilot episode, first season bible and pitch deck, contact Guo at [email protected].
ON THE WEB: www.myfriendwill.com
FACEBOOK: https://www.facebook.com/MyFriendWill/
TWITTER: https://twitter.com/myfriendwilltv
INSTAGRAM: https://www.instagram.com/myfriendwilltv/