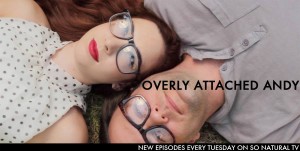 Love has always had its many ups and downs, with the worst of them being when a relationship suddenly comes to an end with plenty of regrets, pain and recrimination to go around. Even worse, the process of trying to heal and move on from a failed romance is always difficult – but it's all in how you get back up and try again. Written and directed by Leena Pendharkar, and produced by Jane Kelly Kosek, the new comedy web series OVERLY ATTACHED ANDY follows the romantic adventures, or to be more accurate, misadventures, of a guy named Andy (played by Andy Gates). Still heartbroken after his now ex-girlfriend (played by Taryn Horacek of the SoNatural TV fashion and beauty series HI IT'S TARYN) walked out on him, Andy desperately tries to get back into the game when he embarks on a mission to find his one true love. Unfortunately, he ends up in some awkward situations as he constantly tries, but fails to make an impression with the women he hopes to woo (guest stars Emily Button and Virginia Collins).
Making things worse for Andy is his wacky best friend (played by Jason Pickar), who not only gives him a "mankover" (male makeover if you weren't sure), but also sets up him on a computer dating site – only to have his good natured efforts backfire in the show's hilarious second episode. The series' eight episode first season debuted on the Youtube network SoNaturalTV, with new episodes airing every Tuesday.
An outgrowth of Pendharkar's short film CAKE (also on SoNatural TV's Youtube channel) which featured Gates and Horacek in a story much similar to the web series that would follow, Kosek and Pendharkar created OVERLY ATTACHED ANDY as both a vehicle for Gates' comedic talents, and as a means of bringing its female viewers the highs and lows of love from a perspective rarely seen – that of a kind, well meaning yet misguided romantic. "I had wanted to do something with Andy as an actor. He's talented and funny, and I love this idea of a guy who's earnest. You usually see women who's earnest and romantic and I wanted to reverse that idea, play with that, like what if a sensitive, sweet guy went out looking for love and met all the wrong women," Pendharkar says. "It was basically talking about getting into the mind of a man and sort of his perspective on love. We thought that would be kind of a nice flip for our female audience, and especially if it were a man who really was looking for love, and was very honest and earnest about it. So, we wanted to have fun with a character like Andy," adds Kosek.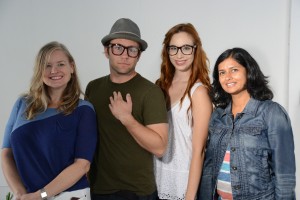 Pendharkar and Kosek had little trouble finding their cast, a mix of both prior collaborators and newly discovered talent through various online comedy sites like the female-centric Comediva. Yet, it was the work of Gates and Horacek on Pendharkar's short film CAKE that stood out the most. It was a project that made them both aware of the actors' incredible talent, and of their instant on-screen chemistry. "The chemistry between the two of them was really great, and so that sketch also cemented, in our heads, that they'd make a great pair," Kosek says. "I really loved the energy they had together, and they were just so much fun to work with. They're both really talented actors," adds Pendharkar.
With its eight episodes running from 2-3 minutes, the shooting schedule for OVERLY ATTACHED ANDY was both efficient and timely. "Because they're pretty short episodes, we knew that we could shoot a number of them in one day, so we tried to do at least four episodes in one shooting day. Leena would come up with the scripts about two weeks before we knew we wanted to shoot, and from there we'd figure out what cast we would need, and if we had to do any casting calls for the particular shows. Then, we would pick a day that works for everyone. We picked one location, and then we'd set it for one day. We would shoot four episodes in a day, and it worked out really well," says Kosek, who adds that Taryn's episodes of her series HI IT'S TARYN were also shot on the same day as ANDY.
However, as is the case with all movies, TV shows and web series, the production process always starts with an idea; one which is immediately transformed into words on a page. For Pendharkar, writing the series' eight episodes had its own set of challenges, and the process of bringing the written word to life for OVERLY ATTACHED ANDY didn't necessarily end after filming wrapped. "Production-wise, the other thing about this (series) is that I wrote the episodes and I shot a piece of it in April. I could see what I got, and then I kept writing and added more to it, and I shot again in June, and then I was able to look at all the episodes that we had, and I felt like the story needed some tweaking. In August, we went back and added more pickups to it. It's like had the scripts, and I had the idea, but I kind of developed it as I went along. As a director, it's like this is (a) really awesome way to work. It's probably not efficient financially, but it's really nice because if something's not working, you can cut it, or go back and add to it, fill it out. I think that was really important for me in this process. I made a feature too (the indie film RASPBERRY MAGIC) and it's hard to do that with features. If you're not happy with something, you have to just live with it or just cut it, so if I don't like something, I just won't use it. So, it was nice to pick up some shots and performances that were better," she says.
Filled with current, relatable characters and situations that will instantly resonate with audiences, OVERLY ATTACHED ANDY is a romantic comedy unlike any other; one that  shows viewers just what it means to be a guy in love, and just how awkward and humorous the pursuit of romance can be. All of those elements are on full display as seen through the eyes of a hopeless, yet persistent romantic named Andy. Says Kosek: "When it comes to relationships, it's something that's incredibly relatable for everyone. Whether you're in a relationship or not, you're usually thinking about it or trying to figure out your love life, so it was really fun to be able to take something that is so important to everyone, and build a world around it, and look at it from this one character's perspective, on top of his friends as well. We get to sort of get inside the mind of Jason and Taryn and even the guest stars that we have, so it's just (a) kind of fun and wacky look at relationships."
(While it's not yet closed-captioned, both Kosek and Pendharkar are looking into utilizing that feature for deaf and hard-of-hearing viewers on the show's Youtube page.)
TUMBLR: www.overlyattachedandy.tumblr.com
YOUTUBE (SoNatural TV): http://www.youtube.com/user/sonaturaltv
FACEBOOK: https://www.facebook.com/sonaturaltv
TWITTER: https://twitter.com/sonaturaltv
PINTEREST: www.pinterest.com/sonaturaltv