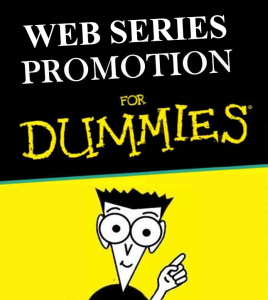 So you've come up with a great idea for a web series, now what? Sure, it all starts with the concept, then moves right into scripting, budgeting, casting, production; you probably already know the routine, but getting your series on film or data card is really only the beginning. Think about it, the most incredibly produced, artfully written and Emmy worthy performances are all going to go poof if nobody sees it. The most daunting and difficult phase of creating a successful web series is building an audience.
Building that audience MUST start with a fully workable plan. It's not as simple as throwing it up on YouTube and catching a few thousand Twitter followers and Facebook likes. No. It's not simple at all. And I hate to be the bearer of bad news, but the odds are stacked against you from the beginning, and they're getting worse every day. Look at the trade sites, how many real Hollywood players are migrating to the web series platform? How many major networks and web sites are jumping into the web series arena with their own original web content? Every day the numbers go up, and with those numbers come dollars – real dollars. The major players will win simply because they can outspend you. Even Kickstarter is seeing a major swing in the A-Listers that are turning toward crowdfunding. How in the world can the 'little guys' compete with that?
I don't profess to have all the answers, and I can assure you the odds are not in your favor, but I can tell you what has worked for our project, Johnny Dynamo, and I hope you can gain at least some insight on building your audience.
A good web series may never succeed, but a bad series is sure to fail.
Before you jump in, remember that good and bad are merely someone's opinion. We all love our own creations, but that doesn't make it good. Get some outside, unbiased opinions before you take the leap into 'the black hole'. If half the people love it and half hate it – then retool – get to 80/20 before you even think about going into production. And before you go into production, KNOW and UNDERSTAND your target audience.
Budget, Finance, and Have More Money Than You Think You Need
There's no standard. No standard number of episodes in a season; no standard length for an episode; and certainly no standard amount of money needed to produce a successful web series. But before you start production, think about these things and have a plan. Know going in how long your episodes are going to be, and how many episodes are going to complete your season. Then, above all else, make sure you have the budget to deliver. This is going to be extremely important as you build your audience – your audience is going to expect you to deliver – or you won't have that audience very long. Whether you produce the entire season before you launch, or you air episodes while producing the next, being consistent in your airing schedule is going to play a major role in keeping your audience. You have to feed the elephant. Set out your airing dates from the very beginning – and let your viewers know when each new episode will air. THEN DON'T MISS – if you're schedule calls for new episodes every Tuesday, then make sure it happens.
Social Media Is Only A Tool – It Is Not The Absolute Answer
It doesn't really do you a lot of good to set up a social media platform for your series and promote your series only to your own followers. The key to building your audience through social media, is knowing and understanding your target audience, and having your followers talking about your series – I know that sounds simple and almost stupid for me to say, but trust me, it's not nearly as easy as you think it is. Social Media is an exponential tool that is best used when OTHER PEOPLE talk about you. Take a look at True Blood – how many people were talking about it 2 weeks ago? That's a key component to building your audience.
Don't Count On Any Singular Platform
Add your series to as many sites that you possibly can. YouTube is not going to make or break you by itself. Vimeo, Daily Motion, Funny or Die, Web Series Channel, there are hundreds of sites out there – use them all.
Advertise, Advertise, And Then Advertise
People can't watch what they can't find. That's a pretty simple way of saying it, but it's the truth. You have to be findable. Press releases, blog posts, articles, and especially reviews. They all play a part in getting eyeballs on your series. Then – word of mouth and social media will give you a huge assist. Find a few, well visited sites that cater to your target audience and spend a few bucks on banner ads or text ads. It still works.
And Before You Launch Your Series…
Here is the most important thing I've learned about building a web series audience: Promote it long before you launch it. It all starts with your immediate circle. Friends, family, co-workers. Get them on board with what you're doing. Get them excited about your project – then get them involved. Get them doing some gorilla marketing. Talking to their friends and family, talking about it on their own social media pages – every mention of your web series is only going to help.
And Now A Few Words To Leave You Thinking:
Be realistic in your goals. There's really only 2 reasons why most of us even consider throwing our proverbial hats into the web series arena; passion or profit. Now, nobody ever said you can't have both, but I promise, if your goal is merely profit, then get out. And get out now.
If there is one thing I know for certain, it's that you get the best education from the mistakes you make, and we've made plenty in building Johnny Dynamo. My team didn't jump into producing the series with an eye on the almighty dollar. We decided on day one that we weren't going to let monetary success, or failure, stand in the way, and we didn't cut corners.